Little Rock nightclub shooting may be gang-related
Reporting from LITTLE ROCK, Ark. —
Police say 25 people were shot after gunfire rang out Saturday at a rap show at a downtown Little Rock nightclub, prompting pleas from top leaders to curb the growing violence in Arkansas' capital city.
Police believe the shooting at Power Ultra Lounge may be gang-related.
All of the victims are expected to survive the early Saturday shooting at the Power Ultra Lounge. Police believe multiple people fired shots. Twenty-five people suffered gunshot wounds, and three others were injured while trying to flee. Police say two people are in critical condition.
The shooting capped a violent week in Arkansas' largest city. Authorities said the nightclub shooting may be connected to a dozen drive-by shootings over the previous nine days.
The city's mayor says the nightclub will be shut down.
A video posted online by a club patron, Darryl Rankin, showed a packed house for Finese 2Tymes, a performer from Memphis, Tenn. About a half-minute into a break in the raucous concert, several bursts of gunfire rang out — more than 24 shots in an 11-second period.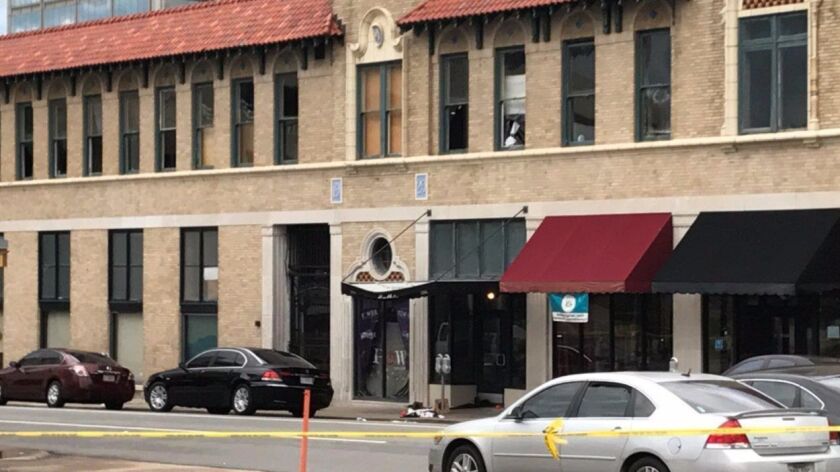 Rankin told the Associated Press that he was recording the show on Facebook Live when gunfire erupted and that one of his friends is now at a hospital with a bullet "stuck in his spine."
The shooting follows a week in which there have been about a dozen drive-by shootings in Little Rock, though there's no indication that the events are linked.
"Little Rock's crime problem appears to be intensifying," Gov. Asa Hutchinson said in a statement. "Every few days it seems a high-profile shooting dominates the news, culminating with this morning's event. I have spoken this morning with [Little Rock] Mayor [Mark] Stodola and I have offered both my heartfelt concern over this senseless violent tragedy and state assets as needed to address the continued threat of violence in our community."
Early Saturday, Raida Bunche waited outside the club after she had heard from a friend that her son had been at the club. Later Saturday morning, she said she found out her son ran out once the shooting began and was unharmed.
"I'm sick of all the killing and I'm tired of all the shooting, the kids getting hurt," Bunche said.
The club's Facebook page promoted Friday night's show with a poster depicting a man pointing what appears to be a gun at the camera. A call to a number listed for Finese 2Tymes' booking agent wasn't immediately returned Saturday.
Stodola said on Facebook that more information would be released at a news conference Saturday afternoon.
"My heart is broken this morning — my prayers are with the victims of this tragedy," he wrote. The mayor went on to add: "We are committed to doing everything possible to bring safety to our city. We need everyone to help."
In May, one person was killed and six people were hurt in a mass shooting at a downtown concert in Jonesboro, Ark., about 115 miles northeast of Little Rock. In that case, two men were charged with first-degree murder and six counts of first-degree battery.
ALSO:
Dramatic video shows small plane crashing onto 405 Freeway, bursting into flames
Doctor guns down former colleague and wounds 6 others before killing himself at Bronx hospital
New York's subway has always been a chamber of horrors. But when did it get this bad?
---
UPDATES:
1:58 p.m.: This article was updated with the police chief saying shooting may be gang-related.
9:10 a.m.: This article was updated with a comment from Arkansas Gov. Asa Hutchinson and new injury numbers.
7:35 a.m.: This article was updated with quotes from Little Rock Mayor Mark Stodola.
4:47 a.m.: This article was updated with the number of victims and their conditions.
This article was originally published at 4:30 a.m.
---
The Latinx experience chronicled
Get the Latinx Files newsletter for stories that capture the multitudes within our communities.
You may occasionally receive promotional content from the Los Angeles Times.