Doctor guns down former colleague and wounds 6 others before killing himself at Bronx hospital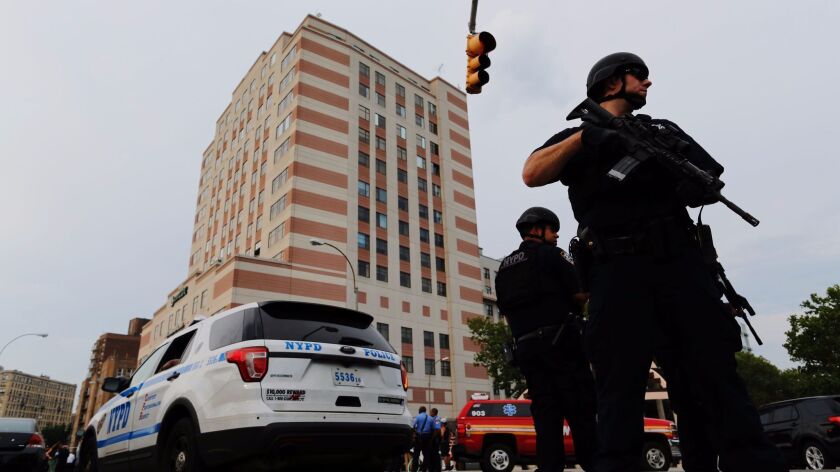 Reporting from new york —
A disgruntled doctor dressed in a white lab coat and carrying a semiautomatic rifle opened fire in a Bronx hospital Friday afternoon, killing a doctor and wounding others before turning the gun on himself.
The New York Police Department identified the gunman as Henry Michael Bello, 45, who worked in family medicine, according to the Bronx-Lebanon Hospital Center's website. Officials said he left the hospital in 2015.
Hours before the shooting, Bello had sent an email to the New York Daily News in which he blamed doctors at the hospital for blocking him from completing his medical licensing and blocking his career.
"Thank God this was not an act of terrorism. It was an isolated incident, a workplace-related matter, but that makes it no less tragic,'' New York Mayor Bill de Blasio told reporters.
"One doctor is dead, and there are several doctors fighting for their lives right now,'' he said.
The shooter was carrying an AR-15 assault rifle hidden under his lab coat and appeared to seek out victims on the 16th and 17th floors of the hospital. After the shooting, he tried to set himself on fire but failing that, he shot himself with his own gun, officials said.
The deceased doctor's name was not released. Six other people were injured.
One of the largest hospitals in the borough, Bronx-Lebanon was under lockdown Friday afternoon. Nearby streets were closed, helicopters whirred overhead and sharp shooters were stationed nearby. Staff members evacuating the hospital were told to come out with their hands raised so that they would not be mistaken for a suspect.
Patients and staff barricaded themselves in restrooms and laboratories during the shooting.
Bello had resigned from the hospital in 2015 as part of an agreement that prevented his firing, according to several media reports.
The New York Post reported that Bello was accused of grabbing a woman's crotch and was arrested in 2004. The outcome of that case was unclear. He was arrested again in 2009, but those records were sealed, the newspaper reported.
ALSO
Small plane crashes onto the 405 Freeway in Irvine
Pregnant woman charged in boyfriend's death after book fails to stop bullet in YouTube stunt
A bullet hole, a mystery and an FBI agent's indictment — the messy aftermath of the Oregon refuge standoff
---
UPDATES:
8:49 a.m. July 1: The article was updated with the New York Daily News' report of an email from the suspect.
3:40 p.m.: This article was updated with a quote from the New York mayor and more details on the shooting.
1:55 p.m.: This article was updated throughout with Times staff reporting.
1:25 p.m. This article was updated with details of the death of the gunman.
1:10 p.m. This article was updated with news of the gunman reported dead.
12:40: This article was updated with details about the hospital.
This article was originally published at 12:30 p.m.
---
Must-read stories from the L.A. Times
Get the day's top news with our Today's Headlines newsletter, sent every weekday morning.
You may occasionally receive promotional content from the Los Angeles Times.