Conservative group cancels speech by Milo Yiannopoulos after comments seemed to condone pedophilia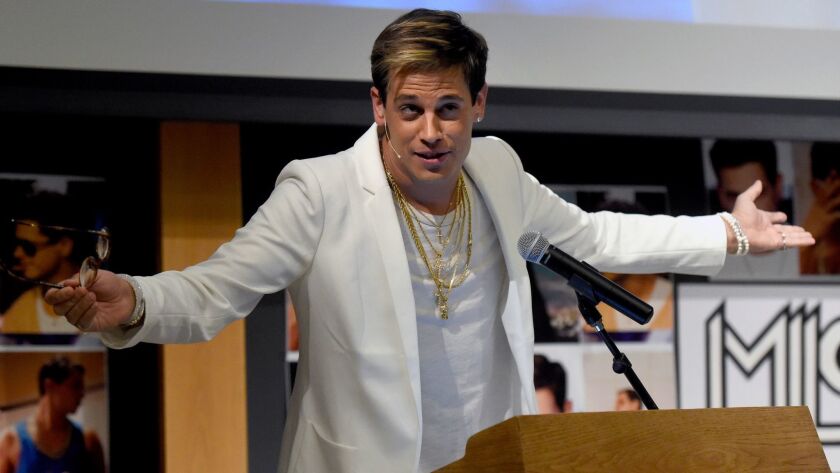 Right-wing provocateur Milo Yiannopoulos has been disinvited to this year's Conservative Political Action Conference after his attempt to clarify past comments on relationships between boys and older men fell flat with organizers.
The American Conservative Union founded and hosts the conference, which is being held Wednesday through Saturday outside Washington. In a tweet Monday, the group's chairman, Matt Schlapp, said that "due to the revelation of an offensive video in the past 24 hours condoning pedophilia, the American Conservative Union has decided to rescind the invitation of Milo Yiannopoulos to speak."
After the polarizing Breitbart News editor was invited, his invitation sparked a backlash. The conservative Reagan Battalion blog tweeted videos Sunday in which Yiannopoulos discussed Jews, sexual consent, statutory rape, child abuse and homosexuality.
On Facebook, Yiannopoulos blamed deceptive editing and his own "sloppy phrasing" for any indication he supported pedophilia. The British author said he spoke of his own relationship when he was 17 with a man who was 29. The age of consent in the United Kingdom. is 16.
It's unclear who edited the videos.
"We realize that Mr. Yiannopoulos has responded on Facebook, but it is insufficient," Schlapp said. "We urge him to immediately further address these disturbing comments."
Schlapp said the invitation was initially extended knowing that free speech on college campuses is a "battlefield where we need brave, conservative standard-bearers."
But he added, "There is no disagreement among our attendees on the evils of sexual abuse of children."
On Monday afternoon, Simon & Schuster announced that it had canceled publication of Yiannopoulos' book "Dangerous." The subject of intense controversy, "Dangerous" was originally scheduled to come out in March. But Yiannopoulos pushed back the release to June so he could write about the protests during his recent campus tour, including a cancelled appearance at the UC Berkeley.
Yiannopoulos writes for Breitbart News, considered by many a platform for the so-called alt-right movement, an offshoot of conservatism that mixes racism, white nationalism and populism.
ALSO
Bill Maher's 'Real Time' interview with Milo Yiannopoulos fuels new criticism
It's a free speech clash as Milo Yiannopoulos is shut down at UC Berkeley
Milo Yiannopoulos' book deal is publishing business as usual
---
UPDATES:
2:45 p.m.: This article was updated with news that a book by Yiannopoulos has been canceled by publisher Simon & Schuster.
This article was originally published at 1:10 p.m.
---
Must-read stories from the L.A. Times
Get the day's top news with our Today's Headlines newsletter, sent every weekday morning.
You may occasionally receive promotional content from the Los Angeles Times.