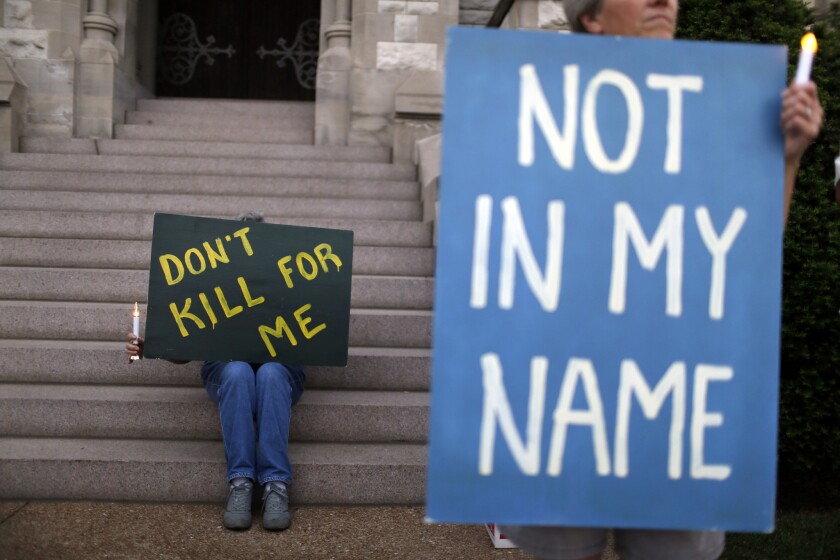 Reporting from Bonne Terre, Mo. —
The U.S. Supreme Court is expected to consider on Wednesday the case of a condemned Missouri inmate whose execution was stayed overnight after his attorneys argued the state could not humanely kill him because of his chronic medical condition.
Justice Samuel Alito issued an order late Tuesday staying the execution of convicted rapist and murderer Russell Bucklew, 45, "pending further order of the court."
Witnesses and reporters were told to return to the prison where Bucklew had been held in Bonne Terre, Mo., about 60 miles south of St. Louis, at 10:30 a.m. Central time Wednesday.
Bucklew, who came within two hours of execution late Tuesday, was being held about 50 feet away from the death chamber, a corrections spokesman said.
Missouri Atty. Gen. Chris Koster released a statement saying the court was expected to address the matter Wednesday. He also noted that Bucklew's death warrant, which became valid just after midnight Wednesday, lasts for 24 hours.
That means if the high court lifts the stay, Bucklew could still be executed, even if he continues to appeal. Missouri has put to death inmates with appeals still pending, including the last execution, of murderer Herbert Smulls. Smulls, 56, had his final appeal denied shortly after he was executed on Jan. 29.
Smulls was represented by attorney Cheryl Pilate, who also represents Bucklew. She said she was busy preparing legal arguments early Wednesday.
In a couple of Wednesday filings, Pilate argued that Bucklew's medical condition, cavernous hemangioma, puts him at risk of suffering during execution in violation of constitutional prohibitions on cruel and unusual punishment laid out in the 8th Amendment.
The lifelong, inoperable condition has left him with tumors in his head, neck and throat that can easily rupture and bleed.
"The unique risks posed by the hemangioma create a substantial likelihood during lethal injection -- with any drug -- of hemorrhaging, choking, airway obstruction and suffocation, and thus lethal injection of any sort will likely violate Mr. Bucklew's rights under the 8th Amendment," she wrote.
She alluded to recent botched executions and faulted the state for refusing to disclose what lethal injection drugs it planned to use, considering the information "state secrets."
Missouri is among states that, facing shortages, have switched lethal injection drugs and started obtaining them from a compounding pharmacy not subject to Federal Drug Administration regulations.
"Lethal injection, as recent executions have demonstrated, is not a one-size-fits-all procedure," Pilate wrote. "What may be deemed constitutional for one prisoner may be gravely risky and, in fact, torturous for another."
Bucklew's attorney noted that the department of corrections was making "eleventh-hour reactionary changes" to its execution protocol in response to Bucklew's allegations that a saline solution used to flush the IV line for the lethal injection might cause his blood pressure to spike. She argued the last-minute changes show that state officials "realize their protocol presents substantial risks of causing a prolonged, torturous, unconstitutional death in violation of the 8th Amendment.
The department had also rejected Bucklew's request for a doctor independent of the execution team to be present. The execution team includes an anesthesiologist whom the state has refused to identify.
In a response filed Wednesday, the state attorney general argued that Bucklew waited too long to file his appeal based on the longstanding medical condition and that he failed to suggest a more humane means of execution.
He insisted the state's new lethal injection method, using a single drug, the barbiturate pentobarbital, was humane and tested.
"Bucklew does not dispute that Missouri has carried out six executions using pentobarbital in six months, and that no witness has seen anything inconsistent with those executions all being rapid and painless," he wrote. He added that it was "implausible" to suggest that a lethal injection would cause Bucklew needless suffering when "time after time, it has not happened."
He rejected the proposal for an independent doctor at the execution, arguing it was not clear how such a doctor would be found and how the identities of the execution team would be protected, as required by law.
Legal experts said it's not clear whether the case could set a precedent for other death row prisoners.
"Bucklew's case presents issues that are very specific" to him, said Megan McCracken, staff attorney with the Death Penalty Clinic at the UC Berkeley School of Law. "It really doesn't speak to larger lethal injection issues" but, rather, "whether the Missouri lethal injection protocol is able to address Mr. Bucklew's needs."
But she said there's one exception to that: his argument that the state should provide more information about its execution procedures and new lethal injection drugs.
"The secrecy surrounding the procedures in Missouri is a broader concern, and it's a concern beyond Missouri," McCracken said. "Missouri, like several other states, has really wrapped its procedures in this secrecy that prevents the courts, the prisoners and the public from knowing exactly what drugs are being used, how they are made and if they are exactly what they purport and need to be."
She noted that several states that have concealed that information have later botched executions, including Florida, Oklahoma and Ohio.
"Hiding this information about the drugs, which is precisely the information that courts need to determine whether the procedure will be humane, is a widespread problem," she said.
---