Mistrial declared in U.S. murder case of Blackwater security guard charged in 2007 Iraqi civilian massacre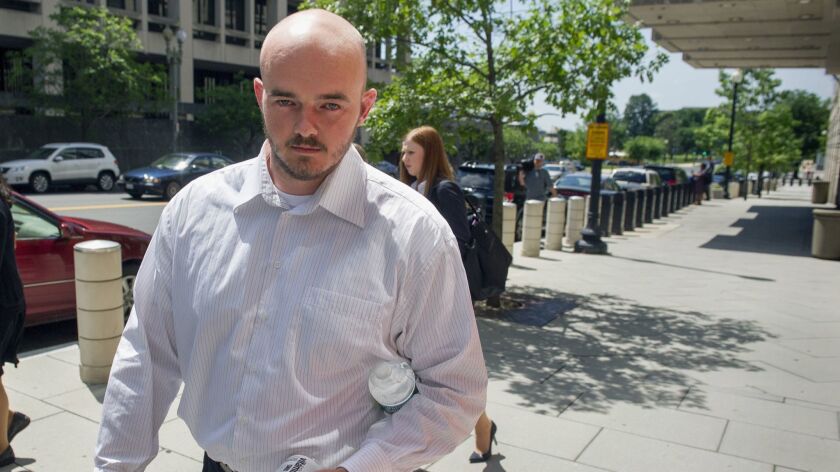 The retrial of a Blackwater security guard convicted of first-degree murder in 2014 resulted in a hung jury Wednesday, dealing a blow to the Justice Department's long pursuit of accountability for a 2007 shooting of unarmed civilians that drew international condemnation during the Iraq war.
U.S. District Judge Royce Lamberth of the District of Columbia declared a mistrial after a jury of seven women and five men said it was deadlocked on the 16th day of deliberations in the case of Nicholas A. Slatten. Slatten, 34, was accused of unleashing the first shots that set off machine gun and grenade fire that killed or injured 31 civilians in stopped traffic at Baghdad's Nisour Square on Sept. 16, 2007.
Charges were first brought against six Blackwater employees in 2008 and over the next decade their cases careered among trial and appeals courts.
It was the second time Slatten faced trial for murder in the shooting rampage that outraged diplomatic and humanitarian circles and sparked calls to end the U.S. government's use of private military forces.
The retrial jury had indicated in a note last week to the judge that it was at an impasse and asked, "please advise." The judge sent them home for the weekend and asked them to try again to reach a verdict when they returned to court Tuesday.
A jury in Washington, D.C., in October 2014 convicted Slatten of murder and three fellow Blackwater Worldwide guards of 30 counts of manslaughter and attempted manslaughter. The team was part of a convoy protecting State Department personnel.
A federal appeals court last August ordered a new trial for Slatten, saying he should have been tried separately from a co-defendant, Paul A. Slough, 38, who told investigators days after the shootings that he, not Slatten, fired the first rounds in the incident.
Slatten, of Sparta, Tenn., had been imprisoned in Sumterville, Fla., serving a mandatory life sentence, before being moved to Virginia and the District of Columbia for retrial.
Prosecutors still face resentencings of three other convicted defendants, Slough, of Keller, Texas, Evan S. Liberty, 36, of Rochester, N.H., and Dustin L. Heard, 37, of Maryville, Tenn.
The three-judge panel of the U.S. Court of Appeals for the D.C. Circuit that vacated Slatten's conviction last year also set aside the 30-year terms handed to the defendants in 2014 , saying the sentences violated a constitutional prohibition against "cruel and unusual punishment."
The three men received twice the maximum punishment for manslaughter alone after being convicted of using military firearms while committing a felony, an enhanced penalty that was primarily aimed at gang members and had never been used against security contractors given military weapons by the U.S. government.
In a 2-to-1 ruling, the panel said it did not intend to minimize the carnage attributable to the men, saying "their poor judgments resulted in the deaths of many innocent people," but called for more "nuanced" penalties based on each man's wrongdoing rather than "sledgehammer" treatment.
Lamberth, the judge in both trials, had deferred resentencing until the outcome of Slatten's retrial.
During the long history of the Blackwater prosecution, one guard, Jeremy Ridgeway, pleaded guilty to manslaughter and testified against Slatten in both of Slatten's trials, although he also said he believed Slough fired first. Prosecutors withdrew charges against one other Blackwater convoy member, citing a lack of evidence.
A federal judge initially threw out the other indictments in 2009, saying prosecutors improperly relied on statements the guards have given State Department investigators immediately after the shooting believing their statements would not be used in court.
Another three-judge panel of the D.C. Circuit reversed that ruling in 2011, clearing the way for prosecutors to obtain fresh indictments against Slatten and the three others.
However, prosecutors took so long to charge Slatten that the statutory time limit for bringing a manslaughter charge had expired, an error the appeals court panel contributed to an errant ruling, a court found.
The Justice Department responded by charging Slatten, a former Army sniper, with first-degree murder, which has no statute of limitations, but required a higher burden of proof, including premeditation, which prosecutors labored this summer to meet.
Slatten's defense also got a new boost when a key government witness - Jimmy Watson, the leader of the four-vehicle convoy who was seated next to Slatten - retreated from his previously strong, repeated testimony that he had heard Slatten fire first.
Watson, who Slatten's attorneys said suffered a brain injury in a diving accident while a Navy SEAL, appeared "a bit of a shell of himself" on the stand in the retrial, lead prosecutor Patrick Martin acknowledged, "looking off into the distance" and speaking in a muted tone and cadence.
But Martin asked jurors to remember "the 2013 Watson," who without hesitation and "clear as a bell" said seven times -- in recorded grand jury testimony that was played at the retrial — that he heard Slatten fire first, then Slough.
"He was not the Mr. Watson of 2013 ... You saw a different man up here, and that was unfortunate," Martin said in the government's closing arguments. "But the 2013 Watson gives you the testimony you need" to find Slatten guilty.
Hsu writes for the Washington Post.
---
Must-read stories from the L.A. Times
Get all the day's most vital news with our Today's Headlines newsletter, sent every weekday morning.
You may occasionally receive promotional content from the Los Angeles Times.