Muslim boy who was arrested for building a clock says his family was forced to leave the U.S. for safety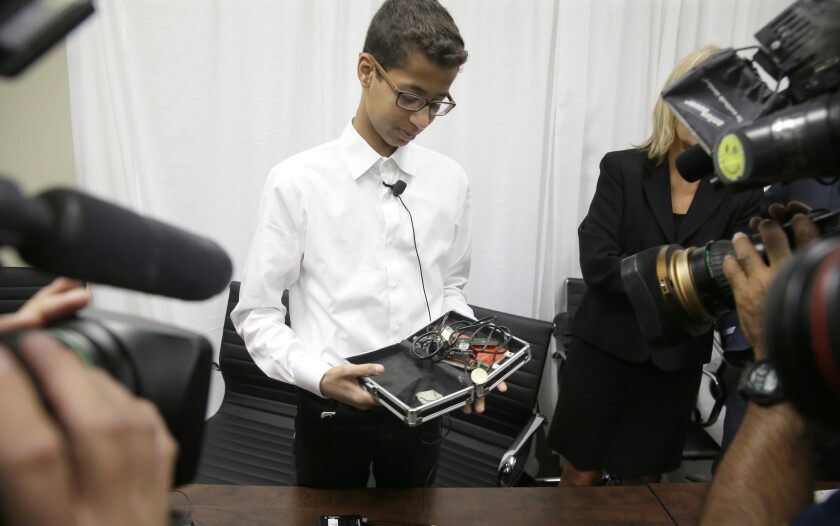 It has been nearly a year since a Muslim teen was arrested for bringing a homemade clock to school in Texas, instantly turning him into the pivot for a nationwide debate about security, terrorism and religious prejudice.
The case also changed the course of Ahmed Mohamed's life. On Monday, his family filed a lawsuit against his former school district, and Ahmed described how they had moved to the Persian Gulf kingdom of Qatar to escape the glare of attention. He said he found it frightening to return to the United States.
"For the safety of my family, I have to go back to Qatar, because right now it's not very safe for my family or for anyone who's a minority," Ahmed, who turns 15 this month, said at a news conference in Dallas.
He said he wears a hat, sunglasses and hoodie when he goes outside now "because I might get shot, because that happens here."
Ahmed was arrested and suspended for three days in September when he brought the clock, which was suspected to be a hoax bomb, to MacArthur High School in a Dallas suburb. Police later dropped the charge.
Many people supported the school and doubted Ahmed's insistence that he had intended to build only a clock. But the teen also received substantial support, prominently including an invitation to the White House from President Obama.
"Cool clock, Ahmed," the president had tweeted.
Christopher Stoy, one of the Mohamed family's attorneys, said the experience has been overwhelming for the boy.
"I don't know if he's grasped yet how pivotal this case can be in terms of discrimination," he said in an interview Monday. "His identity was stripped. He lost that bit of childhood, those teenage years. I don't know if that's something that can really be given back."
Hutchison & Stoy has received numerous calls and death threats from people telling them they are not American for representing Mohamed, Stoy said.
"This is something Ahmed has experienced from the beginning," Stoy said. "He told me, 'When all the hate starts coming at you, you can't let it affect you. Promise me, Chris, you won't let it affect you.'"
The lawsuit was filed against the Irving Independent School District, the principal of the high school and the city of Irving. It alleges that Mohamed, who came to be known as "Clock Kid" after the incident went viral, was discriminated against based on his race and religion, and that the incident, and the death threats received by the family in its aftermath, forced them to leave the United States.
It also claims that Texas has a history of anti-Muslim sentiment in schools and has adopted a curriculum that "watered down the teaching of the civil rights movement, religious freedoms, America's relationship with the United Nations and hundreds of other topics."
The family is seeking unspecified damages.
School district spokeswoman Lesley Weaver said in a statement that attorneys for the district will review the suit and determine a course of action.
"Irving ISD continues to deny violating the student's rights and will respond to claims in accordance with court rules," she said, adding that school officials for now would have no further comment.
Mohamed's father, Mohamed Elhassan Mohamed, fled to the United States from Sudan with his family after they faced religious persecution, according to the lawsuit.
Despite the uproar, Stoy said Ahmed has the interests of a teenage boy, even if his inventions have come to a standstill due to lack of supplies.
Susan Hutchison, also an attorney for the family, said Ahmed still shows signs of passion for engineering and science.
"After the press conference, he talked to one of the camera guys and asked him how his camera worked, if he could operate it. He still has the curiosity," she said.
Ahmed will return back to Qatar in six weeks to begin a new school year, Stoy said.
"Creating things … it's not something he wants to give up on," he said. "He's got a great spirit for a kid involved in a situation like this."
The Associated Press contributed to this report.
Twitter: @alexiafedz
ALSO
Young son of Kansas lawmaker dies on world's largest water slide
From 'shrines' to head-to-toe attire: How Miami is coping with the arrival of Zika
Alabama chief justice may lose his job in ethics case over same-sex marriage ruling
---
UPDATES:
5:18 p.m.: This article has been updated throughout with staff reporting, interviews with lawyers.
This article was originally posted at 12:25 p.m.
---
Must-read stories from the L.A. Times
Get all the day's most vital news with our Today's Headlines newsletter, sent every weekday morning.
You may occasionally receive promotional content from the Los Angeles Times.