Limo in crash that killed 20 people shouldn't have been on the road, New York governor says
Members of the National Transportation Safety Board view the scene of Saturday's fatal crash in Schoharie, N.Y.
(Hans Pennink / Associated Press)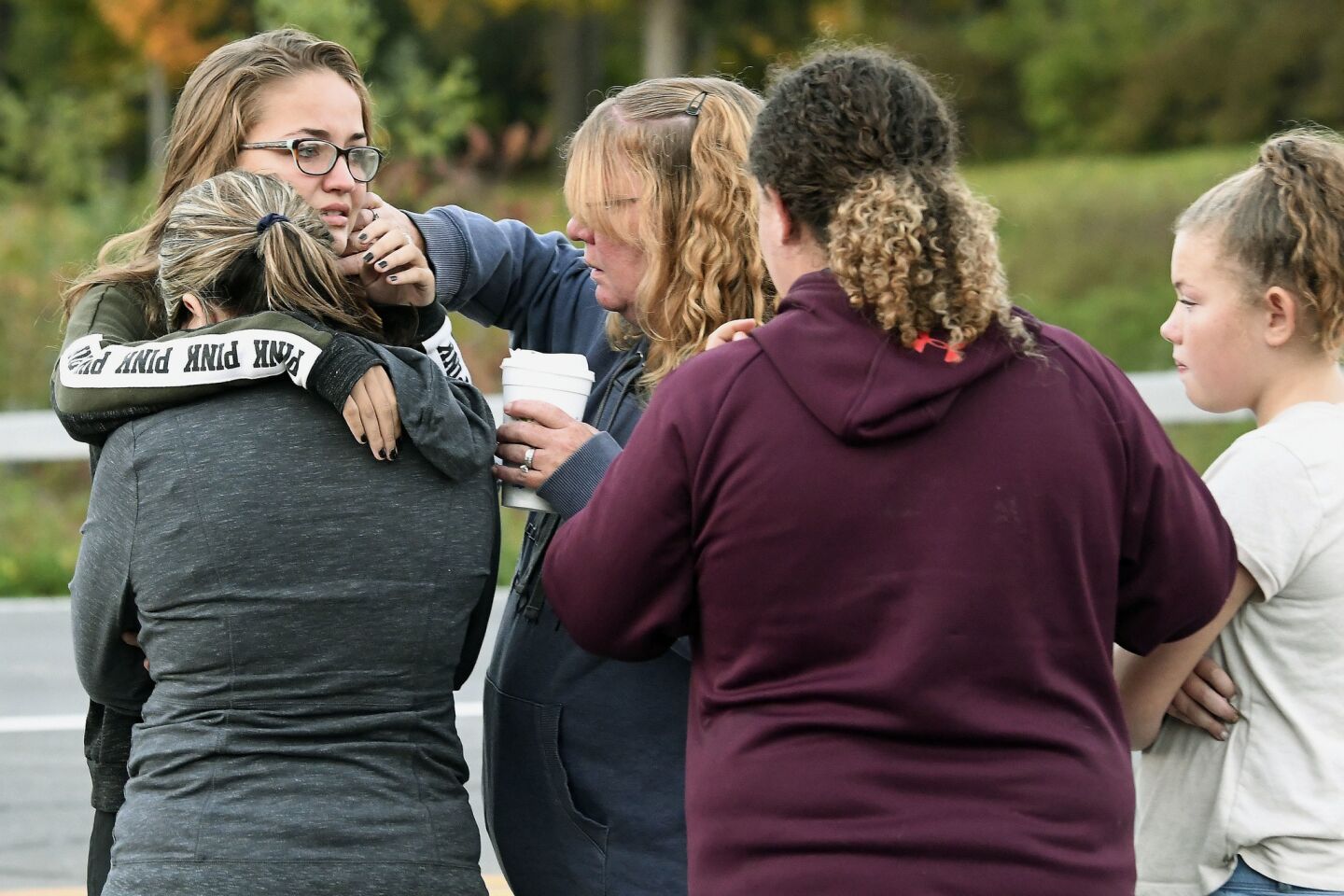 Friends of victims who died in Saturday's fatal limousine crash comfort each other after placing flowers at the intersection in Schoharie, N.Y.
(Hans Pennink / Associated Press)
A New York state trooper and members of the National Transportation Safety Board view the scene of Saturday's fatal crash in Schoharie, N.Y.
(Hans Pennink / Associated Press)
People place flowers at the scene where 20 people died in the crash of a limousine at an intersection a day earlier in Schoharie, N.Y.
(Hans Pennink / Associated Press)
A a body is draped under a blanket at the scene of a fatal crash in Schoharie, N.Y.
(Tom Heffernan Sr. / Associated Press)
Distraught family members take in the scene in Schoharie, N.Y., one day after an accident left 20 people dead.
(Lori Van Buren / AFP/Getty Images)
Reporting from SCHOHARIE, N.Y. —
The supersized limousine that crashed and killed 20 people in upstate New York failed a safety inspection last month and shouldn't have been on the road, and the driver wasn't properly licensed, the state's governor said Monday.
The state moved to shut down the owner, Prestige Limousine, as state and federal authorities investigated the cause of Saturday's wreck in Schoharie. The company said it was taking its cars off the road while conducting its own investigation into the crash.
The accident about 170 miles north of New York City came three years after another deadly limo wreck in New York state spurred calls for Gov. Andrew Cuomo to examine such vehicles' safety. There is no evidence the state took any steps to do so.
As victims' relatives tried to come to grips with the tragedy that happened as a group of friends and family was on its way to a 30th birthday party, authorities had yet to say how fast the limo was going or determine what caused it to run a stop sign.
The 19-seat vehicle had at least some seat belts, but it was unclear whether anyone was wearing them, National Transportation Safety Board Chairman Robert Sumwalt said.
Investigators plan to examine the mangled limo's data recorders and mechanical systems as well as the road, which has a history as a danger spot. They are also looking into the driver's record and qualifications and conducting an autopsy to see whether drugs or alcohol were factors.
But officials already saw some red flags, Cuomo said: The driver didn't have the necessary commercial license, and the vehicle failed a state inspection that examined such things as the chassis, suspension and brakes.
"In my opinion, the owner of this company had no business putting a failed vehicle on the road," the governor said while attending a Columbus Day Parade in New York City. "Prestige has a lot of questions to answer."
He also said the limo — built by cutting apart a heavy-duty SUV and lengthening it — had been created without federal certification, though NTSB officials said they hadn't yet determined whether the vehicle met federal standards.
Prestige Limousine issued a statement Monday expressing condolences to victims' families and saying it was conducting "a detailed internal investigation," while also meeting with state and federal authorities, according to the New York Times.
The Gansevoort, New York-based company said it pulled its cars from the road voluntarily. But state police say they seized four Prestige cars, including the one that crashed.
Federal records show the company has undergone five inspections in the last two years and had four vehicles pulled from service.
Federal transportation records show Prestige is owned by Shahed Hussain, who worked as an informant for the FBI after the Sept. 11, 2001, attacks, infiltrating Muslim groups by posing as a terrorist sympathizer in at least three investigations. In one case, he helped convict men accused of plotting to bomb New York synagogues.
His role at the FBI was criticized by civil liberties groups, who accused him of helping the FBI entrap people.
Asked Monday about Hussain, the FBI said it would not confirm or deny who was or was not an informant.
The limousine, built from a 2001 Ford Excursion, ran a stop sign at a T-shaped intersection at the bottom of a hill and slammed into an unoccupied SUV.
Investigators have yet to determine whether the driver, whose name has not been released, tried to brake. The crash left no visible skid marks, but that might be due to misty weather or anti-lock brakes, Sumwalt said.
The wreck killed two pedestrians and all 18 people in the limousine, including four sisters who were headed with friends and relatives to a brewery for a party for one of the sisters.
The four sisters' aunt, Barbara Douglas, said they had felt "they did the responsible thing getting a limo so they wouldn't have to drive anywhere."
"My heart is sunken. It's in a place where I've never felt this type of pain before," said Karina Halse, who lost her 26-year-old sister Amanda.
The crash appeared to be the deadliest vehicle accident in the U.S. since a bus full of Texas nursing home patients fleeing 2005's Hurricane Rita caught fire, killing 23 people. Saturday's wreck was the nation's deadliest transportation accident of any kind since a 2009 plane crash near Buffalo, N.Y., killed 50 people.
Factory-built limousines must meet stringent safety regulations. But luxury cars converted to limos, like the one in Saturday's crash, often lack such safety components as side-impact air bags, reinforced rollover protection bars and accessible emergency exits.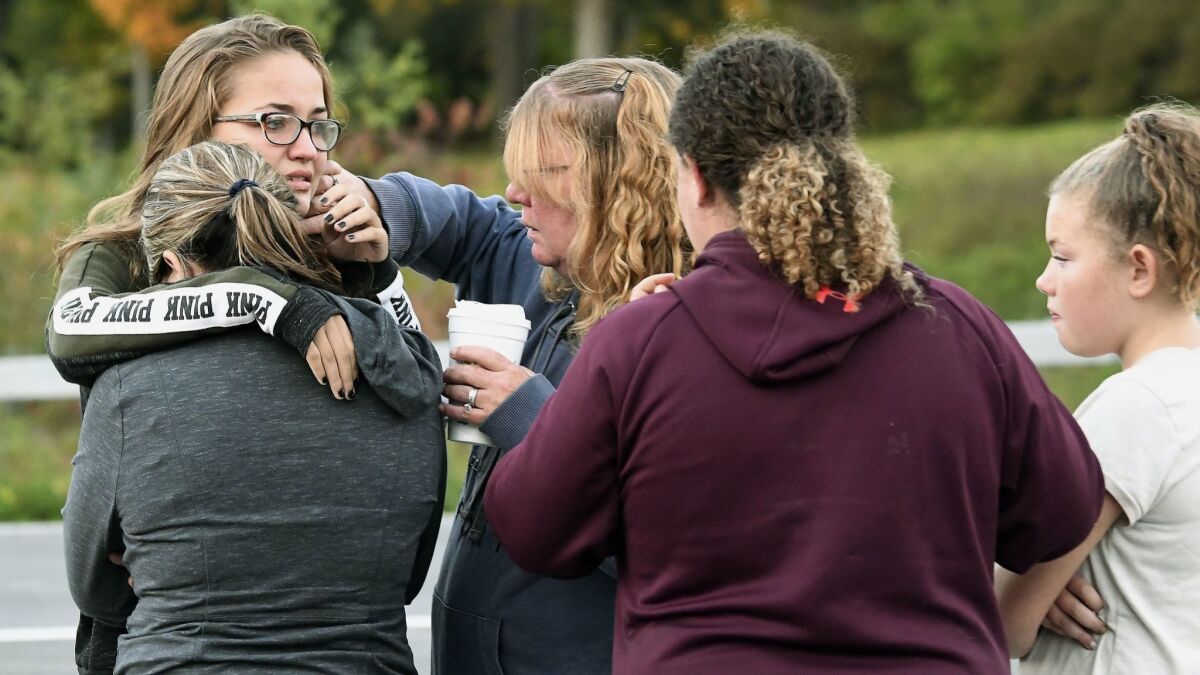 Few federal regulations govern limos modified after leaving the factory. Regulations often vary by state and even local governments.
"It certainly is the Wild West out there when it comes to limousines and stretch vehicles," said National Safety Council Chief Executive Deborah A.P. Hersman, who would like to see uniform state limousine regulations across the nation.
Ford said it has never made its own stretch version of the Excursion. The company did certify outside companies to modify them to Ford specifications for up to 14 seats during the 2001 model year, but it wasn't clear who modified the SUV that crashed Saturday.
"At this time, Ford does not have any information about the vehicle involved in this accident, but we are ready to cooperate with agencies who are investigating," the company said in a statement.
Large-limo wrecks are relatively few: 12 nationwide between 2012 and 2016, compared with over 157,000 crashes involving all types of vehicles during that period, according to the National Highway Traffic Safety Administration. But some big-limo wrecks caught the public's attention and prompted pleas for more oversight.
Five women out for a bachelorette party were killed in 2013 when their stretch limo caught fire in Northern California because of friction between the drive shaft and the rear floorboard.
After comedian Tracy Morgan was seriously injured in a crash in New Jersey in 2014, the NTSB recommended the limousine industry encourage seat-belt use in stretch limos, among other suggestions.
After a stretch limousine was T-boned and nearly torn in half on New York's Long Island in 2015 — killing four women on a winery tour — a special grand jury implored Cuomo to examine the safety of such vehicles.
It appears the task force was never formed, and nearly three years after the grand jury's recommendation, it was unclear what, if anything, Cuomo's administration did in response.
"I don't know if there was a task force set up," the governor said Monday, while suggesting that Saturday's crash didn't necessarily point to a need for more regulation.
"Sometimes, people just don't follow the law" that already exists, he said. "And that may very well be what happened here."
---
UPDATES:
6:25 p.m. The article was updated with statements from Ford and the limo company.
The article was originally published at 10:25 a.m.
Must-read stories from the L.A. Times
Get the day's top news with our Today's Headlines newsletter, sent every weekday morning.
You may occasionally receive promotional content from the Los Angeles Times.