A Texas cop is fired after killing an unarmed man. Why is that so rare?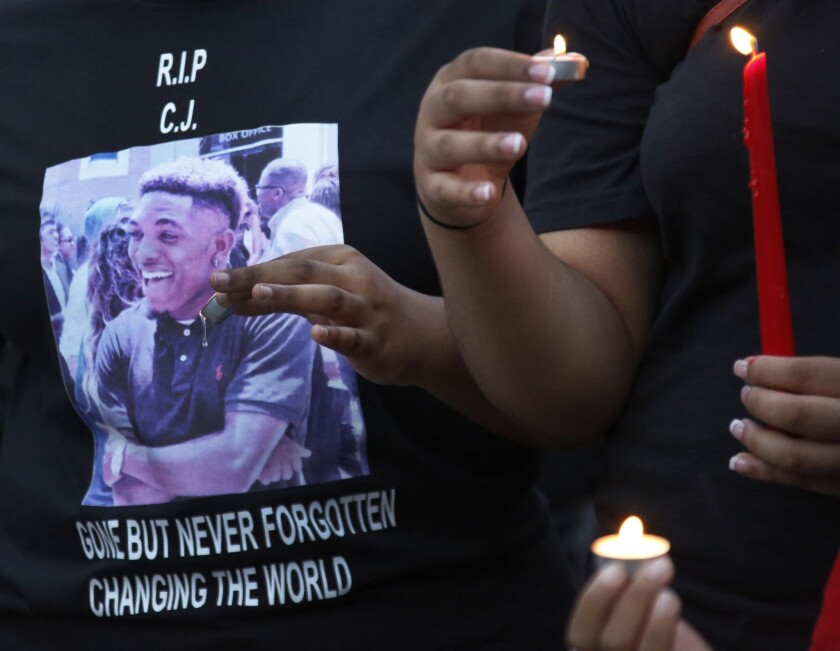 Firing a police officer is no easy task, and when a law enforcement agent faces the loss of his or her job, the process is rarely quick.
But on Tuesday night, Arlington, Texas Police Chief Will Johnson dismissed rookie Officer Brad Miller just four days after he shot and killed Christian Taylor, an unarmed burglary suspect.
Law enforcement experts say two key factors, plus a political climate that has led to intensified scrutiny of police, helped drag Miller's case outside of the molasses-like disciplinary proceedings that often frustrate civil rights advocates.
What do police say Miller did wrong?
When he fired Miller on Tuesday, Johnson said the 49-year-old's termination had to do with decisions he made before the fatal shooting rather than the shooting itself. That means the department did not have to wait for prosecutors to present the case to a grand jury, because they were not making the decision based on Miller's use of force.
While discussing the night of the shooting, Johnson said he found several "decisions made on scene to be troubling." Miller was one of six officers who responded to reports that Taylor had broken into an auto dealership on Interstate 20 around 1 a.m. on Aug. 8.
------------

FOR THE RECORD

Aug. 14, 3:53 p.m.: An earlier version of this article misstated that officers responded to reports that Texas Police Chief Will Johnson had broken into an auto dealership on Aug. 8. The officers were responding to reports that Christian Taylor had broken into the dealership.

------------
Miller went into the dealership to pursue Taylor, who had allegedly broken into the building by smashing his car through a gate, without alerting other officers, according to Johnson. That "questionable decision making" contributed to the fatal shooting, Johnson said Tuesday.
Johnson also said he had "serious concerns" about Miller's decision to shoot the unarmed Taylor. While the 19-year-old was advancing on Miller, another officer was preparing to use a Taser to subdue Taylor when Miller opened fire.
Why was Miller fired when other officers implicated in deadly shootings have not been?
Miller had been a police officer for less than a year, according to a statement released by the Arlington Police Department earlier this week. He graduated from the police academy just five months ago.
Generally speaking, police officers remain on probationary status during the first year of their employment. Arlington police said Miller had no disciplinary record, but experts said probationary officers can be fired for almost any reason.
"If he, in fact, had anything like permanent status he can't be fired without being charged or with some rights of due process," said Wayne Fisher, a professor of criminology at Rutgers University in New Jersey. "Given that he was with the field training officer, it is quite possible that the length of time he has on the job was short of the length required for permanent employment. Certainly the chief can dismiss him."
Increased scrutiny on police use of force may have also played a role in the speed of the decision, experts said.
Officers linked to some of the most controversial police killings in the U.S. in the last year have either avoided internal discipline altogether or seen their disciplinary hearings delayed until after criminal proceedings were completed. One of the few exceptions was in North Charleston, S.C., earlier this year, when police Officer Michael Slager was fired the same day he was indicted for the murder of Walter Scott.
But Miller's probationary status may have given Arlington police officials a chance to avoid criticism faced by other departments over the slow disciplinary process.
"It sounds to me that he was an at-will employee, and for the sake of politics, it's easier just to fire him," said Rick Wynant, a forensic scientist who has testified in more than 100 use-of-force cases and also serves as a reserve sheriff's deputy in Washington. "I can just say you're not going to work there. "
Miller's attorney, John Snider, shared that sentiment on Wednesday. He said Johnson fired the officer only to "appease anti-police activists," according to the Dallas Morning News.
Was there any reason for Miller to pursue Taylor alone?
Police have said there is no video of the shooting itself. But policing experts say Miller should have never been in a position to clash with Taylor in the first place.
"There was no immediate threat to life or safety," Wynant said. "You could let him trash that whole dealership, it doesn't matter.... It was just a matter of time before he's in custody."
Without knowing if Taylor was armed, or if any other suspects were on the premises, the officers at the scene should not have gone into the building without formulating a plan to arrest the 19-year-old, Fisher said. Miller, he said, made a simple mistake that unfortunately had deadly consequences.
"It is generally not sound procedure for one person to go inside while the other five are outside. If there are six officers on the scene at the same time somebody should have taken charge," Fisher said. "I can't see any reason other than he simply didn't do the right thing."
Follow @JamesQueallyLAT for breaking news on Twitter.
UPDATES
3:15 p.m.: This article was updated with comments from additional sources.
The first version of this article was published at 1:38 p.m.
---
Must-read stories from the L.A. Times
Get all the day's most vital news with our Today's Headlines newsletter, sent every weekday morning.
You may occasionally receive promotional content from the Los Angeles Times.