Defense seeks to show Bradley Manning was emotionally unstable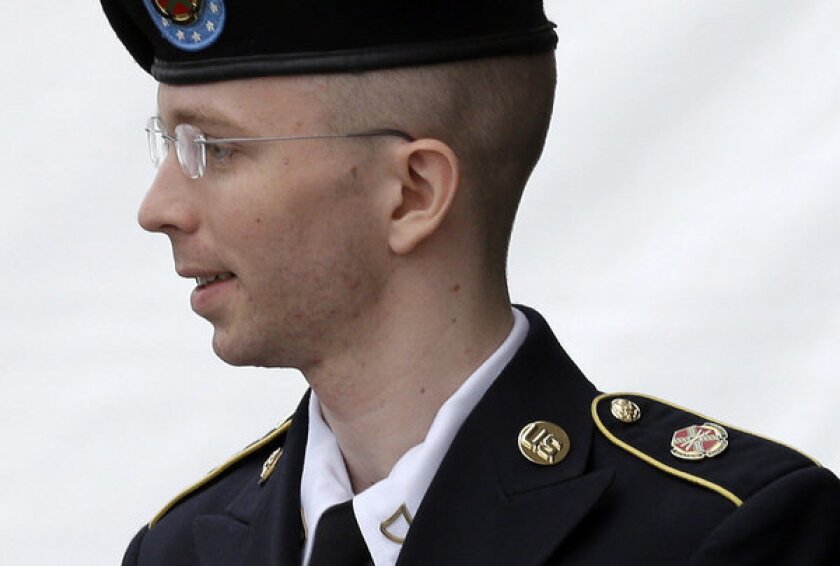 FT. MEADE, Md.—Several months before he started providing highly classified data to WikiLeaks, Army Pfc. Bradley Manning erupted violently against one of his superiors in Iraq, pounding his fists, flipping a table with government computers, and trying to grab a firearm from a weapons rack until he was forcibly restrained, an Army officer testified Tuesday.
The late-night outburst inside a secret Army intelligence compound southeast of Baghdad in December 2009 came as the short, scrawny intelligence analyst was growing increasingly distressed about what he was learning about the wars in Iraq and Afghanistan. Soon after, while on leave in Washington for the Christmas holidays, he decided to begin leaking hundreds of thousands of classified war logs, diplomatic cables and enemy combatant assessments to the anti-secrecy website.
Defense lawyers say the incident is crucial to their effort to convince a military judge not to impose the maximum 90-year sentence on Manning, who was convicted in a court martial of espionage and other charges for the illegal disclosures. They are trying to show that the Oklahoma-born soldier was nearing an emotional breakdown over what he viewed as military atrocities and government lies in the two conflicts.
Manning's lawyers also contend the incident proves military commanders knew he was mentally unstable but did not remove him from Iraq or dismiss him from the Army.
Manning's misconduct in Iraq was mentioned during his court martial. But Chief Warrant Officer Joshua Ehresman, who took the witness stand Tuesday morning, provided more details about the late-night outburst. Ehresman said another supervisor was counseling Manning about his behavior problems.
"Pfc. Manning got a little upset and he dumped a table over," Ehresman said. "He got angry and slammed his fists on the table. He grabbed onto the table and put his arm under it and flipped it onto the floor." A desktop computer and a laptop came crashing down.
"I went and detained him," Ehresman continued. "I felt that he was going toward a weapons rack and I felt I needed to detain him. He was visually distraught and had already dumped a table filled with government computers. I grabbed him and put him in a full Nelson and put him on a bench. Then me and him talked. I told him to relax, relax, that we could talk like adults. He said he was calm and to let him go. And he calmed down."
Chief Warrant Officer Kyle Balonek, who followed Ehresman onto the stand, said he and other Army supervisors decided that Manning required counseling but did not need to be removed from the unit with an official derogatory report. A so-called derog report could have cost Manning his security clearance and prevented him from leaking classified material.
"In my eyes it was being addressed. He was receiving some help," Balonek said. "But that particular incident didn't seem particularly derog-worthy. He got upset. And he turned the table. To me it equated to a temper tantrum. But it is a little dangerous to go for a weapon, if that indeed is what happened."
ALSO:
Bulger juror: Deliberations had 'all kinds of dissension'
Bloomberg blasts ruling against NYPD's stop-and-frisks
North Carolina governor signs sweeping voter ID bill into law
---
Must-read stories from the L.A. Times
Get the day's top news with our Today's Headlines newsletter, sent every weekday morning.
You may occasionally receive promotional content from the Los Angeles Times.