At Bradley Manning sentencing, ex-general to testify on leaks' damage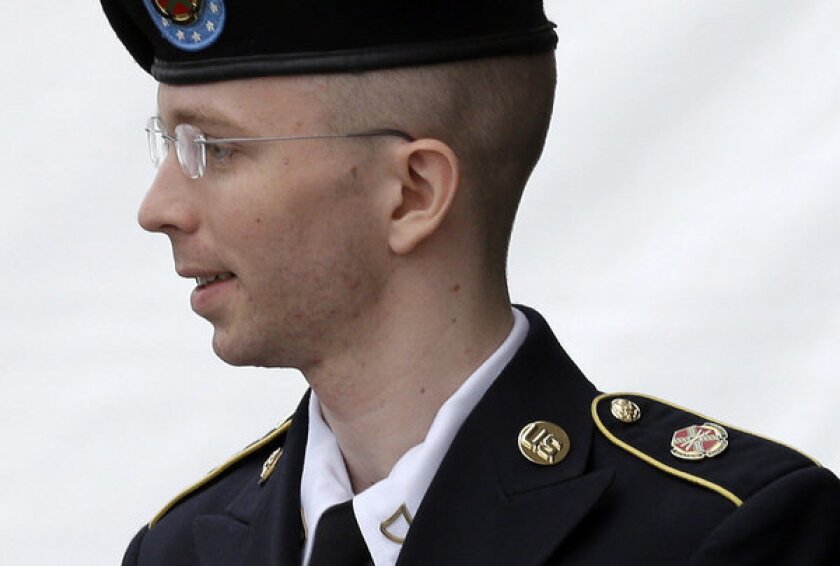 FT. MEADE, Md. — The sentencing phase in Pfc. Bradley Manning's court-martial opened Wednesday with military prosecutors calling as their first witness a retired brigadier general who spent his career overseeing the Army's extensive intelligence-gathering operations to support war efforts in Iraq, Bosnia and Afghanistan.
Robert A. Carr, now a corporate lead executive for defense contractor Northrop Grumman, is expected to give detailed testimony about the damage caused when Manning provided hundreds of thousands of classified documents to the anti-secrecy organization WikiLeaks.
Much of Carr's work in his final Army assignment was to weigh what kind of secret data was being obtained by WikiLeaks and to gauge how it might harm infantry troops in combat areas or endanger U.S. national security issues and foreign policy.
Prosecutors and defense attorneys agreed with the judge, Army Col. Denise Lind, that Manning, a 25-year-old former intelligence analyst in Iraq, faces a maximum prison term of 136 years, reduction in rank to enlisted private, a dishonorable discharge from the service and a forfeiture of all his pay and allowances.
But they disagreed over how much in monetary fines, if any, Manning ultimately should be ordered to pay -- no easy task considering he likely will spend decades in a military prison at Ft. Leavenworth, Kan.
Manning was convicted Tuesday of violating the Espionage Act and other charges but acquitted of the more serious allegation of aiding the enemy, which could have given him a sentence of life in prison with no parole. The acquittal was seen as a rebuke to the government, which had sought to send a grave warning to future government leakers that this conduct would be considered as traitorous and will not be tolerated.
ALSO:
Elderly man rescued in Houston captivity case dies
Real Housewives' stars released on $500,000 bond each
Penn State ex-officials to stand trial on Sandusky coverup charges
---
Must-read stories from the L.A. Times
Get all the day's most vital news with our Today's Headlines newsletter, sent every weekday morning.
You may occasionally receive promotional content from the Los Angeles Times.