Las Vegas audience saw Cirque du Soleil performer's fatal plunge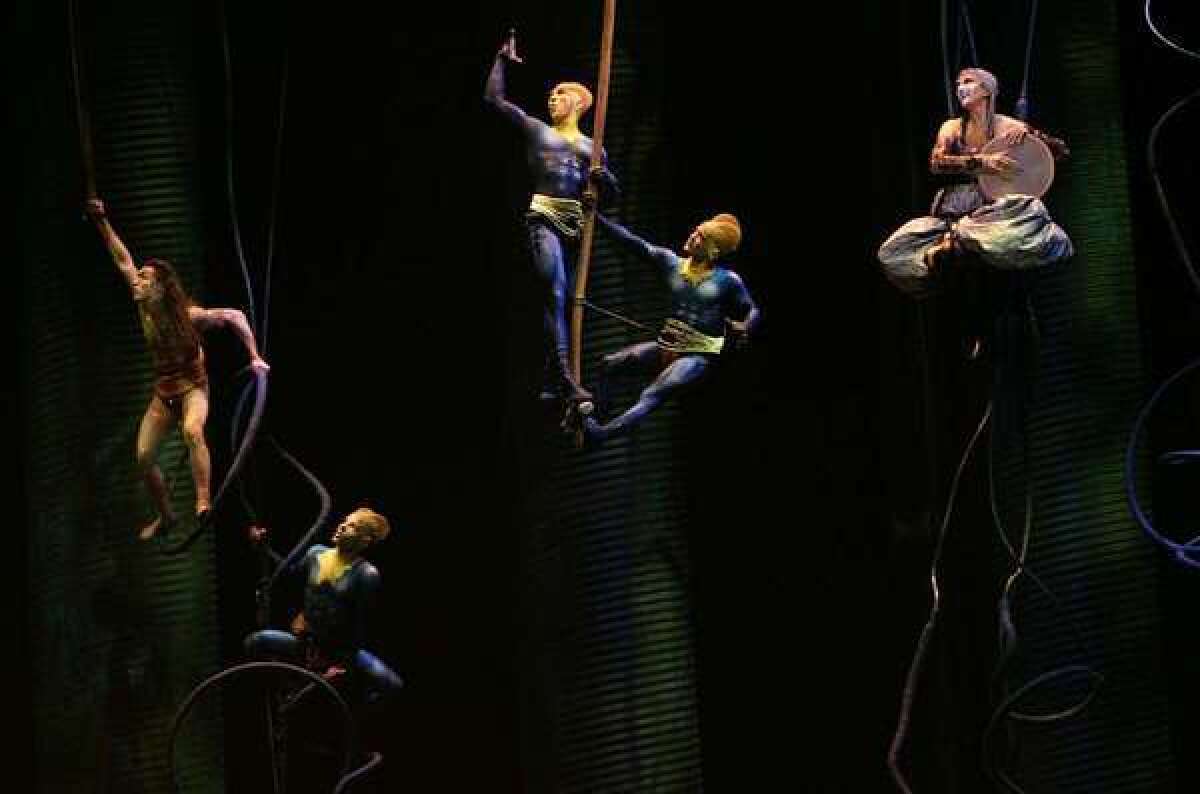 LAS VEGAS -- At first, Heather Bell thought the falling woman was part of the show, and she turned to her sister Madelyn and said, "Whoa."
On Saturday night inside the MGM Grand, Cirque du Soleil's 9:30 p.m. performance of "Ka" -- an elaborate acrobatic production featuring the company's trademark, daring aerial work -- had reached its climactic battle scene, and something had just gone very wrong.
Sarah Guillot-Guyard, 31, a seven-year Cirque veteran known as "Sassoon," had been dangling near a catwalk hidden far over the stage when the Bell sisters saw her suddenly go into a free fall and tumble out of sight.
"It was just an instant," said Madelyn Bell, 17, of Pensacola, Fla. "She just fell. She hit the ground, and you could hear the scream."
Within an hour, Guillot-Guyard was dead. The audience at the MGM Grand, which had paid to witness one of Cirque du Soleil's world-famous death-defying productions, had witnessed the unthinkable: a performance death, thought to be the first in Cirque du Soleil's 29-year history.
"It didn't look like she was trying to grab on the wall or anybody else as she fell," said Bryce Johnson, 27, of Las Vegas.
As the audience looked on, performers dangled from the ceiling for several minutes and the show's music continued to play before it was silenced. Audience members said they could hear cries from the pit, which was blocked from sight by the show's ushers.
At one point, the performers simultaneously pressed their fingers to their earpieces to listen to a message, and Johnson said he heard someone call for a gurney.
About 10 minutes after the fall, the audience was ushered out with promises of refunds. Guillot-Guyard was taken to University Medical Center, where she was pronounced dead shortly before midnight.
In a statement, Cirque du Soleil founder Guy Laliberte called the fall an accident.
"I am heartbroken," Laliberte said. "I wish to extend my sincerest sympathies to the family. We are all completely devastated with this news.... We are reminded, with great humility and respect, how extraordinary our artists are each and every night."
Cirque du Soleil, which was founded by a group of street performers in Montreal in 1984, employs some 5,000 people in shows around the world.
The company's commercial breakthrough came in Los Angeles in 1987 via the show "Cirque Réinventé," which introduced American audiences accustomed to traditional Ringling Brothers shows to the more artistic style of the Canadian troupe. Cirque expanded rapidly in the 2000s; according to the company's website, close to 15 million people will see a Cirque performance in 2013.
The same night as the deadly fall during "Ka," Cirque's newest show, "Michael Jackson: ONE" held its opening night performance at the Mandalay Bay Resort and Casino in Las Vegas -- a production that experienced its own trouble in the last week.
On Wednesday, an acrobat taking part in one of the final preview performances suffered a mild concussion after slipping through slack rope in the show's "Stranger in Moscow" scene, Cirque officials said. That performer, who is expected to return to the production, missed a protective pad below the actors and landed hard on the stage.
Cirque President Daniel Lamarre later told the Las Vegas Sun that the troupe does not release names of artists injured onstage so officials can first notify their families when such an incident occurs.
"The one thing that people maybe don't realize is how hurt we are when something like that happens," Lamarre said before Saturday's fatal mishap. "It's almost like a family member. We are protective of the artist, first and foremost, and keep focus on the artist."
Company officials said they were cooperating with authorities but said little else about the death and asked for privacy from the media.
Cirque has prided itself on its safety record -- in a 2011 press release, it touted a study by five university physician-scientists in Canada and the United States that concluded that the incidence of severe injuries at Cirque is "markedly lower than for National Collegiate Athletic Assn. sports such as football, hockey, soccer, basketball and gymnastics in the United States."
"The staging of physical prowess is a crucial part of circus arts," the company said in a statement at the time. "But the safety of the artists must take precedence over any other consideration."
Showings of "Ka" have been canceled until further notice.
Right before Saturday night's performance, audience member Johnson had bought tickets for a different Cirque du Soleil show coming up, with one ticket for his wife. But after the tragedy, the idea of going to another show took on a darker tone.
"I don't think my wife is going to go to another Cirque du Soleil show for a while," Johnson said. "She was really traumatized by it."
ALSO:
American student, 21, killed in Egypt demonstrations
Extreme heat: Phoenix forecasters bake cookies in van
Pennsylvania girl got second lung transplant after first failed
Pearce and Keegan reported from Los Angeles, Glionna from Las Vegas.
---
Must-read stories from the L.A. Times
Get the day's top news with our Today's Headlines newsletter, sent every weekday morning.
You may occasionally receive promotional content from the Los Angeles Times.