Journalist Trey Yingst arrested during Ferguson, Mo., protests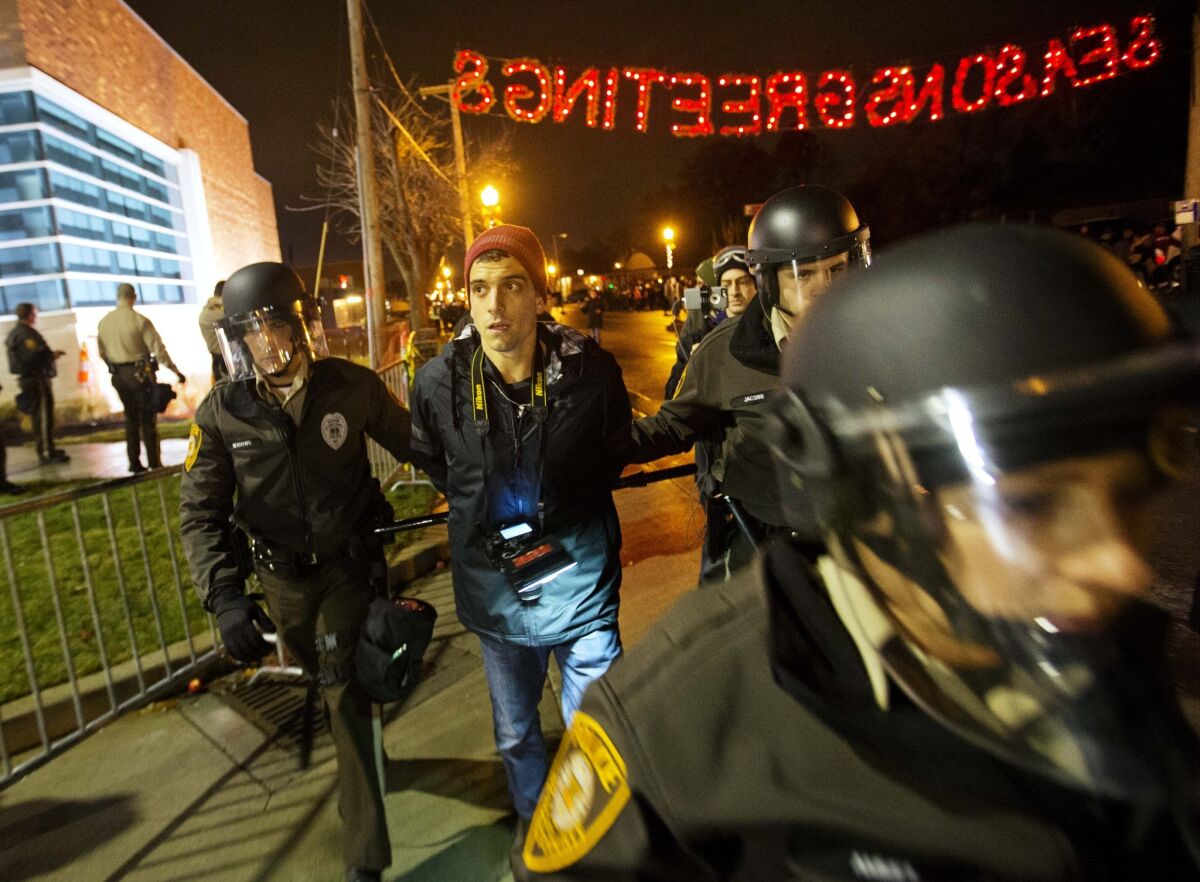 A journalist's arrest during a protest near the Ferguson, Mo., police headquarters early Sunday drew renewed attention to disputes over 1st Amendment rights in the wake of a white police officer's killing of an unarmed black man.
Trey Yingst, a reporter with News2Share, was accused of unlawful assembly and taken into custody, according to St. Louis County police. News2Share publishes stories by freelance reporters online.
A police summary notes that Yingst was among a group that was obstructing traffic at South Florissant Road and Compton Avenue.
"The group of subjects were gathered on the street and sidewalks at that intersection. The on-scene commander engaged the crowd and instructed them that they were impeding the flow of traffic and would be subject to arrest if they did not exit the roadway," the police summary says. "The crowd ignored the commander's verbal commands to exit the roadway and continued to impede the flow of traffic."
Police say most of the crowd dispersed, but Yingst and another person, David Rodriguez, 26, did not, so they were taken into custody. Several witnesses said Yingst was on the sidewalk when he was arrested.
Shortly after his release from jail, Yinsgt said on Twitter that he had been "arrested for exercising my 1st amendment rights on a public sidewalk."
The protests in Ferguson began Aug. 9, when police Officer Darren Wilson fatally shot an 18-year-old unarmed black man, Michael Brown. In August, some journalists were arrested while covering the demonstrations.
On Sunday, the American Civil Liberties Union said it was "unclear what legal authority police officers would have had to order him to disperse."
"We are deeply troubled that the 1st Amendment rights of the media are still being violated in spite of the recent court order we secured against such action by the County of St. Louis," said Jeffrey Mittman, executive director of the ACLU of Missouri, in a statement. "We will continue to monitor the situation and if necessary swiftly pursue aggressive action to ensure that unlawful interference with the press comes to an end."
U.S. District Judge Catherine Perry ruled in October that the practice of requiring "peaceful demonstrators and others to walk, rather than stand still, violates the Constitution." She issued a preliminary injunction banning St. Louis County Police and the Missouri State Highway Patrol from using the tactic.
Follow @kurtisalee and email kurtis.lee@latimes.com
---
Must-read stories from the L.A. Times
Get the day's top news with our Today's Headlines newsletter, sent every weekday morning.
You may occasionally receive promotional content from the Los Angeles Times.