Military investigator retraces Ft. Hood shooting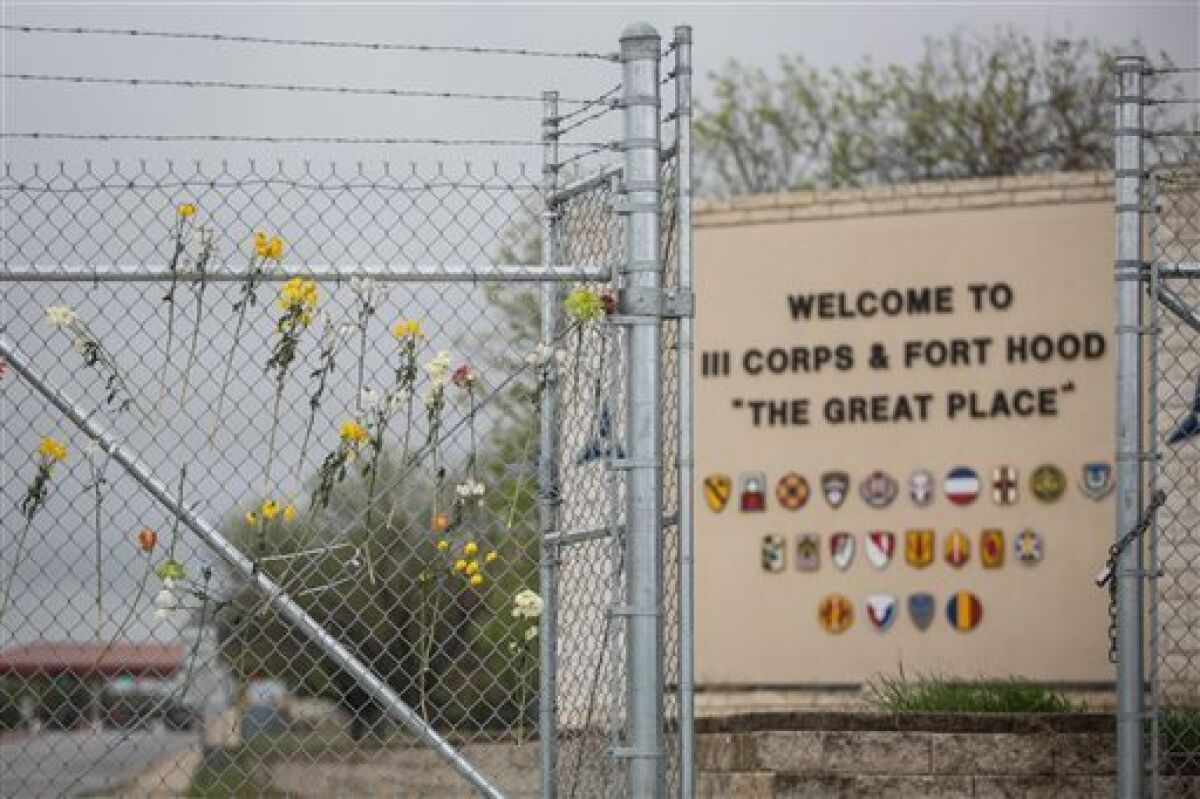 FT. HOOD, Texas — Military investigators provided a step-by-step account Monday of the shooting at this massive central Texas Army base last week that left three soldiers and the gunman dead and 16 wounded. They also confirmed that a dispute precipitated the deadly incident.
Officials had already shared the attack's basic chronology: Spc. Ivan Lopez, 34, opened fire about 4 p.m. on Wednesday, traveling from building to building and firing from his car until encountering a female military police officer, who shot at him before he took his own life.
A spokesman for the military's Criminal Investigation Division provided more details Monday about Lopez's movements, but said the soldier's motive remains a mystery.
"We may never know why," spokesman Chris Grey said.
Grey did not identify any of the other soldiers involved as he retraced Lopez's movements using a large map based on an analysis of the crime scene, evidence and interviews with more than 1,000 people.
He said the attack began after Lopez was involved in a "verbal altercation concerning his request for leave and the processing of his request at his unit's administrative office."
Within minutes of the argument, Lopez brandished a .45-caliber semiautomatic pistol and shot several soldiers at the administrative building, one of whom was killed.
He then climbed into his car and drove slowly off, heading the wrong way down a nearby street, according to witnesses. He fired from his vehicle at two soldiers standing behind a building, wounding one.
Lopez then parked outside the motor pool office where he worked. Once inside, Lopez opened fire, wounding three more soldiers, one of whom later died.
He left and drove toward a medical building, shooting through the windshield of an oncoming car and wounding the passenger, another soldier.
At the medical building, Lopez shot and wounded a soldier outside, then killed the soldier on duty at the front desk and wounded another soldier before he left.
He then drove to a nearby parking lot where he approached a female military police officer. The two spoke briefly. When Lopez wielded his pistol, she drew her weapon and fired a single round.
Autopsy results show Lopez was not struck by that bullet.
Instead, he placed his pistol to his head and shot himself.
The entire incident unfolded in about eight minutes. In that time, Lopez fired more than 35 rounds, Grey said. Lopez had no criminal record, he said.
Investigators think that Lopez acted alone and that the attack was unrelated to terrorism, unlike the last mass shooting at Ft. Hood in 2009 by Maj. Nidal Malik Hasan, who said he was defending the Taliban when he killed 13 fellow soldiers and wounded more than 30.
Grey said investigators finished work at the crime scene Monday.
"We sincerely hope that our efforts to diligently seek the truth will in some small way provide comfort to the families of the deceased and wounded," Grey said.
Three sergeants were killed in the attack: Danny Ferguson, 39, of Mulberry, Fla.; Timothy Owens, 37, of Effingham, Ill.; and Carlos Lazaney, 38, of Aguadilla, Puerto Rico. Their bodies were being transported home this week, Col. Paul P. Reese said at Monday's briefing.
Grey did not say where each of the soldiers was killed, but Ferguson had worked in transportation administration, Owens in the motor pool and Lazaney in a medical brigade, according to military records.
Five of the injured were still hospitalized Monday. Two were improving at a military hospital on the post and three were in fair condition at Scott and White Memorial Hospital in nearby Temple, Texas, spokesmen said.
The rest of the injured have returned to duty, Reese said.
Some of the soldiers have told their families that they are determined to keep pursuing military careers, that the shooting was an isolated incident. But it has shaken the Ft. Hood community, the nation's largest Army post with a daily population of 100,000.
It was also a brutal reminder of Hasan's 2009 attack, the deadliest to date at a military post. A memorial was held after that shooting, the last time the president visited Ft. Hood.
Now President Obama plans to return for another memorial at 2 p.m. Wednesday at the post's Sadowski Field, which will be open to soldiers and their families.
Pvt. Jacob Sanders, 21, of Madison, Ind., told his family that he is slated to receive an award from Obama for his actions during the attack, along with three others, including a chaplain who protected other soldiers and the female military police officer who confronted the shooter. Military spokesmen could not confirm that, but noted that when Obama last visited, he met privately with survivors and families of the dead.
Military officials were already preparing for the memorial Monday, piling protective barriers the size and shape of railroad cars around command headquarters. They did the same thing before the president's last visit, and during Hasan's court-martial last year, when he was convicted and sentenced to death.
Elsewhere at the post on Monday, residents returned to their daily routines at work, schools, churches and the sprawling neighborhood subdivisions. The streets bustled with weekday traffic.
Flags remained at half staff.
Must-read stories from the L.A. Times
Get the day's top news with our Today's Headlines newsletter, sent every weekday morning.
You may occasionally receive promotional content from the Los Angeles Times.