Defense in Abu Ghaith trial says judge rushed jury, vows to appeal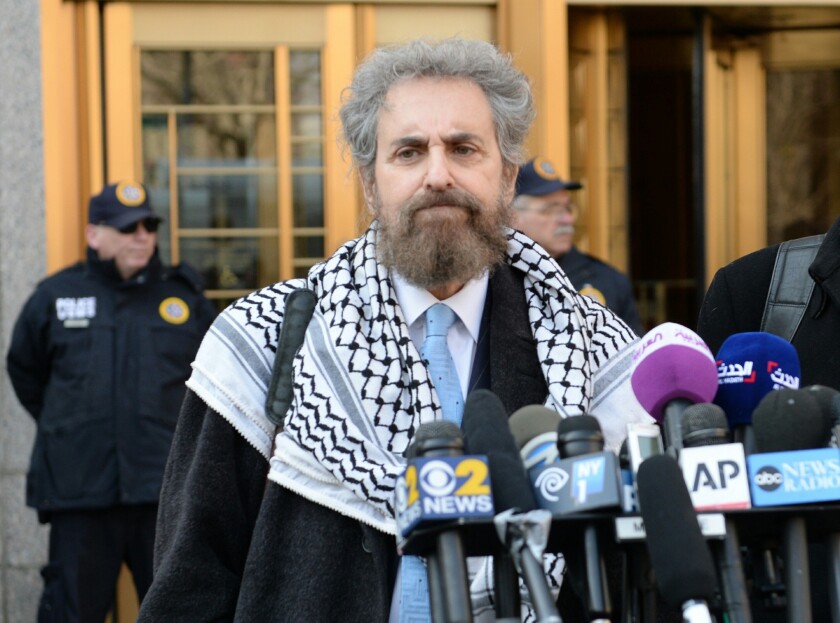 NEW YORK--The conviction of a former Al Qaeda spokesman Wednesday for crimes stemming from the Sept. 11, 2001, attacks could bolster calls for the movement of high-profile terror suspects out of Guantanamo Bay to civilian courts, but the defendant's attorney said the trial was unfair and promised an appeal.
After a jury found Sulaiman Abu Ghaith guilty, defense attorney Stanley Cohen said his case had been hampered by the absence of certain witnesses whose testimony was not allowed; by the judge's instructions to the jury; and by U.S. District Judge Lewis A. Kaplan's own statements as jurors entered a second day of deliberations.
On Wednesday morning, as the jury began its work after failing to reach a verdict Tuesday afternoon, Kaplan told them he would be available to wait out a verdict into the evening if they couldn't reach a decision during the day.
"I think they're coercive," Cohen said of the comments, alleging that the judge rushed jurors by suggesting that their decision shouldn't be that difficult.
The conviction of Abu Ghaith occurred in a federal courtroom in lower Manhattan, just blocks from where the World Trade Centers once stood. Prosecutors did not charge Abu Ghaith with plotting the Sept. 11, 2001, attacks, but the event hung heavy over the courtroom as the government repeatedly showed jurors video of jets slamming into the buildings and the towers enveloped in smoke.
U.S. Attorney General Eric H. Holder Jr. called the verdict a "major milestone" in the pursuit of "justice against those involved with the September 11 attacks."
"It was appropriate that this defendant, who publicly rejoiced over the attacks on the World Trade Center, faced trial in the shadow of where those buildings once stood," Holder added.
The U.S. attorney for the southern district of New York, Preet Bharara, said that within hours of the attacks, Abu Ghaith "was using his position in al Qaeda's homicidal hierarchy to persuade others to pledge themselves to al Qaeda in the cause of murdering more Americans."
Based largely on speeches Abu Ghaith made after the attacks, beginning on Sept. 12, 2001, the jury found him guilty of conspiring to kill U.S. nationals, providing material support or resources to terrorists, and conspiring to provide material support or resources to terrorists.
Abu Ghaith is the highest-ranking Al Qaeda leader to stand trial in the United States for crimes stemming from the hijackings.
The alleged mastermind of the 2001 attacks, Khalid Sheikh Mohammed, and four co-defendants remain in detention as military combatants at the U.S. military prison in Guantanamo Bay, Cuba, with no trial in sight. The Department of Justice's plans to move Mohammed to New York for trial were quashed amid political opposition from critics who cited security concerns and who said foreign terror suspects don't deserve the same legal rights and other representation as U.S. citizens.
Neither of those issues became a problem in Abu Ghaith's trial, which opened March 5, about one year after his arrest and handover to U.S. officials in Jordan.
Abu Ghaith "received a fair trial, after which a unanimous jury rendered its verdict," said Bharara. "We hope this brings some small measure of comfort to the families of all Al Qaeda's murderous designs."
Human Rights First, an advocacy group that has urged the closure of the Guantanamo Bay military prison and the shifting of its detainees to U.S. courts, said the verdict "confirms once again that the civilian federal court system is a far better place to try suspected terrorists than the Guantanamo military commissions."
According to the group, military commissions have convicted only eight individuals of crimes connected to international terrorism since Sept. 11, 2001.
Abu Ghaith faces life in prison when he is sentenced on Sept. 8. Cohen said there were "a number of issues" on which to base an appeal, including Kaplan's decision not to allow testimony from Khalid Sheikh Mohammed.
Cohen also cited the ruling that disallowed mention of the years that Abu Ghaith spent in prison in Iran, during which he was allegedly tortured and abused. Cohen called Kaplan's refusal to let jurors hear that "outrageous."
Follow LATimes National on Facebook
ALSO:
Washington's deadly mudslide: A survivor's story
Bin Laden's son-in-law convicted of conspiring to kill Americans
White House offers extension on completing Obamacare enrollment
---