Related story: Gun violence at U.S. schools continues to grow sharply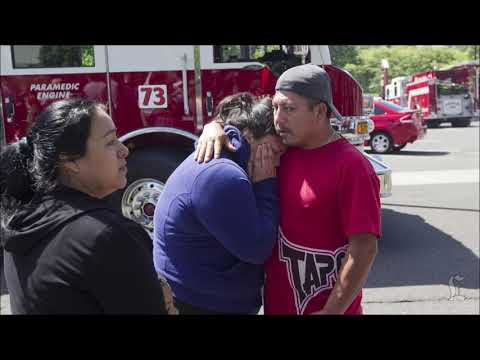 Authorities released new information on the Oregon high school student who fatally shot a student and wounded a teacher before killing himself.
A fatal shooting in Oregon on Tuesday was the 31st firearms attack at a U.S. school since the start of the year, marking a sharp acceleration in the rash of violence that has occurred on campuses across the nation.
The incidents range from the 20 people shot near UC Santa Barbara less than three weeks ago to gunfire that resulted in no injuries at all.
The frequency of attacks has picked up since the December 2012 massacre at Sandy Hook Elementary in Newtown, Conn., where 20 first-graders and six adults were gunned down.
In the 18 months since that tragedy, 41 deaths have occurred in 62 documented incidents at U.S. schools. In the 18 months before that attack, there were 17 deaths in 17 incidents. Everytown.org, a group that promotes gun safety, lists 72 incidents since Sandy Hook.
The increase comes at a time when all types of violent gun deaths have been essentially flat since about 2000, following a sharp drop since the 1980s, when such deaths peaked in the U.S.
But underlying the high-profile shootings are thousands of incidents involving American youths that never make national headlines, or even get noticed locally. Each year, for example, about 2,000 teens and young children commit suicide with guns at home, according to Dan Gross, president of the Brady Campaign to Prevent Gun Violence.
"School shootings are part of a much bigger problem," he said. "There are 86 people who die from bullets on an average day."
On Tuesday, a teen gunman armed with a rifle killed a student at a high school in Troutdale, Ore., injured a teacher and then apparently shot himself in a bathroom. During the evacuation, authorities found another student with a gun not related to the shooting.
These school shootings mirror past upsurges in other venues.
During the 1980s and 1990s, for example, there were at least 10 shooting incidents that occurred at U.S. post offices, leading to the term "going postal." In 1991, a fired postal worker in suburban Detroit killed three people and wounded six in a post office before taking his own life. More recently, few post office shootings have occurred.
"I don't know why they have decreased," Postal Inspection Service spokeswoman Stacia Crane said. "The economy changes. People change."
Garen Wintemute, director of the UC Davis Violence Prevention Research Program, hesitates to brand such serial events as copycat crimes, but he said shootings tend to feed off themselves.
"The more we are all aware of them, the easier it is for one of us to do the next one," he said.
Still, Wintemute said that guns remain widely available to individuals who are clearly at risk of committing such violence and that authorities have few tools to intervene.
A bill in the California Legislature would allow families and others to seek a warrant on such individuals, allowing police to search for guns and confiscate them. But another bill, barring gun ownership for individuals with a history of alcohol abuse and drunk driving arrests, was recently vetoed by Gov. Jerry Brown, Wintemute noted.
Gross said the political power of the gun lobby has barred such reasonable approaches to limiting gun possession by individuals who are likely to commit mass murder.
"It is too easy for dangerous people to get their hands on guns," he said.
Though Gross says there is a growing public outcry against the school shootings, he also says that "we need to turn up the heat."
Wintemute pointed to the successful campaign to improve highway safety as proof that the death rates can be reduced. In the 1950s, motor vehicle death rates were twice as high as firearm death rates, but improvements in auto safety have result in parity today.
Nonetheless, the reduction in deaths were difficult to achieve and further improvements are bitterly fought by automakers, the trucking industry and others, said Joan Claybrook, a longtime safety advocate who spent a career crusading for auto safety.
Claybrook said the recent deaths of 10 people, including five high school students, aboard a bus on a Northern California highway outraged her as much as a school shooting.
"The bus accident was more preventable," Claybook said.
It is difficult to fight a well-funded opponent, whether it is the gun lobby or the multibillion-dollar motor vehicle industry, she said.
"The National Rifle Assn. and their allies scare the hell out of politicians," she said.
Sign up for Essential California for news, features and recommendations from the L.A. Times and beyond in your inbox six days a week.
You may occasionally receive promotional content from the Los Angeles Times.