States that opened parks during government shutdown want reimbursement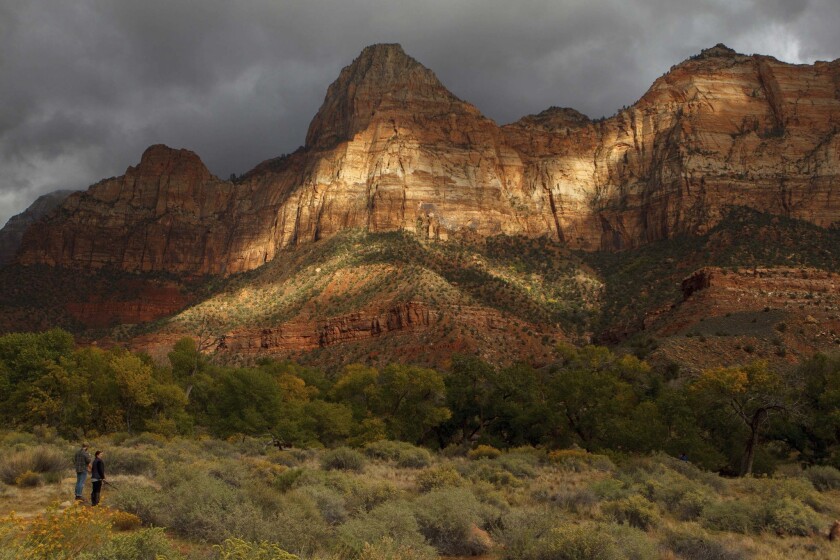 WASHINGTON — The "closed'' signs at the national parks have been down for weeks but states still don't know whether they will be reimbursed by federal taxpayers for their costs of reopening landmarks such as the Grand Canyon and Statue of Liberty during the partial government shutdown.
"This a federal responsibility,'' Utah Gov. Gary Herbert told The Times on Thursday, saying his state stepped in "because of dysfunctionality in Washington'' and it's time for the U.S. government to reimburse his state "for the goodwill of the people of Utah.''
Utah and five other states -- Arizona, Colorado, New York, South Dakota and Tennessee -- wired more than $2 million to Washington to reopen parks after taking an economic hit from the lost tourist dollars during the October shutdown.
But the National Park Service has regarded the payments as donations, saying Congress would need to pass legislation authorizing reimbursement.
National Park Service director Jon Jarvis told a congressional hearing last month that when states agreed to pick up the costs, the park service made it "very clear'' that there was "no guarantee that they're going to get this money back.''
Bipartisan legislation has been introduced in the House and Senate to provide for reimbursement. South Dakota used private donations to reopen Mt. Rushmore during the shutdown, but other states dipped into their own funds.
Utah is seeking the biggest reimbursement, about $1 million spent to reopen eight national parks and monuments.
Herbert, a Republican, said the money was provided based on the understanding it was a loan and that Interior Department officials would support congressional legislation providing for reimbursement.
The legislation, while enjoying bipartisan support, faces uncertain prospects at a time when Congress faces more budget cuts. Still, Congress did vote to give back pay to federal workers furloughed during the shutdown.
Rep. Steve Daines (R-Montana), the bill's chief sponsor in the House, said it was wrong to force states to "bear even more of a financial burden because of Washington's failure."
Rep. Tom McClintock (R-Calif.), a deficit hawk, is among those who signed onto the bill to provide for reimbursement, saying he considers the measure "revenue-neutral, essentially transferring funds that were not used by the federal government to run the parks to the state governments that did.''
But Steve Ellis of the watchdog Taxpayers for Common Sense said that while federal workers received back pay for a shutdown beyond their control, "a state making a determination that it is in their interest to pay to reopen a national park during the shutdown was a conscious decision by a government entity. They didn't have to do that. They should not be reimbursed.''
Asked why federal taxpayers should reimburse Utah for its decision, Herbert said, "The fact that I'm helping out in dire circumstances does not mean that this is still not a national park that everybody has an opportunity to enjoy and the responsibility to fund.''
A bipartisan group of Arizona lawmakers wrote Jarvis on Wednesday seeking $465,000 for their state. They noted the park service collected entrance fees to the Grand Canyon after it was reopened using state funds, calling it wrong for the federal government to reap a "shutdown windfall" at the states' expense.
Park Service spokesman Mike Litterst said entrance fees are used to enhance visitor services and reduce the maintenance backlog in national parks.
Herbert noted it took him 24 hours during the shutdown to draft contracts, obtain necessary signatures and wire money to Washington to reopen the parks in his state.
"It will take us a lot longer, I expect, to get reimbursed as we should be.''
ALSO:
Police shoot man after chase inside Milwaukee children's hospital
Texas pipeline explodes as crew drills into line, causing a huge fire
Ohio stay of execution raises questions about inmate organ donations
---
Must-read stories from the L.A. Times
Get the day's top news with our Today's Headlines newsletter, sent every weekday morning.
You may occasionally receive promotional content from the Los Angeles Times.