Family of executed inmate to sue Ohio to block new drug protocol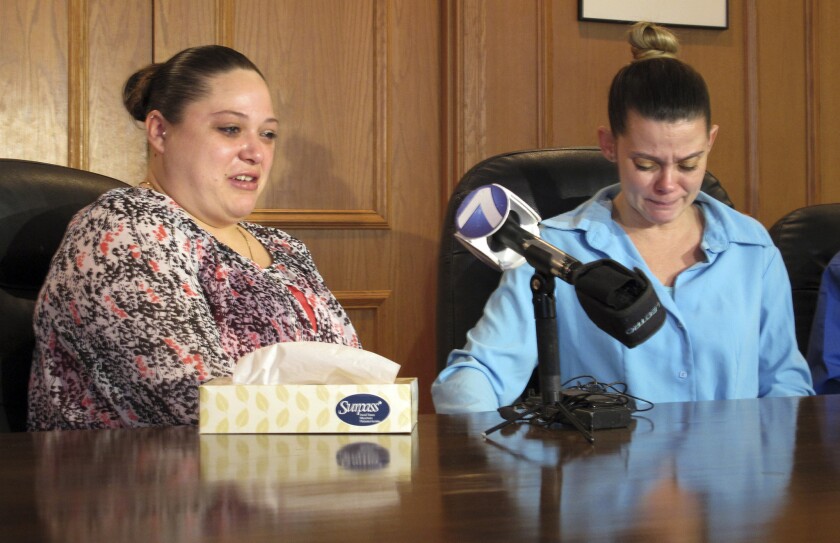 The children of convicted murderer Dennis McGuire, whose execution by lethal injection took longer and seemed to be more painful than expected, plans to sue Ohio to block further use of the protocol.
The decision to sue was announced Friday at a news conference, said attorney Jon Paul Rion, who represents the children who witnessed Thursday's execution at the Southern Ohio Correctional Facility in Lucasville. The suit is expected to be filed next week in federal court, Rion said in an interview with the Los Angeles Times.
"We believe what happened yesterday was cruel and unusual punishment," he said by telephone. "I can't imagine a more drastic way to die than to be tied to a board and deprived of oxygen for half an hour or 25 minutes."
Rion said the death violated constitutional protections against cruel and unusual punishment and that the family would be seeking a moratorium on executions until a more humane method can be devised.
"We would like this protocol and procedure to be forever banned and that these drugs not be used on humans in this fashion ever."
McGuire was convicted in the 1989 rape and murder of Joy Stewart, a 22-year-old pregnant woman.
McGuire's son, also named Dennis, described to reporters how he saw his father die.
"Shortly after the warden buttoned his jacket to signal the start of the execution, my father began gasping and struggling to breathe. I watched his stomach heave. I watched him try to sit up against the straps on the gurney. I watched him repeatedly clench his fist. It appeared to me he was fighting for his life but suffocating," McGuire said.
"The agony and terror of watching my father suffocate to death lasted more than 19 minutes. It was the most awful moment in my life to witness my father's execution. I can't think of any other way to describe it than torture," he said.
McGuire's execution has reignited the debate over how society can carry out a death sentence that doesn't violate constitutional protections against cruelty. The issue has been complicated as states have searched for a new protocol after companies that make drugs used in lethal injections pulled them off the market under pressure from death penalty opponents.
For example, companies in parts of Europe where capital punishment is banned pulled backed such drugs as pentobarbital and sodium thiopental from being used to kill prisoners.
There is no consensus on the best way to execute prisoners, so states have been developing their own methods. Ohio ran out of pentobarbital in 2009 and developed a new protocol that was approved by the federal courts, officials said.
On Thursday, McGuire was given midazolam, a sedative, and hydromorphone, derived from morphine, by intravenous injection. It was the first time any state had used that particular protocol. Reports from witnesses at the execution have varied about the times involved, but all agreed that McGuire made noises and that the execution took longer than expected.
Rion said that the entire procedure took about 25 minutes from when the drugs were first injected. Nothing happened for the first few minutes but "there were at least 19 minutes of demonstrable pain and suffering observed" by the family, he said. Reports on Thursday from other witnesses said McGuire was gasping for at least 15 minutes.
"It was the most awful moment in my life to witness my dad's execution," McGuire's daughter Amber said in a statement. "I can't think of any other way to describe it than torture."
A few minutes before McGuire was put to death, Ohio prison director Gary Mohr told reporters that he believed the state's planning would produce "a humane, dignified execution" consistent with the law. He was pronounced dead at 10:53 a.m., according to state officials.
In pressing for the execution to go ahead, state Assistant Atty. Gen. Thomas Madden had argued that while the U.S. Constitution bans cruel and unusual punishment, "you're not entitled to a pain-free execution."
U.S. District Judge Gregory Frost sided with the state. But at the request of McGuire's lawyers, he ordered officials to photograph and preserve the drug vials, packaging and syringes.
McGuire was convicted in the 1989 rape and murder of Joy Stewart, a 22-year-old pregnant woman.
ALSO:
Utah says married same-sex couples can file joint tax return
From moon to Mojave: Flight center named for Neil Armstrong
Drug search involving anal probe results in $1.6-million settlement
---
Must-read stories from the L.A. Times
Get all the day's most vital news with our Today's Headlines newsletter, sent every weekday morning.
You may occasionally receive promotional content from the Los Angeles Times.