Texas Gov. Rick Perry says National Guard 'tip of spear' guarding border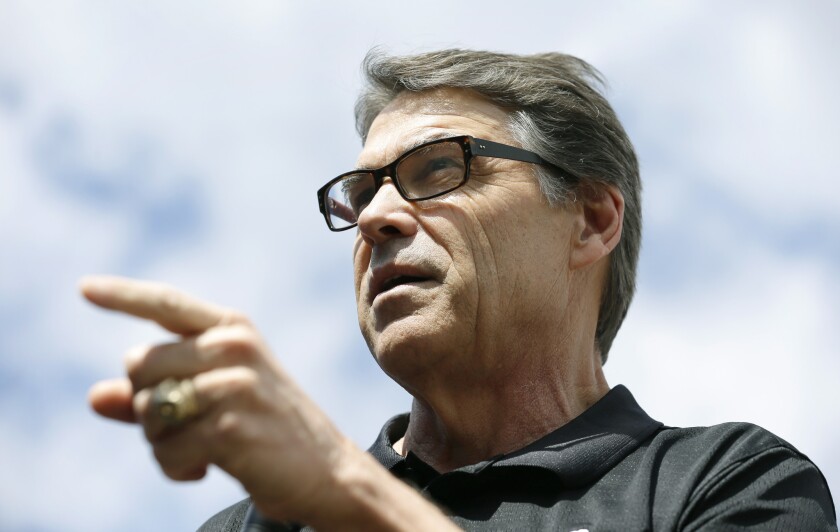 Reporting from Bastrop, Texas —
Gov. Rick Perry told National and State Guard troops headed to the border region that they would play a key role in protecting the U.S. against narco-terrorists who are "spreading their tentacles" into Texas and deep into the American heartland.
"You now are the tip of the spear, protecting Americans from these cartels and gangs," Perry told a uniformed group of about 90 troops gathered Wednesday in a warehouse at Camp Swift, about 300 miles north of the border.
Perry, flanked by the leaders of the Texas National Guard and Department of Public Safety, noted that when he asked for 1,000 volunteers, he got 2,200. Troops are drawn from the Texas Army National Guard, which has 19,123 members; Texas Air National Guard, which has 3,107 members; and the State Guard, with 2,232 members.
The troops will aid the Department of Public Safety, which Perry and other Republican state leaders had ordered to beef up staffing and equipment in a state-funded border deployment.
The Department of Public Safety operation came after a jump in border crossings in recent months: 63,000 unaccompanied children since October, plus families. Most are from Central America. However, the flow has slowed in recent weeks.
Perry said the operation had reduced apprehensions of migrants on the border by more than half in the last five weeks. Immigrant advocates and U.S. Customs and Border Protection officials have said there are several causes for the decline in traffic, including changes in smuggling routes, crackdowns by Mexican and Central American authorities, and seasonal migration patterns.
Although the increased number of families and unaccompanied children has overwhelmed authorities, illegal immigration overall has been down. Apprehensions on the Southwest border have dropped steadily during the last decade by more than half, from 905,065 to 414,397 last fiscal year.
Some south Texas lawmakers and the leader of the Texas Border Sheriffs Coalition have criticized the deployment, contending that the money should go to local sheriffs and police rather than to further militarize the Rio Grande Valley, epicenter of the young immigrant influx.
The state operation cost $1.3 million a week, and the National Guard deployment added $12 million per month. Perry has called on the federal government to foot the bill, and so far is paying for the deployment by diverting $38 million in public safety funds earmarked for emergency radio infrastructure.
He would not say Wednesday how long the deployment would last, when or where troops would arrive, or how the state intended to pay for it long term. He said the federal government had a constitutional responsibility to cover the costs.
Perry criticized Congress for going on vacation last week without acting on border funding legislation, and complained that the Federal Aviation Administration had barred the state from using drones to patrol the border.
He called the deployment a "stopgap measure" and said federal authorities needed to send more Border Patrol agents to the Rio Grande Valley, not points farther north.
Wednesday was the first time Perry had appeared with National Guard troops publicly since he deployed them. Journalists were allowed to attend, but they were not allowed to interview the troops.
Critics in Texas and beyond have accused Perry of exploiting the border crisis, saying he is using the deployment to spar with President Obama and burnish his conservative credentials ahead of another possible campaign for president.
Wearing jeans, a khaki shirt, baseball cap and sturdy shoes (he has ditched his trademark cowboy boots because of back problems), Perry asserted Wednesday that criminals had crossed the border and headed to Iowa, North and South Carolina, key presidential primary states that he noted he recently visited.
But Perry rejected the accusation that he was grandstanding.
"The idea that what we're doing is politics versus protecting the people of Texas, the people of this country, is just false on its face," he said.
Surveying the troops, he added, "These men and women know what they're doing."
In response, the camouflaged crowd whooped.
The Guard has routinely been deployed to the border and already has 240 troops there. Perry said troops were providing free healthcare in the Rio Grande Valley last week through Operation Lone Star.
In 2010, Obama deployed 1,200 troops to the border. Four years earlier, President George W. Bush sent 6,000 troops to Texas and three other border states at the behest of state officials.
Unlike those deployments, this one was ordered by the governor, allowing him to grant troops arrest powers. He hasn't yet. Troops will still be armed for self-defense, said spokeswoman Lt. Col. Joanne MacGregor, who reiterated Wednesday that the primary mission on the border would be to "deter and refer" people to Border Patrol agents.
molly.hennessy-fiske@latimes.com
Twitter: @mollyhf
---
Must-read stories from the L.A. Times
Get all the day's most vital news with our Today's Headlines newsletter, sent every weekday morning.
You may occasionally receive promotional content from the Los Angeles Times.