Seattle Seahawks victory parade: Laid-back citizenry goes crazy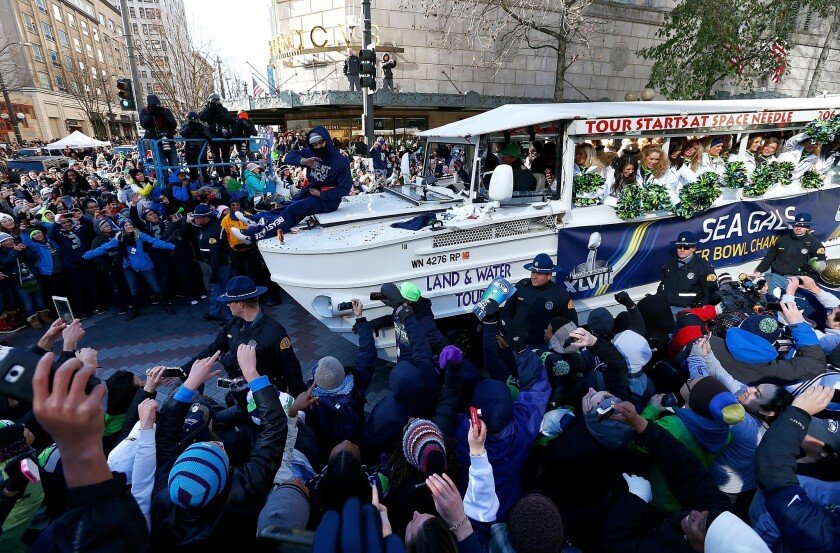 SEATTLE—First came the Seattle Seahawks' blowout victory, one of the most lopsided final scores in Super Bowl history. Then the unofficial celebration burbled up, a little Sunday night mayhem in polite Seattle fashion—a few torched sofas, a damaged historic building, maybe half a dozen arrests.
A Twitter hashtag (#HowSeattleRiots) followed, with tweets mocking the ways a laid-back citizenry goes crazy when its home team wins the Vince Lombardi Trophy for the first time: "Throw garbage in the compost-only bin." "The Priuses are honking." "Wearing sandals without your socks."
Tuesday, the president called. Wednesday the Seahawks' victory parade snaked its way along Fourth Avenue for two below-freezing miles that felt much, much longer because of the cold and wind. Downtown was choked with hundreds of thousands of revelers—the famed "12th man" fan base and then some, celebrating at its traditional ear-splitting pitch.
Parents yanked their kids out of school after a two-day public kerfuffle about whether those absences would be excused and if it's better for children to go to class or cheer on their hometown heroes. Said Seahawks Coach Pete Carroll early in the week: "Yeah, let's shut down those darn schools! Let's have a darn celebration!"
Jennifer McKillop, a hospital admissions worker who lives in Redmond, was in complete agreement. Wednesday morning she and daughter Josie, 15, nursed hot drinks and waited at Westlake Plaza for the victory parade to begin.
"We rode the bus in, and there were three buses ahead of us packed with kids from Redmond High School," McKillop said. "I didn't think it was a problem. Except that it's freezing outside.... I grew up here. The Seahawks never won the Super Bowl. I figure it's history."
The victory procession began near the storied Space Needle, that staple of the Seattle skyline. It ended with a rally for season ticket holders at CenturyLink Field, where just over two weeks earlier the Seahawks had beaten the rival San Francisco 49ers.
That late January playoff spectacle sent Seattle to the Super Bowl and, just maybe, helped chip away at this low-key city's legendary inferiority complex.
In a Page One piece before the San Francisco-Seattle game, Seattle Times columnist Danny Westneat opined that "for more than a hundred years Seattle has played stray dog to San Francisco's alpha."
But by the time parade day rolled around, the paper's editorial board was crowing, just a little tongue in cheek: "Yes, Seattle is a first–class city now!" New paragraph. "Thankfully such analysis inspires as many eye rolls as it does head nods."
A sense of finally having made it, however, echoed up and down the parade route Wednesday.
"We've been overlooked for many years," said Willy Lagdaan, 41, from nearby Mill Creek. "We're in the very corner of America. They never thought of us as a real team. For many years there was a lot of pain."
The Super Bowl win is "not necessarily" a complete fix, said Lagdaan, who brought his wife and two daughters out to watch the parade "so they could remember this day." It is, however, "a definite good start. We're gonna be in it next year again. Go, Hawks!"
In an effort to see the late-starting procession, Seahawks fans packed the parade route dozens deep. They climbed anything that would hold them: streetlights, traffic signs, trees, planters. They lined rooftops and balconies. Shouts rang out – Sea! Hawks! Sea! Hawks! Banners waved. Noses ran.
At Fourth Avenue and Pine Street, a DJ entertained the shivering crowd. He played Macklemore & Ryan Lewis: "This is the moment." Queen: "We are the champions." And he dedicated one to the beleaguered Denver Broncos, who went down to defeat Sunday night: "Another one bites the dust."
The parade snaked its slow way past Pioneer Square, with the ill-fated Victorian pergola, a lacy iron and glass structure that had been smashed by wayward trucks at least twice in recent years. More than a decade ago it was fortified with structural steel at a price tag of $4 million.
After the Super Bowl victory, revelers slammed upwards of 20 of the structure's pricey glass panes and damaged the copper flashing that keeps out the ever-present rain. Seattle parks and recreation officials pegged repair costs at around $25,000.
But the next day, in true Seattle fashion, Amanda Gallagher Quinn decided to crowd-source a solution. She set up a #HowSeattleRiots Fixing the Pergola account on the GoFundMe website.
"Now it is time to clean up after ourselves," she wrote, "because this is truly #HowSeattleRiots. Let's give the parks department some help in replacing the things we broke, and show that the Seahawks truly have the best fans in the league."
Even before the parade began, Fixing the Pergola had raised more than enough to do just that.
Now there is something to celebrate.
maria.laganga@latimes.com
ALSO:
Overdosing on heroin: This drug can bring them back
Livermore National Lab faulted over the Lusitania project
4 arrested on drug charges after death of Philip Seymour Hoffman
---
Must-read stories from the L.A. Times
Get all the day's most vital news with our Today's Headlines newsletter, sent every weekday morning.
You may occasionally receive promotional content from the Los Angeles Times.