Opponents of new Texas abortion law appeal to Supreme Court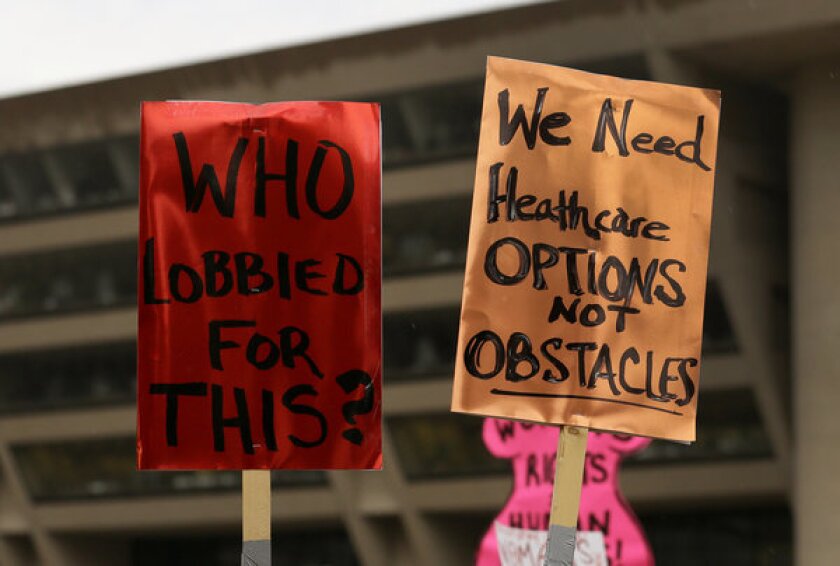 HOUSTON -- Planned Parenthood and others opponents of new Texas abortion restrictions have appealed to the U.S. Supreme Court to reinstate an injunction blocking portions of the law concerning doctors' admitting privileges.
The appeal was filed with U.S. Supreme Court Justice Antonin Scalia, who gave state officials until next Tuesday to file a response before he rules. Scalia could rule on the injunction himself or refer the issue to the full court.
Opponents said Monday that because of the new restrictions, a third of the state's licensed health centers have had to stop providing abortion services, including at least 14 providers, which will restrict abortion access to about 20,000 women annually.
"Right now, women in vast swaths of Texas are being turned away at clinic doors because of a bogus law that attempts to do underhandedly what states cannot do directly — block women from accessing abortion services," said Nancy Northup, president and chief executive of the Center for Reproductive Rights. "We now look to the Supreme Court to protect women's access to these essential healthcare services while we fight this critical court battle."
The new restrictions drew national attention in June when state Sen. Wendy Davis, a Democrat, staged a day-long filibuster initially blocking them.
The filibuster forced Gov. Rick Perry, who is retiring, to call a second special legislative session, where the Republican-controlled legislature eventually passed the law.
Planned Parenthood and other abortion providers had sued to block the restrictions, passed by the state legislature last summer. A week ago, a federal judge in Austin issued an injunction blocking portions of the law he found unconstitutional, including a provision requiring doctors at abortion clinics to have admitting privileges at nearby hospitals and limits on medication-induced abortions.
But state officials appealed and the injunction was mostly lifted Thursday by a federal appeals court in New Orleans pending their consideration of the case in January, although they made an exception for part of the medication-induced abortion provisions. The three-judge panel of the 5th Circuit Court of Appeals found Texas Atty. Gen. Greg Abbott and other state officials offered ample evidence that the admitting privileges requirement protected women's health.
"We believe the 5th Circuit panel's unanimous decision was correct and will continue to defend the law before the U.S. Supreme Court," Lauren Bean, a spokeswoman for Abbott's office, told the Los Angeles Times in a Monday statement.
Abbott, a Republican, is running for governor, as is Davis.
Some supporters of the law said the 5th Circuit's ruling laid the groundwork for the U.S. Supreme Court to reject Planned Parenthood's appeal.
"The Roberts court has shown more respect for state's rights, so I do think that's a hopeful sign for us," said Kyleen Wright, president of the Texans for Life Coalition. "I don't think they really want to go so far as to decide that states can't set the standards for physicians in their state."
Wright said the law is not about restricting access but rather improving patient safety.
"They are trying to protect their profits rather than the health and safety of women through admitting privileges. Admitting privileges are standard of care for other services," she said, adding that the new law was designed to "weed out the quack doctors."
"It's offensive to women to say this has nothing to do with patient care," she said.
Similar requirements for admitting privileges in Alabama, Mississippi, North Dakota and Wisconsin have been blocked by opponents. Mississippi passed a similar law last year and also faced legal challenges. After a federal judge blocked the law pending a trial in March, the state's attorney general asked the 5th Circuit to lift a temporary stay and allow the law to be enforced in the interim, but it refused.
In a surprise victory for defenders of abortion rights Monday, the Supreme Court dismissed Oklahoma's appeal of a state law that would have effectively prevented doctors from prescribing two drugs commonly used to induce abortions in the first nine weeks of a pregnancy. State courts in North Dakota have also struck down restrictions on medication-induced abortion.
"We hope that the court's decision in that case indicates they see the real agenda behind the laws that politicians in many states are pushing," Julie Rikelman, litigation director at the Center for Reproductive Rights, told The Times, adding that in Oklahoma, as in Texas, "politicians claimed it was about protecting women's health, but the Supreme Court saw right through that. These laws are just about restricting access and hurting women."
ALSO:
Two sky-diving planes collide mid-air -- and everyone jumps
NYU student recovering after miracle escape from coffin-like shaft
Supreme Court preserves Oklahoma ruling against abortion-drug limits
---
Must-read stories from the L.A. Times
Get the day's top news with our Today's Headlines newsletter, sent every weekday morning.
You may occasionally receive promotional content from the Los Angeles Times.