87-year-old nudist running for sheriff in Washington; likes his odds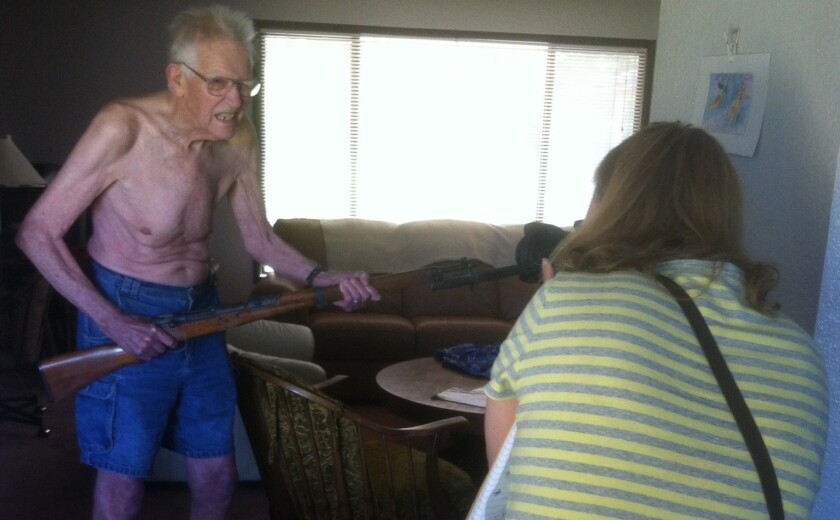 An 87-year old man is running for sheriff in Washington state because sometimes, as he says, letters seeking change are just not enough.
Dave Olinger of Oak Harbor, located about 90 miles northwest of Seattle, is a man of his word and convictions and, oh yeah, a nudist.
"I think he watches too much of that Jon Stewart," his wife, Kay, said of the "Daily Show" being a contributing factor to her husband becoming a write-in candidate for Island County sheriff.
Olinger, who has a political science degree from UC Berkeley, said the incumbent sheriff, Mark Brown, was running unopposed and as a Republican.
"It is a position that is not supposed to be associated with a political party," Olinger said.
Now Olinger is trying to even the party odds, he said, and should he get 1% of the vote during Tuesday night's primary, he will be on the November ballot.
Olinger's wife said he was serious about the race but was generally carefree otherwise.
"Well, it's not as if he walks around everywhere naked, but he does like to lay out in the sun naked," she said.
Because of this, Olinger was first going to try and get on the ticket as a member of the nudist party, but later decided the Democratic Party worked just fine, he said.
"I would do a good job for the county," he said. "I have a real chance of at least making the [general election] ticket."
Aaron Simpson, chairman of the Island County Democrats, told the South Whidbey Record that Olinger's efforts were recognized.
"He's a well-intentioned person concerned about a very real problem," Simpson told the paper.
His wife says the venture is mostly tongue-in-cheek, but still, Olinger wouldn't mind winning.
"I'm not too excited about him doing this, but his mind is made up," she said.
The couple have three children, ages 46, 52 and 55, and have lived in Washington state for 22 years, she said.
A former secondary school teacher, Olinger said he knew how to manage a group, although he didn't care for lesson plans.
"I will serve the county well and, if nothing else, I didn't have to vote for a Republican," he said.
Follow @theryanparker for breaking news
---
The Latinx experience chronicled
Get the Latinx Files newsletter for stories that capture the multitudes within our communities.
You may occasionally receive promotional content from the Los Angeles Times.