No negligence in deaths of 19 Arizona firefighters, report says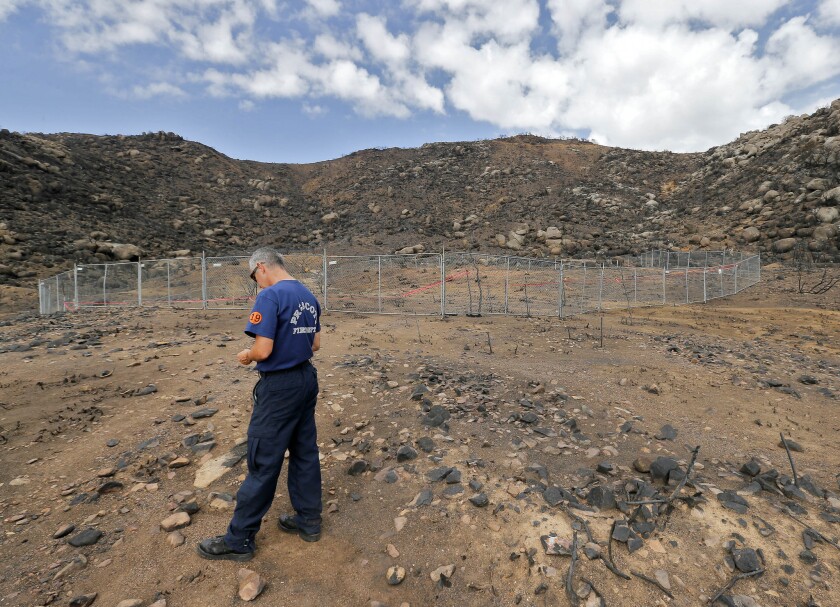 PRESCOTT, Ariz. -- Investigators found no evidence of recklessness or negligence in the Yarnell Hill wildfire that killed 19 Prescott, Ariz., firefighters in June, raising questions about how similar tragedies could be prevented in the future.
"The judgments and decisions of the incident management organizations managing this fire were reasonable," concluded a report commissioned by the state of Arizona that was released Saturday. "Firefighters performed within their scope of duty, as defined by their respective organizations."
The report, produced by a team of local, state and federal investigators convened from around the country, "found no indication of negligence, reckless actions, or violations of policy or protocol," though it did note some problems with radio communication.
The crew of 20 "hotshot" firefighters from the Granite Mountain Interagency Hotshot Crew were found to be appropriately rested and trained when the blaze near Yarnell, a rural community in central Arizona, rapidly expanded with the help of high winds.
The area around Yarnell, thick with chaparral, was "primed to burn" after not experiencing a wildfire for more than 45 years, and the flames overtook 19 of the firefighters, as well as more than 100 buildings in Yarnell. The report called many of the Yarnell buildings "not defendable."
The 20th crew member was separated from his comrades and survived.
According to the report, the 19 firefighters all died huddling next to one another, sheltering in a 24-by-30-foot area as temperatures reached 2,000 degrees.
But the report delivered little insight into what, exactly, the crew members were thinking or their actions in the half-hour before their deaths.
"There is much that cannot be known about the crew's decisions and actions prior to their entrapment and fire shelter deployment at around [4:42 p.m.]," the report said, noting that heavy radio traffic had caused some confusion and that "some radios were not programmed with appropriate tone guards."
"Although much communication occurred among crews throughout the day, few people understood Granite Mountain's intentions, movements, and location, once they left the black," the report stated, referring to the blackened, already burned areas that are presumed to be safe ground in a wildfire.
Investigators recommended that the state of Arizona reexamine its radio communications and "review and possibly update its approach to mitigating wildfire threat to Arizona life and property," including measures to remove hazardous fuels from around high-risk communities.
Officials planned to hold a news conference to discuss the findings Saturday morning
You can read the full report here, and watch an accompanying video that explains what happened in the tragedy.
ALSO:
Krokodil, more dangerous than heroin, possibly surfaces in Arizona
Airline pilot dies after apparent heart attack forces emergency landing
Prison: O.J. Simpson not caught stealing cookies, oatmeal or otherwise
Pearce reported from Los Angeles and Carcamo from Prescott.
Twitter: @mattdpearce
Twitter: @thecindycarcamo
---
Must-read stories from the L.A. Times
Get all the day's most vital news with our Today's Headlines newsletter, sent every weekday morning.
You may occasionally receive promotional content from the Los Angeles Times.