Woman arrested after storming stage during controversial 'Julius Caesar'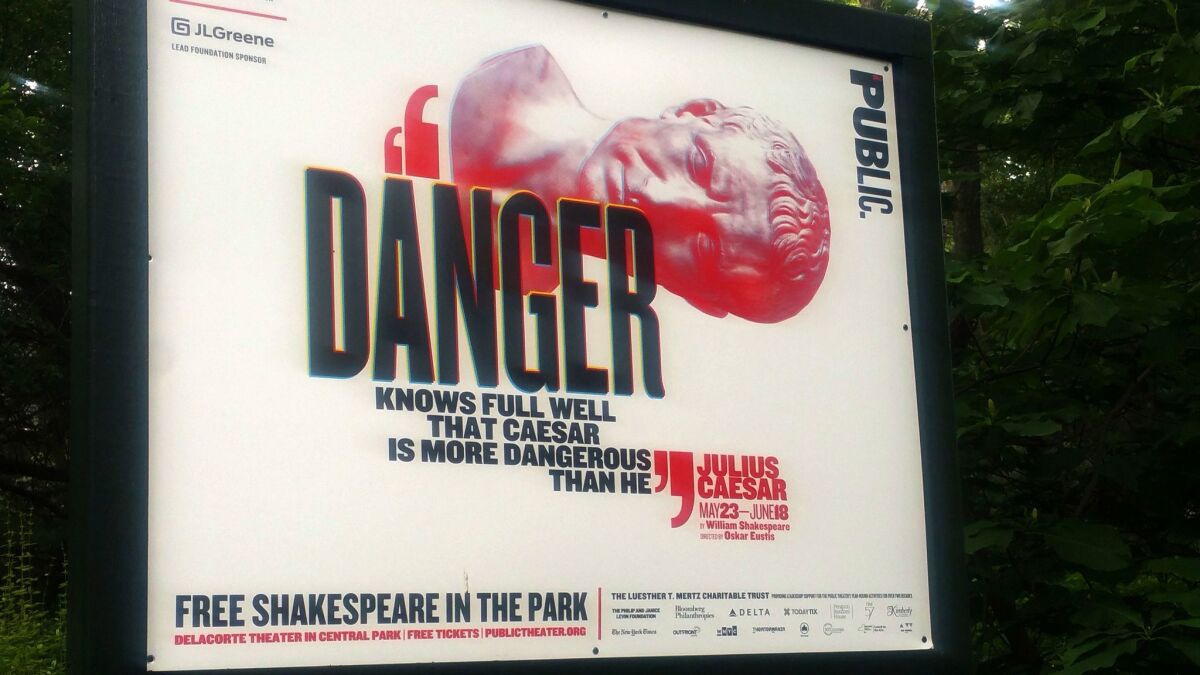 Reporting from NEW YORK —
A New York production of Shakespeare's "Julius Caesar," with a President Trump-like character who is assassinated, had a boisterous new scene this weekend: an activist who stormed the stage, yelling, "Do you want Trump to be assassinated?"
Police said Laura Loomer was arrested Friday evening during the play presented in Central Park by the city's Public Theater. She was arrested, charged with criminal trespass and disorderly conduct and released. She is required to appear in court to respond to the charges at an unspecified later date.
"I'm out of jail, but I'm not apologetic," the 24-year-old conservative activist wrote on Twitter. "Thanks to everyone who is supporting me & condemning political violence."
As she rushed to the stage, Loomer reportedly shouted, "Stop leftist violence!"
In the play, actor Gregg Henry resembles Trump, with fluffy blondish hair, wearing a suit and a tie hanging below his belt. Sticking to Shakespeare's script, he is stabbed multiple times by a group of senators including his close friend Brutus.
Several audience members tried to shush Loomer by booing. And the performance came to a brief stop.
She was not alone. Her supporters were in the audience, and one stood up and yelled, "The blood of Steve Scalise is on your hands!" — referring to the Republican congressman who was shot and critically injured earlier this week by a lone gunman on a baseball field in Virginia; four others were injured before the shooter was killed by police.
In New York, a video of the Shakespeare play incident was released almost immediately after Friday's disruption, apparently by the protesters who posted it online for all to see.
The young woman belongs to an online, right-wing group called The Rebel Media.
Delta and Bank of America have pulled their sponsorships of the Public Theater, citing the "Julius Caesar" production.
Sunday is the last performance of the play, which is part of the free Shakespeare in the Park series in the open-air Delacorte Theater.
The production opened on May 23 in previews — a week before comedian Kathy Griffin's staging of a bloody, decapitated Trump-like head and after Snoop Dogg's video of him shooting a Trump-lookalike clown. But the production did not get much attention until more recently, when a spotlight was shone on the Trump-linked details.
ALSO
'Julius Caesar' has sparked controversy. But where was corporate outrage when a movie killed President Obama?
Op-Ed: Shakespeare isn't tasteful enough for Delta and Bank of America? That's rich
Opinion: Are anti-Trump media to blame for the Alexandria shooting? Some readers say yes.
---
Must-read stories from the L.A. Times
Get the day's top news with our Today's Headlines newsletter, sent every weekday morning.
You may occasionally receive promotional content from the Los Angeles Times.