Op-Ed: Shakespeare isn't tasteful enough for Delta and Bank of America? That's rich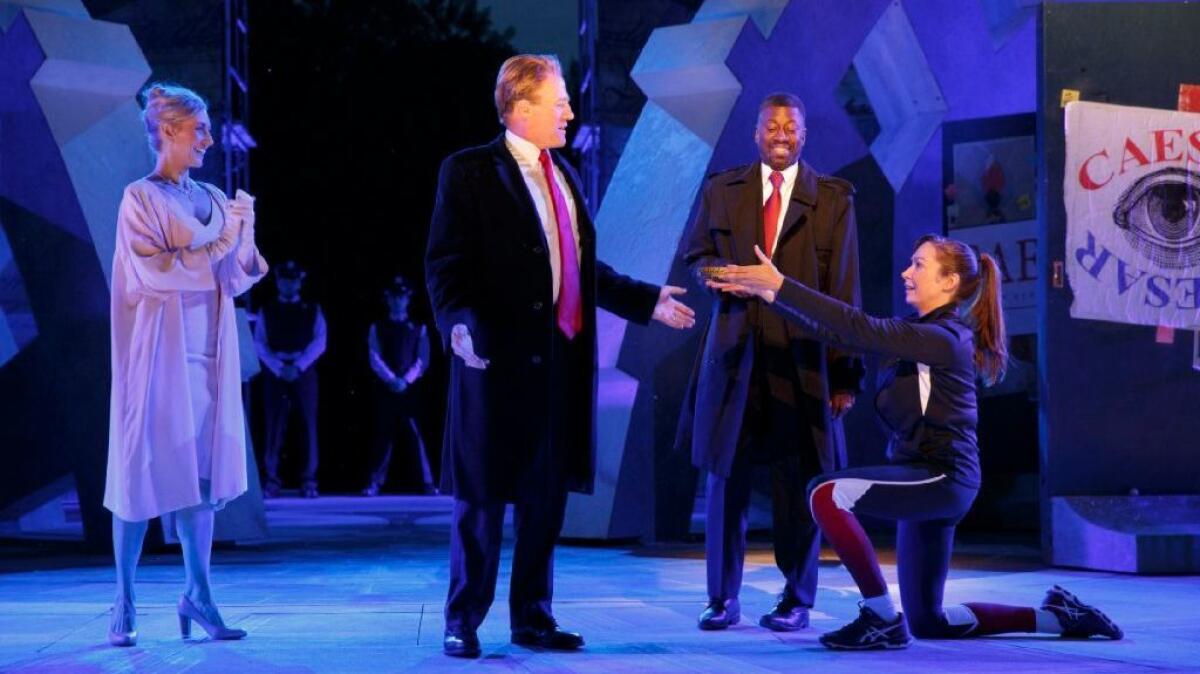 In "Hamlet," the villain King Claudius is shown a play about a Viennese murderer that's meant to make Claudius face his crimes as a Danish murderer. "Is there no offense in it?" Claudius asks, nervously, as the play begins. Hamlet, the play's director and producer, makes light of the question. A moral drama staged to be inoffensive would hardly be drama at all.
While watching the performance, Claudius does not confess to his crimes, stand up for himself, or otherwise reveal himself to be conscience-stricken. Instead, he calls for the house lights and an end to the play: "Give me some light!" Claudius thereby reveals both his cowardice—and, paradoxically, his guilt.
Similar cowardice has surfaced this week in the announcements by Delta Air Lines and Bank of America that they are withdrawing support from the New York Public Theater for its Central Park production of Shakespeare's "Julius Caesar." Like Claudius, the sponsors are anxious that the play—which likens the assassinated Julius Caesar to Donald Trump—might give offense. Like Claudius, they refuse even to engage with the themes of the play. They just want to wave it away. According to Delta's announcement, the production "crossed the line on the standards of good taste."
They're aiming to keep artists, journalists, scholars and intellectuals in line by treating their work not as art but as a branding opportunity.
Good taste! That's rich. Plainly Delta and Bank of America—supremely square, conflict-averse, aesthetically anodyne—don't know from taste, unless that taste is for synthetic fabrics, primary colors and garish logos. And yet their high aesthetic standards are evidently not met by Oskar Eustis, the illustrious artistic director of the Public Theater, and William Shakespeare, the greatest writer in the English language.
If it's absurd to even address the charge of bad taste, that's because we all know the corporate rejection of Eustis' "Julius Caesar" is not about taste. It's about politics. Just as CNN cited taste when it fired first the comedian Kathy Griffin and then the intellectual Reza Aslan, both of whom gave offense when they caricatured the president, so Bank of America and Delta now cite taste rather than politics for fear of appearing to be guilty of American Misdeed No. 1: the inhibition of the free expression of ideas.
But that is what they're aiming to do. They're aiming to keep artists, journalists, scholars and intellectuals in line by treating their work not as art but as a branding opportunity for Delta and Bank of America.
Sure, a branding executive can be fired for bad taste, for stepping on toes, waxing political or using curse words. After all, her job is to promote, placate and sell. But artists, journalists, scholars and intellectuals have much different tasks: They have to inspire, entertain, enlighten and provoke. Sometimes the tasks of marketing and media dovetail; more often, they diverge.
I once found myself mistaken for a marketer by a tech company that claimed to want to get into media. As time went on, it became clear that writers at this company would get no credit for scoops, enterprise or eloquence—basic journalistic goals—while they could be fired in a heartbeat for making the company look bad with controversial political arguments or improper jokes. Only over time did we journalists realize we'd been hired mostly to burnish a brand—a job steeply at odds with our professional commitment to telling the truth.
That's something much worse than a shame. If Delta or Bank of America had taken the position that, as American companies, they recognize the importance of the arts, provocative or otherwise, that would have been admirable. Or they could have noted that likening Trump to Caesar is hardly an endorsement of assassination; Caesar's murder leads to a disastrous civil war, after all.
If that was too much for them, they ought to have either stayed silent in deference to artistic freedom or framed their disapproval of the play as what it was: political. I can even imagine an especially vigorous or ambitious mind at Delta or the Bank of America making a bold if long-shot case that this production of "Julius Caesar" borders on seditious—and that's why they were withdrawing support.
But that would have been far too honest and brave for these craven corporations which, in this supercharged political environment, have lost their way amid even the Square One principles of American life.
Virginia Heffernan cohosts the "Trumpcast" podcast for Slate and is the author of "Magic and Loss: The Internet as Art." She is filling in for Doyle McManus.
Follow the Opinion section on Twitter @latimesopinion or Facebook
A cure for the common opinion
Get thought-provoking perspectives with our weekly newsletter.
You may occasionally receive promotional content from the Los Angeles Times.