Homeland Security plans yet another threat alert system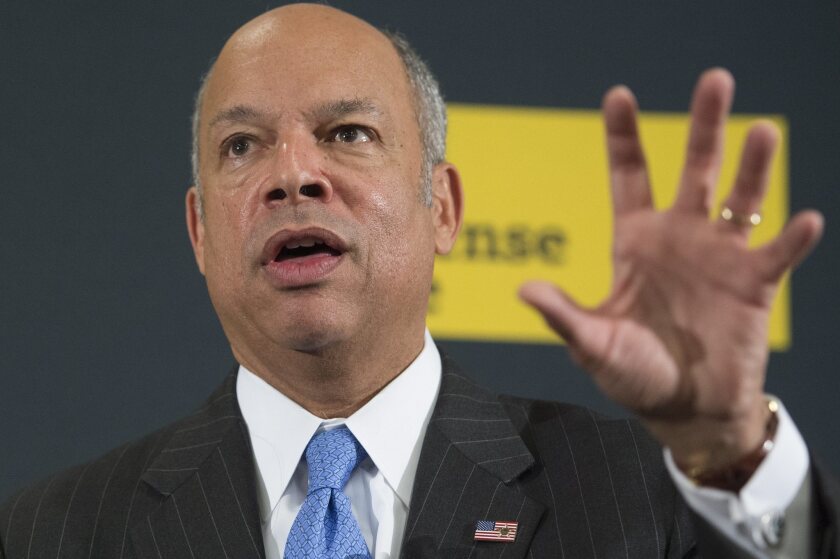 Reporting from Washington —
Following the deadly San Bernardino and Paris terrorism attacks, the Department of Homeland Security will revamp how the government informs the public about the threat of such an attack.
"We need to do a better job of informing the public at large what we are seeing, removing some of the mystery about the global terrorist threat, and what we are doing about it and what we are asking the public to do," Homeland Security Secretary Jeh Johnson said Monday at a security forum in Washington.
The current alert program, called the National Terrorism Advisory System, was designed to alert the public only when authorities had details about a pending attack, rather than about general threats. It has never been used because it requires credible information about a specific threat, Johnson said.
Officials say they had no evidence indicating an imminent attack before a married couple shot to death 14 people in San Bernardino on Wednesday, and thus no alert was issued.
NEWSLETTER: Get the day's top headlines from Times Editor Davan Maharaj >>
Josh Earnest, the White House spokesman, said the current threat advisory system will be improved, not replaced.
"You should not consider this a replacement of the program, but rather some important reforms... that would allow it to be more effectively used to communicate with the American public," he said.
The Obama administration has come under pressure to step up its counterterrorism efforts since the massacre.
The State Department and Department of Homeland Security are reviewing security screening for visa applicants, and the administration plans to deploy more customs officers overseas to check passengers before they board jetliners to the U.S.
Since the Nov. 13 attacks in Paris, the U.S. government has been in a heightened security posture because of the possibility of copycat attacks.
"We have moved to a new phase in the global terrorist threat that involves not just terrorist-directed attacks from overseas, but terrorist-inspired attacks here in the homeland and in other countries," Johnson said.
Officials have struggled with how to alert the public in a responsible manner when there is only vague information about possible attacks, without unnecessarily alarming people.
The program replaced the Homeland Security Advisory System, which was created after the Sept. 11, 2001, terrorist assaults and used different colors to indicate the risk of another attack.
Studies showed the public paid little attention to the five-tiered system, and counterterrorism officials felt the color-coded warnings, which had never dropped below the yellow bar labeled "elevated," were no longer useful.
The color alerts had "faded in utility," then-Homeland Security Secretary Janet Napolitano said in April 2011 when she ended them, "except for late-night comics."
Johnson wants to provide more information to the public about how intelligence analysts view the current terrorist threat.
"Not having a specific piece of intelligence about a specific plot is not the end of the story," Johnson said.
Often before a terrorist act, suspects have been "spewing hate" on social media or showing other signs of becoming more extreme in their views, Roger W. Cressey, a former senior White House counterterrorism official in the Bush and Clinton administrations, said in an interview.
Changing the national threat system is more a communications strategy than a counter-terrorism tactic, he said.
"You can update the national threat system but honestly that will make zero difference to how federal, state and local law enforcement respond," Cressey said. "What it does is to try to show the public that the administration is taking action."
A threat alert plan must strike a balance between alarming people and becoming background noise, said Anthony Cordesman, a former intelligence director at the Pentagon now with the Center for Strategic and International Studies, a Washington think tank.
"Nobody wants to be seen as having been indifferent after the fact," Cordesman said. "There is the other fear that instead of simply boring people, you create a level of fear that leads them to act out against Muslims, or people who are foreign, or whatever."
If you keep issuing warnings, Cordesman said, "you go back to the problem with the color-coded system where basically short of declaring a total red bloody mess, nobody cared."
Follow me @ByBrianBennett on Twitter.
ALSO
Supreme Court lets local ban on assault weapons stand
Congress ready to slap on new travel restrictions to fight terrorism
Obama seeks to calm Americans on terror threat, but speech underscores challenges
---
Must-read stories from the L.A. Times
Get all the day's most vital news with our Today's Headlines newsletter, sent every weekday morning.
You may occasionally receive promotional content from the Los Angeles Times.