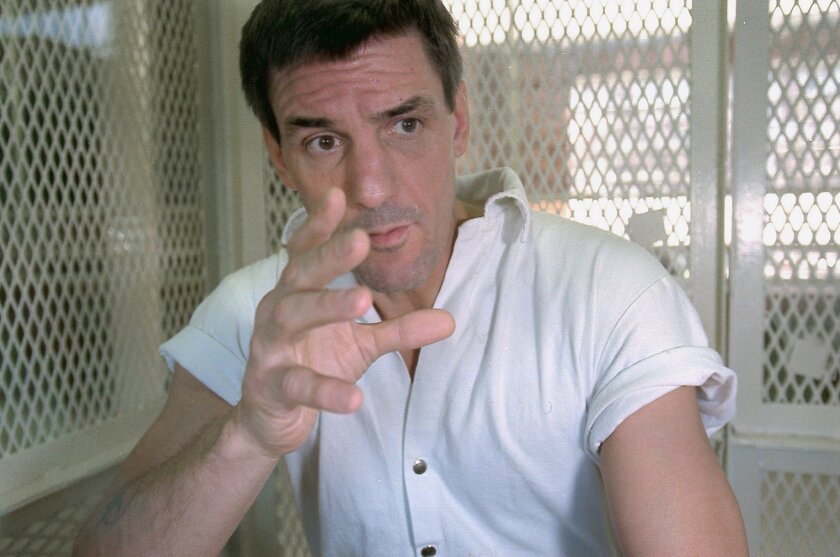 Reporting from Houston —
Attorneys and a politically diverse coalition of supporters are fighting to stop Texas from executing a schizophrenic man this week, arguing that to do so would be unconstitutional.
Scott Panetti, 56, is scheduled to be executed 6 p.m. local time Wednesday for murdering his wife's parents at their central Texas home in 1992, shooting them with a deer-hunting rifle in front of his wife and their 3-year-old daughter.
He confessed at trial, where he wore a cowboy costume to defend himself -- arguing he was innocent by reason of insanity -- and subpoenaed more than 200 witnesses including the pope, John F. Kennedy and Jesus. He said that only an insane person could prove insanity.
Diagnosed with schizophrenia 36 years ago, Panetti, his lawyers say, still hears voices and suffers from the delusions that the attorneys argue prevent him from understanding why he is being executed, which would violate the 8th Amendment's protection against cruel and unusual punishment.
The case has drawn national attention to the state with the most active death chamber, where it is not unusual for those facing the death penalty to claim mental illness or disability.
"What makes Scott Panetti different is this long history that is so well documented in his medical records -- a long history of a severe, debilitating mental illness," his attorney Kathryn Kase told the Los Angeles Times on Tuesday.
"He thinks the prison system implanted a listening device in his teeth and knows what he's going to do before he does it. He's all wrapped up in this delusion that the prison system wants to 'rub him out' for trying to convert these heathens and preach the gospel," said Kase, who represents inmates as part of the nonprofit Texas Defender Service.
Prosecutors have disagreed, arguing that Panetti was competent to stand trial and be executed, that his symptoms are less severe than he pretends and that defense attorneys have had years to complete new evaluations. Court-appointed state medical experts have repeatedly questioned the validity of Panetti's symptoms.
"Panetti knows that he killed his in-laws, while his wife and child looked on, and he knows that he has been sentenced to die for that crime," the Texas attorney general's office argued in court filings.
An assistant district attorney in the county where Panetti was tried noted that Panetti recently discussed election day politics during a recorded prison visit with relatives.
"At the very least, it is clear that Panetti is oriented to time and place, a fact which his lawyers have disputed," prosecutor Lucy Wilke said in a filing last month to the Texas Court of Criminal Appeals, which refused to stop Panetti's execution.
Panetti's attorneys appealed in state district court and to the Texas Court of Criminal Appeals, requesting that they stay or delay his execution so his competency to be executed could be assessed. Both appeals were denied.
Their appeal for clemency to the state Board of Pardons and Paroles also was denied, despite support from Texas legislators, former U.S. Rep. Ron Paul and the European Union. Panetti's appeal for a 30-day stay is pending before Gov. Rick Perry. Perry's office declined to comment Tuesday afternoon. A spokeswoman for Greg Abbott, Texas' attorney general and governor-elect, declined comment.
Panetti's attorneys have an appeal pending before the U.S. 5th Circuit Court of Appeals, requesting funding for a mental health expert to evaluate his competency, something that hasn't been done since 2007. His lawyers have also appealed to the U.S. Supreme Court, requesting a stay based on the 8th Amendment.
An assistant Texas attorney general told the Supreme Court on Tuesday that records failed to support Panetti's claim that his mental health had deteriorated. Instead, the attorney said, Panetti's bizarre behavior was deliberate.
"Panetti's mental health condition has long been exaggerated to his benefit and he continues this long-established pattern here," assistant Atty. Gen. Ellen Stewart-Klein wrote in court filings.
In 2007, the Supreme Court reviewed Panetti's case and found that inmates must be required to not only know that they are being punished, but to have a "rational understanding" of why.
Now his attorneys argue that it's time for the high court to step in and force Texas officials to recognize that Panetti is too sick to be put to death.
"In the state's refusal to believe just how ill Scott Panetti is, one might want to ask: Who's more delusional, Scott Panetti or the state of Texas?" said Kase, adding, "He has not been protected by the courts -- the courts have just moved his case along."
Follow @mollyhf for national news
---