Ben Carson ends his campaign for the Republican presidential nomination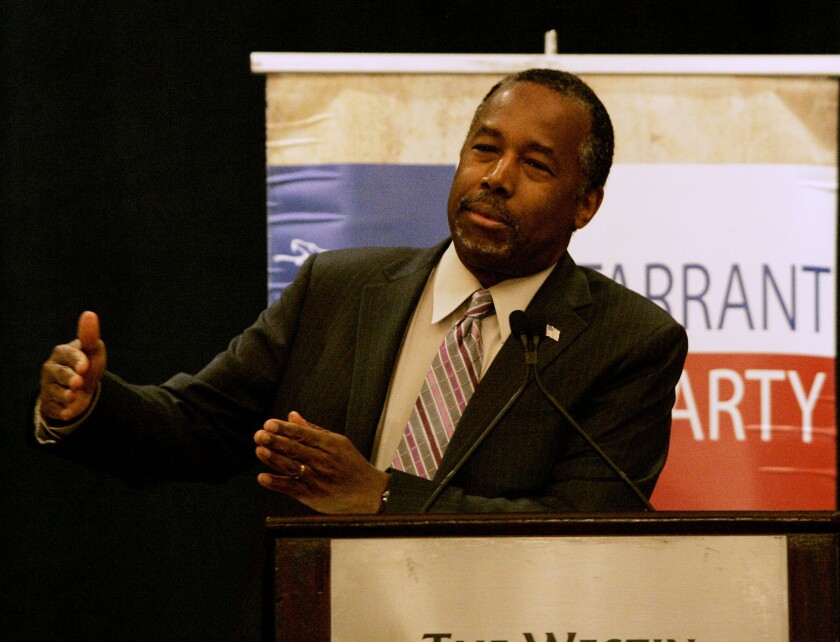 After hinting earlier in the week about his likely exit from the presidential race, retired neurosurgeon Ben Carson made it official Friday, telling a major gathering for political conservatives outside Washington that he is leaving the campaign trail.
"There's a lot of people who love me, but just won't vote for me," he said to grass-roots activists at the Conservative Political Action Conference in National Harbor, Md.
Carson, who perched briefly near the top of the polls last fall thanks to voters drawn to his Christian faith and status as an outsider, failed to win any early Republican nominating contests and battled staff shake-ups within his campaign. He sat out Thursday night's debate, a day after saying he did not see how he could win the nomination.
"I will still continue to be heavily involved in trying to save our nation," Carson said Friday. "We have to save it."
In the 10 months Carson traversed the country vying for the nomination, he raked in large sums of cash, but burned through the money almost as quickly as it was raised.
Debate performances in which Carson at times showed difficulty grasping foreign and domestic policy issues also harmed his candidacy.
His departure narrows the field of contenders to four, including front-runner Donald Trump, whose brash and blunt rhetoric has appealed to Republicans in early nominating states.
Trump now claims the title as the lone political newcomer in the field, running alongside Sens. Ted Cruz of Texas and Marco Rubio of Florida and Ohio Gov. John Kasich.
Cruz has persistently called on others to exit the race, saying he's the only candidate who can beat Trump head-to-head, noting his victories in four states. And as the primary heads to winner-take-all contests in Ohio and Florida on March 15, Kasich and Rubio are faced with must-wins in their home states. Losses to Trump would seriously impair their candidacies.
"This idea of the field clearing and Republicans rallying around a single candidate to take on Trump isn't going to happen," said Stuart Stevens, a senior advisor in 2012 to Mitt Romney. "[Trump's] on the way to the nomination. These guys should have taken him on months ago and failed to do so."
It was three years ago when Carson, who is retired from his position as director of pediatric neurosurgery at Johns Hopkins Hospital, entered the political world. At the 2013 National Prayer Breakfast, he gained plaudits from conservatives for castigating President Obama's healthcare law while the president sat listening.
But Carson's comments since, including calling Obamacare the "worst thing that has happened in this nation since slavery," drew criticism from Democrats and Republicans alike.
Carson says he will serve as national chairman of My Faith Votes, a nonpartisan group focused on boosting turnout among conservative Christians.
"The bottom line is, we the people — we are the one who will be making the decisions," he said. "But in order to do that we must become active."
kurtis.lee@latimes.com
---
Get our Essential Politics newsletter
The latest news, analysis and insights from our politics teams from Sacramento to D.C.
You may occasionally receive promotional content from the Los Angeles Times.