Ben Carson leads Republicans in fundraising as Ted Cruz quietly fills war chest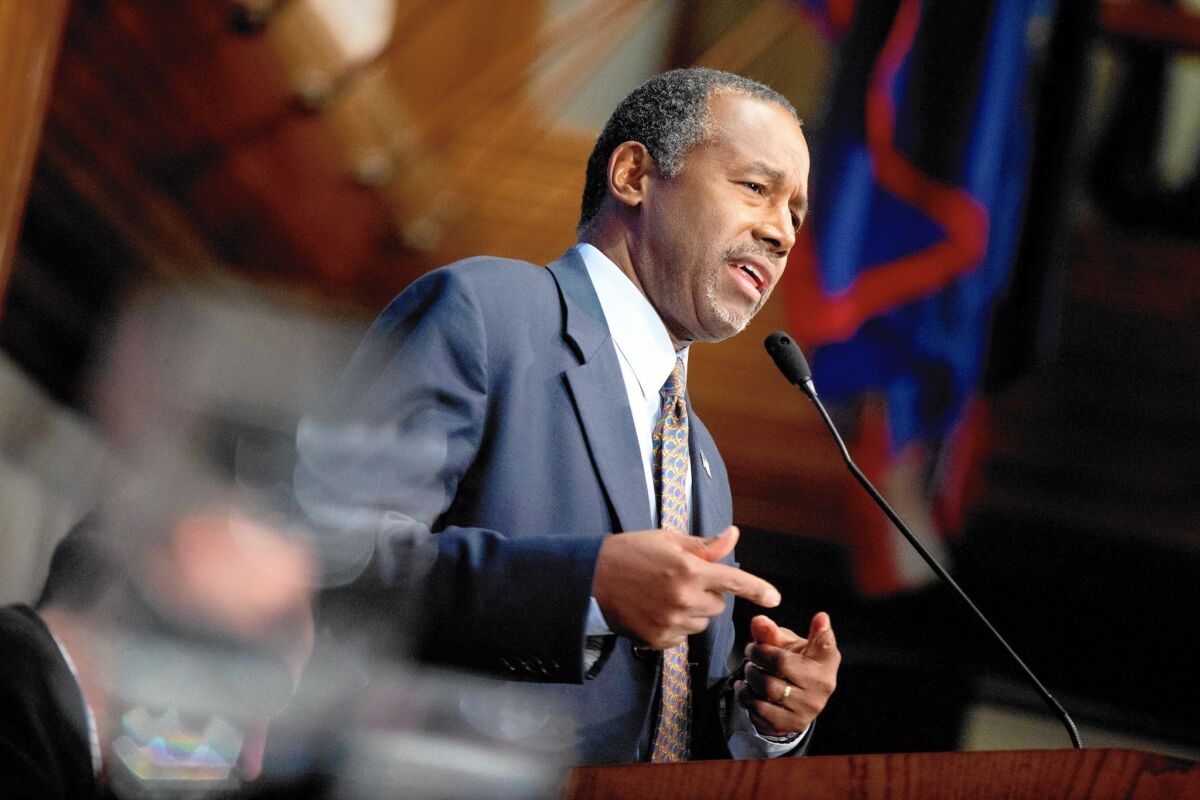 Reporting from Washington —
In a summer for political outsiders, retired surgeon Ben Carson far out-raised his Republican rivals in a crowded field, hauling in $20 million. But it's his fellow political insurgent Sen. Ted Cruz (R-Texas) who ended the quarter with the most cash in the bank.
Cruz, the first-term Texas senator and tea party favorite, raised about $12 million in contributions and ended the quarter with nearly $13.5 million in the bank, compared with about $11.2 million in the bank for Carson and about $10.2 million for former Florida Gov. Jeb Bush, according to figures released by the campaigns.
Barry Bennett, Carson's campaign manager, said much of the money is being spent on a ground operation in Iowa, where Carson hopes to capitalize on his strong base of support among evangelical voters. In several national polls, Carson is trailing only current front-runner Donald Trump among Republicans.
TRAIL GUIDE: All the latest news on the 2016 presidential campaign >>
"We've got over a dozen paid staff and 7,000 volunteers in the state," Bennett said, adding that the total shows "continued momentum" for Carson. "We're dedicated to Iowa.... It's a vitally important state to us."
We are doing it the old-fashioned way: 650,000 individual contributions.
— Bernie Sanders, contrasting his $25-million third-quarter haul with that of other candidates and super PACs
On the Democratic side, the campaign of former Secretary of State Hillary Rodham Clinton reported raising more than $29 million, the most ever for a candidate who wasn't an incumbent, but using it almost as fast it came in: The campaign spent $25.7 million, 87% of contributions for the quarter.
A campaign aide said the campaign was investing heavily on staff to build a data and digital operation that it believes will pay off in targeting voters in the early primary states.
The campaign says it raised money from about 150,000 new donors -- fewer than the 250,000 it reported during the last quarter. More than 60% of donors in the quarter were women, the campaign said.
The campaign reported $33 million on hand, more than any other presidential candidate. A related committee, the Hillary Victory Fund, raised an additional $3.1 million.
Clinton campaign manager Robby Mook released a statement saying the campaign was on track to "hit our goal of $100 million during the primary, which will set us up to reach more voters, organize them, and make Hillary Clinton the Democratic nominee in 2016."
Her chief rival, Sen. Bernie Sanders, said he raised $26.2 million during the quarter, spent $11.2 million and has $27.1 million on hand. But Sanders continues to outpace Clinton in one category -- breadth of support from modest donors. In their first debate Tuesday night, he said his average contribution was just $30.
"We are doing it the old-fashioned way: 650,000 individual contributions," Sanders said. Clinton has 600,000.
Hoping to show similar grass-roots support, Clinton's campaign made building its email list one of its highest priorities, which would help net the $5, $10 and $25 donations that were crucial to President Obama's two campaigns.
Former Maryland Gov. Martin O'Malley, who has struggled to make a dent in the polls amid Clinton's early dominance, Sanders' surge and ongoing speculation about whether Vice President Joe Biden might run, was expected to post a low figure by comparison. He raised $2 million in the previous fundraising period. But his campaign said the exposure generated by Tuesday's debate would be a turning point.
At the outset of the race, Bush appeared to be a fundraising juggernaut, benefiting mightily from the national donor network left over from his father's and brother's terms in the White House. He piled up $11.4 million in just 16 days, on top of more than $100 million for a super PAC supporting him.
Bush didn't match that pace in the third quarter, but he did raise $13.3 million, his campaign said. The campaign put a positive spin on the numbers, saying they were solid given the crowded Republican field. The campaign said it had a strong month in September and had more fundraisers on the schedule.
"I — for one — would be less than forthcoming if I said we predicted in June that a reality television star … would be leading the Republican primary," Bush campaign manager Danny Diaz said in a statement, referring to Trump. "We are confident that when the time comes to pick a president, voters will elect Jeb because they know they can count on him to fix a broken Washington."
The campaign also noted that Bush could count on strong backing from the super PAC Right to Rise, which on Thursday announced that it was buying $16.8 million worth of ads in the states that have March primaries.
On Thursday, Bush released the names of dozens of bundlers who have helped his campaign raise at least $17,600. Among those were several prominent Californians with ties to his brother's administration.
Susan McCaw of Santa Barbara was among those who have helped raise money for Bush's campaign. She served as ambassador to Austria in George W. Bush's administration.
Another was Hector Barreto of San Juan Capistrano, who served as the former head of the Small Business Administration under the same Bush administration.
So far, though, Bush's ability to raise money from loyal donors with ties to his family has not equated to support in the polls. In several early-nominating states, like Iowa and New Hampshire, he's polling toward the middle of the pack, behind political outsiders like Trump and Carson.
Boosted by assured debate performances, former computer executive Carly Fiorina reported a surge in donations too, gathering close to $6.8 million in the quarter — four times the amount she raised in the second quarter. Fiorina, who has leaned heavily on a super PAC, Carly for America, to staff her campaign events, spent just $2.2 million, leaving her with $5.5 million on hand.
Bush's fellow South Floridian and onetime protege, Sen. Marco Rubio, raised $5.7 million, spent $4.6 million and reported having close to $11 million in the bank — more than Bush. Rubio said he attracted close to 110,000 donations. His campaign made claims of strict frugality, noting it had bought furniture through Craigslist and paid for more than 300 car trips for staff on the ride-sharing service UberX.
See the most-read stories this hour >>
Meanwhile, Trump, who has promised to largely pay for his own campaign, said that he got $3.9 million in nearly 74,000 unsolicited donations. The campaign said the average contribution was $50. Trump, who hasn't bought advertising, said he'd spent $1.9 million of his own money so far.
"To be No. 1 in every poll, both state and national, and to have spent the least amount of dollars of any serious candidate is a testament to what I can do for America," Trump said in a statement.
By the numbers, Kentucky Sen. Rand Paul's campaign appeared to be in trouble: It spent more than $4.5 million, about $2 million more than it raised in the quarter. He has $2.1 million cash on hand. His attempts to carve out a path as a "different kind of Republican," railing against the National Security Agency and mass incarceration, have not caught fire with GOP voters.
In an interview Thursday on CNN, Paul said he had no intentions of quitting the race.
"My prediction is, come January, we will be right in the mix," he said. "We are in it for the long haul … we plan on being here when they vote."
Louisiana Gov. Bobby Jindal also spent more than he raised, and has just $260,949 in the bank. And a report from former Texas Gov. Rick Perry shows that his campaign was hemorrhaging money before he dropped out: He spent $1.1 million and raised $287,000. He ended the campaign with $44,000 on hand — but no debt.
ALSO:
Bernie Sanders busts out some dance moves in L.A. visit
She can't vote, but this young immigrant plays a key role in Clinton's campaign
Is Biden running for president? Top aide says vice president is nearing decision
Life is stressful. Our weekly mental wellness newsletter can help.
You may occasionally receive promotional content from the Los Angeles Times.