Trump, Cruz and Kasich lay the groundwork for crucial California race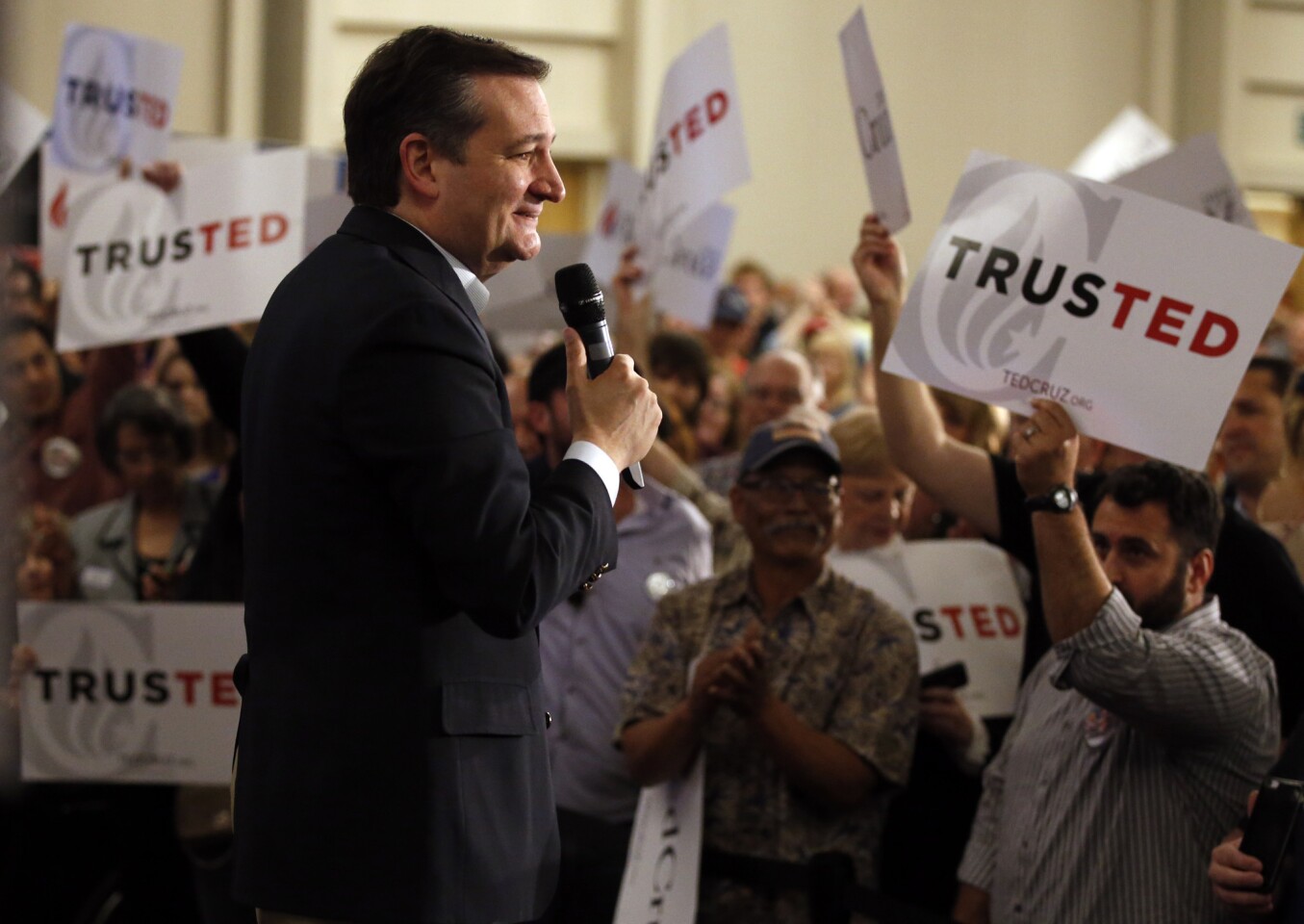 Republican presidential candidate Ted Cruz smiles at the enthusiastic crowd of supporters during his rally at the Hotel Irvine on April 11.
(Mark Boster / Los Angeles Times)
Cruz poses for pictures with supporters.
(Mark Boster / Los Angeles Times)
After the rally, Adi Mitchell of Mission Viejo holds a license plate autographed by Ted Cruz.
(Mark Boster / Los Angeles Times)
Ted Cruz greets supporters.
(Mark Boster / Los Angeles Times)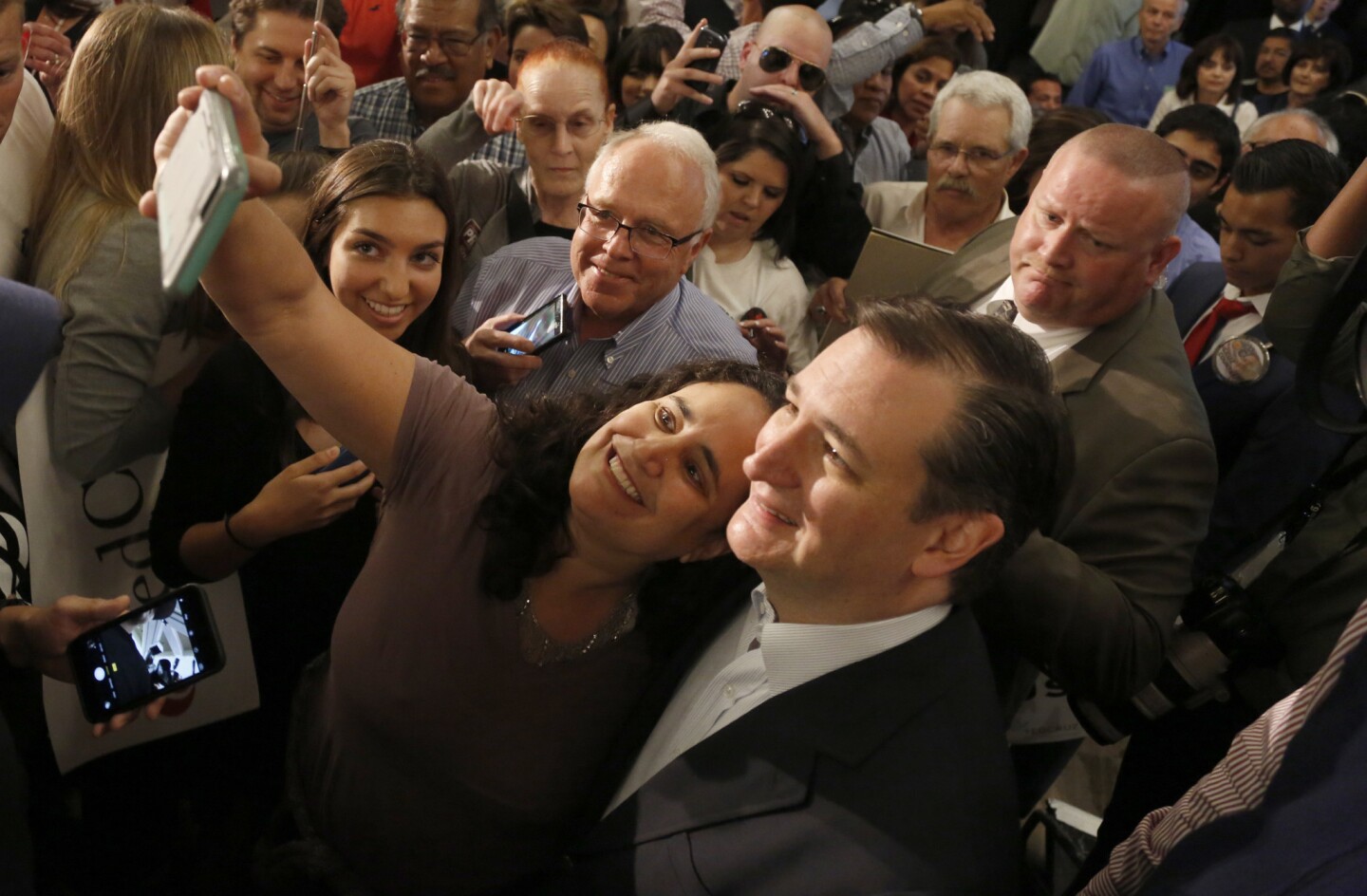 Cruz poses for more pictures.
(Mark Boster / Los Angeles Times)
Though the presidential race is focused on upcoming East Coast contests, the three remaining Republican candidates are already turning their attention west as they ramp up their efforts ahead of California's June 7 primary, which probably will decide the fiercely competitive race for the GOP nomination.
Sen. Ted Cruz of Texas held a raucous rally Monday in the conservative bastion of Orange County. Front-runner Donald Trump is hiring staff and inquiring about airtime on Los Angeles television stations. Ohio Gov. John Kasich is looking for office space and rolling out endorsements.
Cruz and Kasich committed to speak at the state Republican Party convention at the end of the month, giving them a chance to woo the party's most committed activists and potential delegates. And veteran GOP strategists have launched an anti-Trump effort, convinced that the state offers the last chance to stop him from winning the nomination.
Californians, long used to being irrelevant in national politics and ignored by candidates, are almost giddy over all the attention.
"I have never seen this level of excitement and engagement among our California Republican voters and activists as we are seeing right now," said Harmeet Dhillon, the state party's vice chairwoman. "It's always been game over by the time the primary rolls around to California."
Election 2016 | Live coverage on Trail Guide | Track the delegate race | Sign up for the newsletter
The enthusiasm was visible at the Cruz rally in Irvine, where he addressed more than 1,000 cheering supporters in a sweltering, standing-room-only hotel ballroom. He paid homage to Ronald Reagan, who relied upon Orange County Republicans in his gubernatorial and presidential races.
"This is the birthplace of the Reagan revolution and let me tell you, there is a new revolution brewing," Cruz said. "And just like in 1980 it's going to be California that's going to decide, California that's going to lead the way."
Cruz also spoke at a rally in San Diego on Monday night. Those were the first public appearances in the state by a GOP candidate since it became clear that none of the Republicans would win the nomination before California's primary. The state's voters will play a decisive role in the Republican nomination process for the first time in more than half a century.
Of the three candidates, Cruz has an edge because he began organizing in California last summer and recruited two former state party chairmen — one of whom conceived the state's complicated rules for awarding presidential delegates.
"We anticipated early on that this primary could easily come down to the state of California, and that in fact is what has happened," Cruz said in an interview.
Cruz has begun to pick up the backing of establishment Republicans across the nation as the best alternative to stop Trump. On Monday, the campaign announced the support of 50 current and former elected officials in California.
Cruz had previously rolled out a 119-member leadership team in the state. And he met privately last week with more than 200 of his potential delegates during a fundraising trip to Orange County.
The delegate recruitment strategy is one that Cruz has successfully deployed against Trump, enabling him to snatch away delegates even in states where Trump far outperformed the senator.
Kasich and Trump only recently launched their efforts here.
The Ohio governor, who trails Trump and Cruz badly in the delegate count and in the polls, has insisted he will continue his campaign through California. He is recruiting staff, said Rick Caruso, his California co-chairman.
"His team is mobilizing out here. They're going to make a big push here," Caruso said.
Caruso said he believed that Kasich, who has won only his home state, could resonate with California Republicans because he is not as strident as Trump or Cruz.
"He's much more moderate on social issues," said Caruso, a billionaire developer.
Kasich has announced a handful of California endorsements, notably former Gov. Arnold Schwarzenegger. The movie star is expected to campaign with Kasich in California, though it's unclear how much that would help given that Schwarzenegger was deeply unpopular when he left office in 2011.
A super PAC backing Kasich plans a seven-figure television, digital and phone effort in the Bay Area, where surveys have shown he has the greatest strength.
Trump has suffered setbacks in recent weeks because of a lack of a traditional campaign organization, causing him to shake up his staff and add more seasoned operatives. Last week, Trump hired Washington insider Paul Manafort to manage his convention and delegate strategy.
In California, he is still relying on volunteers while his campaign interviews prospective staff members. He has not yet committed to attend the state GOP convention.
Ted Costa, a longtime conservative activist who is helping Trump round up delegates, cited the candidate's large California Facebook following as an important asset.
"When Trump pulls up his airplane out there at the airport, all of a sudden they'll be there," said Costa, who launched the successful 2003 recall of Democratic Gov. Gray Davis.
Throughout most of the campaign, Trump has relied upon the enormous amount of free airtime he gets on the television news and cable shows to get his message out. But in California, the businessman turned reality TV star is considering paying to air ads, a costly proposition in a state that is home to some of the nation's most expensive media markets.
His team has made inquiries to television stations about the availability of advertising airtime starting April 25, shortly before mail voting begins, said Sheri Sadler Wolf, a veteran Democratic media consultant. The formal request typically occurs shortly before an actual purchase of airtime.
Trump and his polarizing views are causing heartburn for many of the state's establishment Republicans, who fear that he will further set back a party that last elected a GOP candidate statewide a decade ago. This prompted three veteran Republican operatives with ties to some of the state's top donors to launch a super PAC aimed at stopping him from clinching the nomination in California.
"It's our state, and if we're the last line of defense, we're going to do our part to stop him," said Rob Stutzman, who worked for Schwarzenegger and on 2010 gubernatorial candidate Meg Whitman's unsuccessful run.
Stutzman is joined by Richard Temple and Ray McNally, whose firm has worked for former Presidents George W. Bush and George H.W. Bush, former Gov. Pete Wilson and entities associated with influential GOP donor Charles Munger Jr.
Their goal is to boost Cruz by targeting specific congressional districts. Nearly all of California's 172 delegates are awarded by district.
"A vote for Cruz is a vote for an open convention," Stutzman said, "and obviously that's the objective at this point."
Times staff writer Mark Z. Barabak contributed to this report.
For the latest 2016 campaign news, follow @LATSeema on Twitter.
MORE CAMPAIGN NEWS
'We need an outsider like Trump,' says this two-time Obama voter
Cruz outmaneuvering Trump in behind-the-scenes battles for delegates
Skelton: Delegate math doesn't add up for Bernie Sanders in California
---
Life is stressful. Our weekly mental wellness newsletter can help.
You may occasionally receive promotional content from the Los Angeles Times.