With Trump's rise, big donors and companies hesitate to commit money to the GOP convention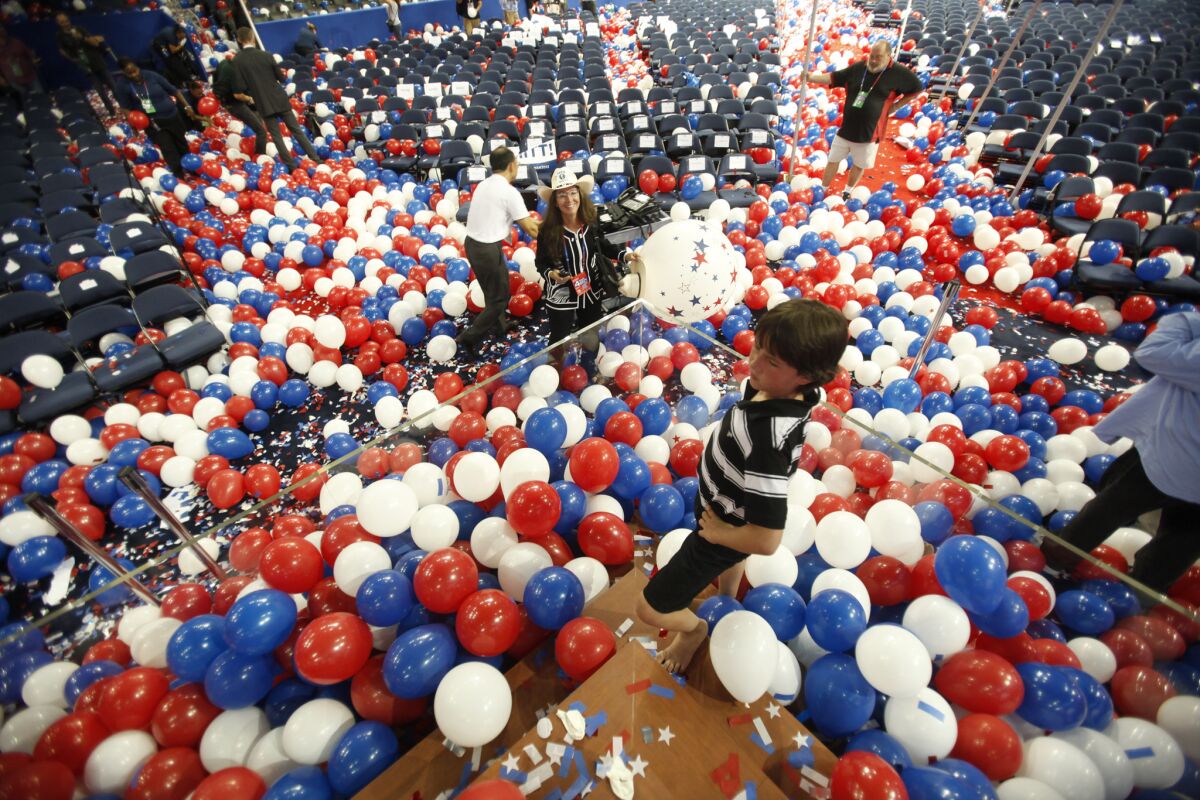 Reporting from Washington —
With Donald Trump locked in a dogfight against much of the rest of the Republican Party, a lot of things are uncertain about the GOP's convention in Cleveland in July.
Here's a big one: Who will pay for it?
Four years ago, after Mitt Romney clinched the nomination, his fundraising team pulled in millions from GOP stalwarts to close a gap in money for the convention in Tampa, Fla. Sheldon Adelson, the casino mogul, gave $5 million. Energy billionaire and activist David Koch, Los Angeles media figure Jerry Perenchio and hedge fund billionaires Robert Mercer, Paul Singer and John Paulson each donated $1 million.
Election 2016 | Live coverage on Trail Guide | Wisconsin primary results | Track the delegate race | Sign up for the newsletter
But Trump's improbable success has blown a hole in that model of convention financing. Trump hasn't built a fundraising network of his own and has spent much of the campaign sneering at rivals for being under the thumb of their big donors.
Some of the party's big-dollar donors from four years ago, unhappy about the prospect of contributing to a chaotic or brokered convention, are holding onto their money. Blue chip corporations that helped underwrite the 2012 convention, including Microsoft and AT&T, are now facing a pressure campaign to stay away.
"All I can tell is there's disenchantment with the whole system right now," said Jay Zeidman, a Republican fundraiser from Houston. With his father, Fred, another big GOP donor, Jay Zeidman supported Jeb Bush and now is backing Sen. Ted Cruz.
"You can't compare last time with where we are now, because we're sort of in uncharted territory," he said.
Trump supporters call concerns about paying for the convention mere hand-wringing by traditional party power brokers who fear being shut out.
"There's a little heartburn on K Street," Washington campaign consultant Barry Bennett, who has advised Trump, said, referring to the downtown Washington street that houses many lobbying and law firms. "It's a lot of people who make their living based on proximity to power, if not access, so they're threatened."
The convention won't be at risk, he said; Trump has enough rich friends to write checks.
"They'll be there," he said of corporate sponsors. "They always are."
There's a little heartburn on K Street. It's a lot of people who make their living based on proximity to power, if not access, so they're threatened.
— Barry Bennett, Washington campaign consultant
When Cleveland won the right to host this year's convention, a group of local government and business leaders pledged to raise $64 million to support it. Other convention functions are handled through a second committee under control of the party.
The Cleveland 2016 Host Committee is still about $8.5 million short, according to its president, David Gilbert. Angst over Trump or a brokered convention hasn't thrown off the fundraising yet, he insisted."No one who has committed to us has pulled back a commitment because of things like that," Gilbert said. "For us, it is absolutely business as usual."
Organizers of the Democratic convention in Philadelphia also are supposed to raise $64 million; in January, former Pennsylvania Gov. Edward Rendell said the host committee had $14 million in pledges and $19 million in the bank. Four years ago, the committee fell short and had to sidestep a self-imposed ban on corporate donors.
Spokeswoman Anna Adams-Sarthou declined to give updated figures, saying fundraisers are "hitting all of our benchmarks."
On the Republican side, some of the big donors to the 2012 convention have so far stayed out. Charles Koch declined to comment about whether he will help underwrite the 2016 convention, said James Davis, spokesman for Freedom Partners, a group supported by brothers Charles and David Koch.
But Freedom Partners recently canceled plans to host a reception at the historic Union Club in downtown Cleveland during the convention, Davis noted.
Mark Holden, Freedom Partners board chairman, said in a statement that the organization would participate in the presidential election if a candidate could catch on without engaging in "personal attacks and mudslinging."
"That hasn't happened yet, and there is no indication that this will happen given the current tenor and tone of the various campaigns," the statement said. The group, instead, has focused on Senate and other campaigns, with $6.8 million worth of ads purchased so far.
Others aren't talking.
"I have nothing to share with you at this time," wrote a spokesman for the American Petroleum Institute, an industry lobbying group that gave $2 million to underwrite the Tampa convention.
Adelson's representatives did not return phone calls. He spent $100 million in 2012, but hasn't surfaced yet in the 2016 campaign.
The Cleveland Host Committee is counting on $7 million in in-kind contributions from companies that provide services — and enjoy the marketing opportunity and the chance to get their corporate message before party leaders.
Last time, for example, the Tampa convention listed a $1.5 million in-kind contribution from AT&T, which helped build the gathering's extensive communications network. The company also gave $3 million in cash to the Tampa host committee.
AT&T is once again promoting its agreement to serve as the 2016 convention's "official provider" for communications — it's the only corporation that has come forward so far — but isn't saying whether it plans to make any other donations.
"We recognize the important role both conventions play in the functioning of our democracy, and are proud to support them on an impartial basis," said spokeswoman Marcella Medina.
AT&T gave $474,000 to the 2012 Democratic convention, including $175,000 for swag bags.
With the rise of Trump, advocacy groups have begun a campaign to convince sponsors from 2012 to bow out of the Republican convention. They cite Trump's rhetoric about Muslims and immigrants and his delay in disavowing support from white supremacist David Duke.
The groups claimed a victory when Coca-Cola, which gave $660,000 in 2012, decided to give only $75,000 after the groups started an online petition that featured a Coke bottle with the label, "Share a Coke with the KKK."
In a statement, Coke spokeswoman Jennifer Lemming noted that the company also had given $75,000 to the Democrats for their convention this year and that it "does not endorse presidential candidates or nominees."
Rashad Robinson, executive director of Color of Change, a progressive advocacy group, said the coalition has already begun pressuring other firms, including Google, Cisco, Microsoft — and AT&T.
------------
FOR THE RECORD
7:58 a.m.: An earlier version of this article identified Rashad Robinson as executive director of CREDO Action. He is executive director of Color of Change.
------------
So far, the responses have been polite and noncommittal, he said, adding that the coalition will continue to step up the pressure in appeals focused on the company's top executives.
"This is a historic moment we are in," Robinson said, describing his pitch to executives. "What will history say about your practices and your business decisions? If you do decide to support it, we will make sure everybody knows it was a clear decision in the face of people pushing back. You decided that being aligned with Donald Trump was worth it."
The host committee says its fundraising pitch, at least locally, emphasizes that the decision is not about Trump or Cruz, it's about putting Cleveland in the best possible light.
"It's the committee's responsibility for making sure it's a great convention" regardless of who the nominee is, Gilbert said. "When we talk to potential funders, we don't talk about candidates or politics."
The committee won't reveal its donors until disclosure reports are due to the Federal Elections Commission in late September.
Ron Kaufman, a member of the Republican National Committee and a Romney advisor, said he hasn't seen any dropoff in party fundraising yet. He said the focus on big donors obscures another point: Trump has a huge base of support that could potentially be used to raise money.
"If we can tap into that with a good direct mail program, who knows how much money we'd be able to raise?" he said.
"As a person who worries about finances, I'm trying to be steel-eyed about it," he said. "I honestly don't know what's going to happen, and no one does."
For more on campaign finance, follow @JTanfani
ALSO
Smoke-filled room, meet Silicon Valley: Techies see opportunity at GOP convention
Here's who Donald Trump is taking foreign policy advice from
Clinton, Sanders escalate brawl in New York
---
Life is stressful. Our weekly mental wellness newsletter can help.
You may occasionally receive promotional content from the Los Angeles Times.