Hillary Clinton pauses her New York primary campaign to raise money and rally in California
Hillary Clinton addresses a rally held at Los Angeles Southwest College.
(Irfan Khan / Los Angeles Times)
Hillary Clinton is surrounded by supporters at a rally held Cox Library at Los Angeles Southwest College.
(Irfan Khan / Los Angeles Times)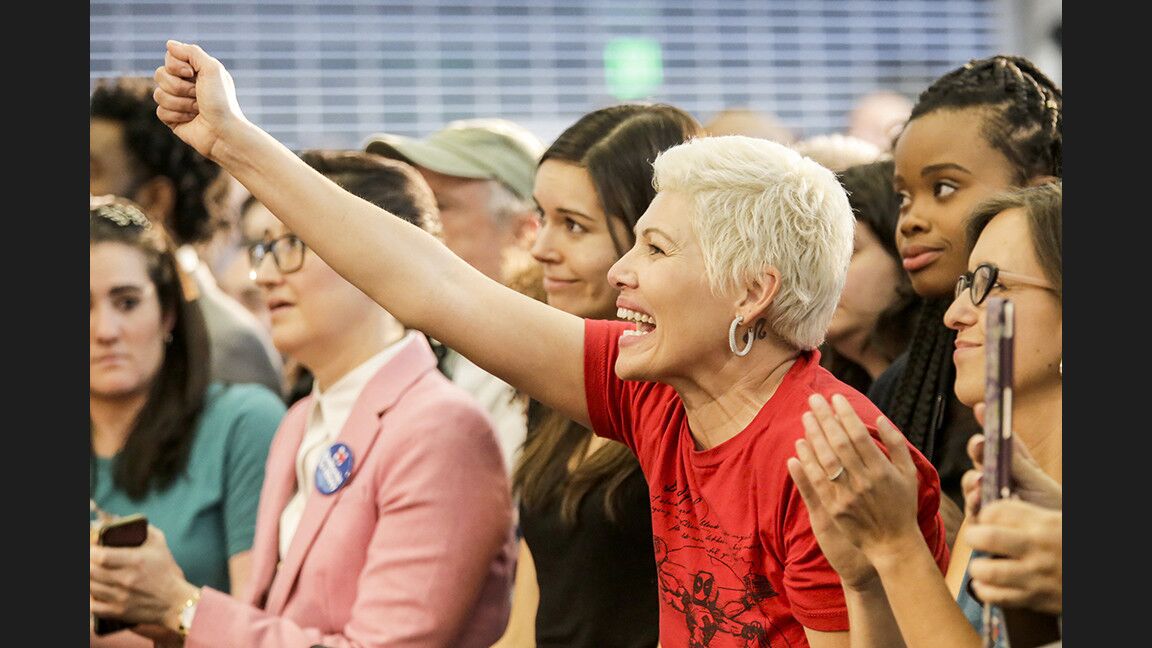 Lorena Aviles cheers Hillary Clinton at a rally at Los Angeles Southwest College.
(Irfan Khan / Los Angeles Times)
Hillary Clinton addresses a rally held at Los Angeles Southwest College.
(Irfan Khan / Los Angeles Times)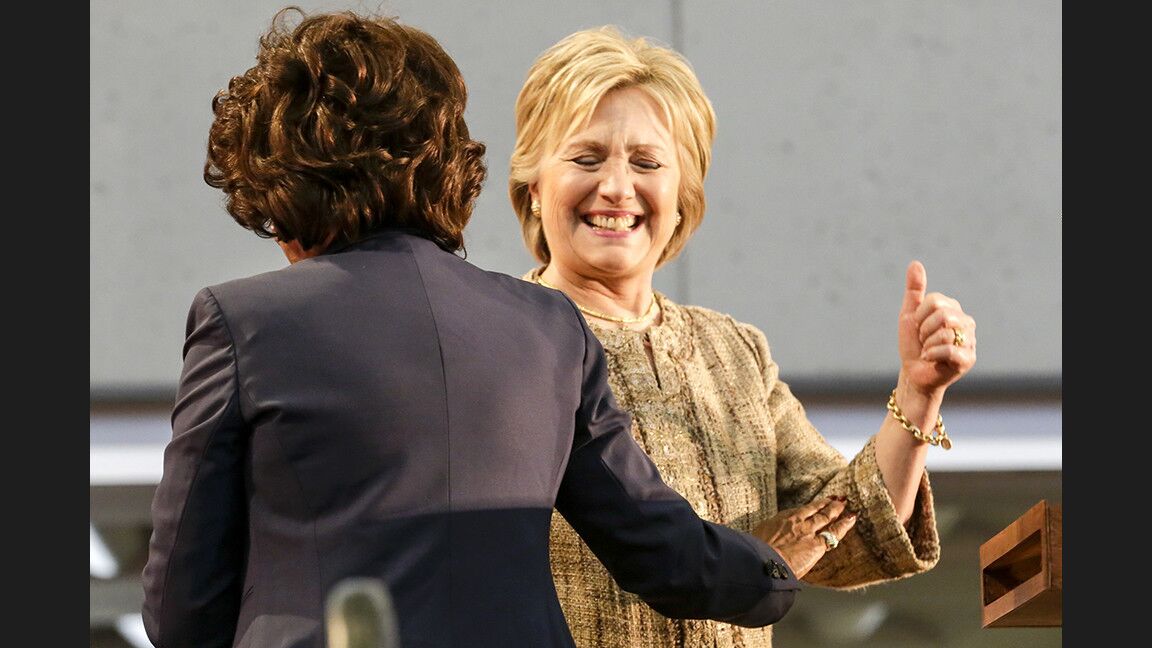 Rep. Maxine Waters (D-Los Angeles) with Hillary Clinton at a rally held at Los Angeles Southwest College.
(Irfan Khan / Los Angeles Times)
A young boy joins the cheers for Hillary Clinton at Los Angeles Southwest College.
(Irfan Khan / Los Angeles Times)
City of Commerce Councilwoman Emma Sharif, right, is photographed with Hillary Clinton during a rally at Los Angeles Southwest College.
(Irfan Khan / Los Angeles Times)
There may have been just one place that could draw Hillary Clinton away this weekend from the electoral brawl in New York, where the Democratic front-runner faces a defining moment in just a few days when voters there decide whether to clear the path for her nomination or send her campaign a destabilizing jolt.
But California is that place. The state's wealth, as well as its wealth of delegates, were too hard for Clinton to pass up. So she took the cross-country detour to join George Clooney in toasting some of California's most well-heeled Democratic donors – and collect copious amounts of their cash – as well as to stir up voter enthusiasm with a Los Angeles rally.
The amount of money Clinton stands to rake in on the visit is well into the millions of dollars. A pair of seats at her table with Clooney cost donors more than $353,000 Friday night in San Francisco, the most expensive tickets at an event attended by 70 people and hosted by venture capitalist and early Uber investor Shervin Pishevar. Another event was to be held at Clooney's home in Los Angeles, where the priciest tickets cost $100,000 per couple. The events underscore the state's outsize role as a money tree for Democratic candidates.
Election 2016 | Live coverage on Trail Guide | Track the delegate race | Sign up for the newsletter
And Clinton will need that money to make a strong showing in the state, which is an especially expensive place to run. Her advisors had initially hoped to avoid a protracted fight in California, one of the last states to vote in the presidential primary, and a place where the race was expected to be over by the time voters cast ballots June 7.
But they are confronting the reality that rival Bernie Sanders is not going away, regardless of what happens in New York and the states that immediately follow. The well-funded insurgent, whose money comes not in increments of hundreds of thousands of dollars but in tens of dollars from a vast number of donors, has the resources and the determination to inflict considerable pain on Clinton in California.
Her oddly timed visit can be explained simply in dollar signs, said Jack Pitney, a professor of political science at Claremont McKenna College. "It's all about amassing cash, because it's expensive to run in California."
From San Diego to San Francisco, the state has several major media markets where Clinton and Sanders will need to dole out staggering sums on television advertising. There is only so much door-to-door campaigning the candidates can do to have an impact in a state so massive. "This is a large state, and advertising will be critical," Pitney said.
The risks involved with heading west while it is crunch time in New York were diminished for Clinton because Sanders left New York, too. He jetted off to the Vatican to address the Pontifical Academy of Social Sciences and met with Pope Francis, whom he has frequently invoked on the campaign trail. Both candidates were expected back in New York on Sunday, when they have major rallies planned.
But the Sanders campaign also made itself present in California, announcing it would run its first television advertisements in the state "just as Secretary Clinton's wealthy donors are sitting down for dinner." The spots highlight the $27 average contribution to Sanders' campaign and come a day after the senator released his tax return for 2014, which his campaign used to highlight the vast wealth gap between the two candidates. He and his wife reported income of just over $200,000, while Clinton and her husband took in about $28 million the same year.
The Clinton campaign emphasized that money raised in California this weekend was not just for her, but also to be used "to help Democrats up and down the ticket win in November."
In between the fundraisers, Clinton also did some campaigning.
"Let's take California values and New York values and put them to work for American values," she said at a rally at Los Angeles Southwest College, inserting the West Coast into her well-rehearsed play on comments from Republican presidential candidate Ted Cruz, who has assailed "New York values" as those of liberal politicians. She made several nods to California's primary, noting that she will be here often.
"I love coming to California. ... We need to get to work for a big victory in California," said Clinton, who has the backing of such prominent local Democrats as Rep. Maxine Waters and Los Angeles Mayor Eric Garcetti. Clinton also jabbed at Sanders for supporting a bill that gave gun makers and sellers immunity from liability. "No matter how often he's asked by family members of those who have been murdered, he sticks to his talking points," Clinton said.
Despite Clinton's losing pattern in the West, where she so far has lost many more states than she has won, the diverse California electorate offers far more promising terrain for her than the other, generally far whiter states have.
"The landscape is very Clinton-friendly. … She has had the upper hand with minorities, and that's likely not to change here in California," Pitney said. A recent Field Poll showed Clinton leading with black voters, for example, by a margin of well over 2 to 1. She also leads, by a much smaller though still comfortable margin, with Latinos, who accounted for almost a third of the Democratic electorate in 2008.
But the state does pose risks at a time when Sanders continues to crush Clinton with the youth vote.
"While California has a large share of Latino registered voters in the Democratic primary, they tend to also be young, which may mean they are equally compelled by Sanders," said Lynn Vavreck, a professor of political science at UCLA.
Whatever the outcome in California, Clinton is so far ahead in the delegate count that it is unlikely to cost her the nomination unless it is compounded by some unexpectedly catastrophic electoral setbacks in the coming weeks. But a loss in the state would be a demoralizing, if not humiliating, blow heading into the national convention in Philadelphia in July.
So much so that some Clinton supporters at the rally Saturday expressed resentment that Sanders plans to continue fighting regardless of how far behind he is by the time California votes.
"He needs to leave the race," said Linda Slauson, a 63-year-old marriage and family therapist from Long Beach. "It's over for him. It's about math, and it's not on his side."
Lee reported from Los Angeles and Halper from New York.
Twitter: @kurtisalee, @evanhalper
ALSO:
Obama likely to sit out Democratic primary altogether, White House aides say
Wall Street's view of itself in Bernie Sanders' campaign: Maligned, marginalized, misunderstood
Analysis: In brawling Brooklyn debate, Clinton and Sanders define big differences
---
Life is stressful. Our weekly mental wellness newsletter can help.
You may occasionally receive promotional content from the Los Angeles Times.