Design suggests suspicious packages intended to spread fear rather than destruction
Reporting from WASHINGTON —
Because none of the 10 suspicious devices sent to prominent figures in recent days have ignited, investigators now suspect that either a would-be bomb maker is inept or the packages were intended to spread fear rather than inflict injury or death, according to two people with knowledge of the investigation.
Still, the same sources warned Thursday that additional devices resembling small pipe bombs, similar to those sent to people with whom President Trump has clashed, could be lethal and are believed to be within the postal system. Investigators are looking closely at Florida, the origin of at least some of the packages.
New York City Police Commissioner James P. O'Neill reinforced investigators' warnings at a news conference, saying, "We are treating it as suspected explosive devices.
"This is something that should be taken seriously. As far as a hoax device, we're not treating it that way," O'Neill continued, adding, "I'm not going to talk about intent."
Investigators reported intercepting three packages Thursday, two sent to former Vice President Joe Biden and one to actor Robert De Niro, bringing the total to 10. Trump has declined to call the sending of the threatening packages an act of domestic terrorism, and has pivoted from his initial plea for national unity to blaming the media for stoking anger that could lead to such actions.
The latest would-be pipe bombs, which did not detonate, were similar to crude devices intercepted since Monday that were addressed to former President Obama, Hillary Clinton, former Atty. Gen. Eric H. Holder Jr., former CIA Director John Brennan, investor George Soros and Rep. Maxine Waters, a Los Angeles Democrat. All of the intended recipients, including Biden and De Niro, have been critics of Trump and have been assailed by him, including in his frequent political rallies.
John Miller, deputy commissioner of intelligence and counter-terrorism for the New York Police Department, said the package to De Niro was discovered by a retired detective who was screening mail for the celebrity. The man saw photos of a confiscated package on television and recalled seeing a similar one at De Niro's entertainment company, TriBeCa Productions, in Manhattan. He alerted the bomb squad and the nearby police precinct, Miller said.
The packages addressed to Biden were intercepted at separate mail facilities within miles of each other in Delaware, near his home.
Biden, campaigning for a Democratic House candidate Thursday near Buffalo, N.Y., did not mention Trump in responding to reporters, but said, "We've got to turn off this hate machine. We've got to come together."
"The American public, all over the nation, people want us to be more civil. People want us to choose hope over hate," Biden added. "People understand that words matter. Words matter. And our children are listening."
The latest packages, like others recovered this week, were taken to the FBI's lab in Quantico, Va., for examination. O'Neill said that white powder discovered in the package addressed to Brennan, which was sent to CNN's offices in New York, was not biological, alleviating fears of anthrax or a similar toxin.
O'Neill said investigators were aware of no additional credible threats in New York, yet he and other officials cautioned that the public should remain vigilant. Investigators are continuing to scour the nation's post offices and mail-sorting facilities, as well as places that might be targets.
O'Neill and others at the news conference offered few details on the investigation but expressed confidence that the person or people behind the string of packages would be caught.
The FBI has turned much of its attention to Florida. Investigators say the postal system's tracking technology shows that at least some of the packages came through a facility in southern Florida. Investigators in the state have joined those in New York, Los Angeles and Washington on the sprawling inquiry.
The packages named as the return addressee Rep. Debbie Wasserman Schultz, a former Democratic Party chairwoman whose congressional district is in southern Florida. Her name and the state were misspelled on packages made public.
Separately, the incidents reopened a debate about the influence of the president's use of hostile rhetoric against his perceived political enemies.
On Thursday, Trump avoided further comment on what many others, in both political parties and in law enforcement, were calling acts of domestic terrorism. His only statement was a morning tweet directed against a favorite target, the news media.
Though Trump joked at a rally in Wisconsin on Wednesday night that he had to "behave," in his remarks there and on Twitter on Thursday morning he blamed the media for fomenting an atmosphere that might drive people to take such action.
"A very big part of the Anger we see today in our society is caused by the purposely false and inaccurate reporting of the Mainstream Media that I refer to as Fake News," Trump tweeted. "It has gotten so bad and hateful that it is beyond description. Mainstream Media must clean up its act, FAST!"
White House Press Secretary Sarah Huckabee Sanders pushed back against reporters asking whether Trump would change his tone or express regret that his attacks on Clinton, Waters and other critics might have encouraged the threats.
"The president is certainly not responsible for sending suspicious packages to someone, no more than Bernie Sanders was responsible for a supporter of his shooting up a Republican baseball field practice last year," Sanders said, referring to the independent senator from Vermont.
She was recalling an incident last year when a left-wing activist shot and injured House Majority Whip Steve Scalise, a Republican from Louisiana, and several other people at a practice field in northern Virginia, near Washington.
On Wednesday at the White House, hours after investigators reported the Obama, Clinton and Brennan packages, Trump had read from a prepared statement that denounced the suspected bombing attempts, promising a thorough investigation and calling for unity. Yet that call rang hollow to many, given his frequently hostile verbal jabs at perceived antagonists.
Jeff Zucker, president of CNN Worldwide, issued a statement Wednesday saying that "the President, and especially the White House Press Secretary, should understand their words matter. Thus far, they have shown no comprehension of that."
By that evening, as Trump spoke to supporters inside a small airplane hangar in Mosinee, Wis., he mixed condemnation of the suspected explosive devices with a demand that the media provide less critical coverage of his presidency.
"The media also has a responsibility to set a civil tone and to stop the endless hostility and constant negative — and oftentimes, false — attacks and stories," said Trump, prompting the usual chants of "CNN sucks!" from supporters.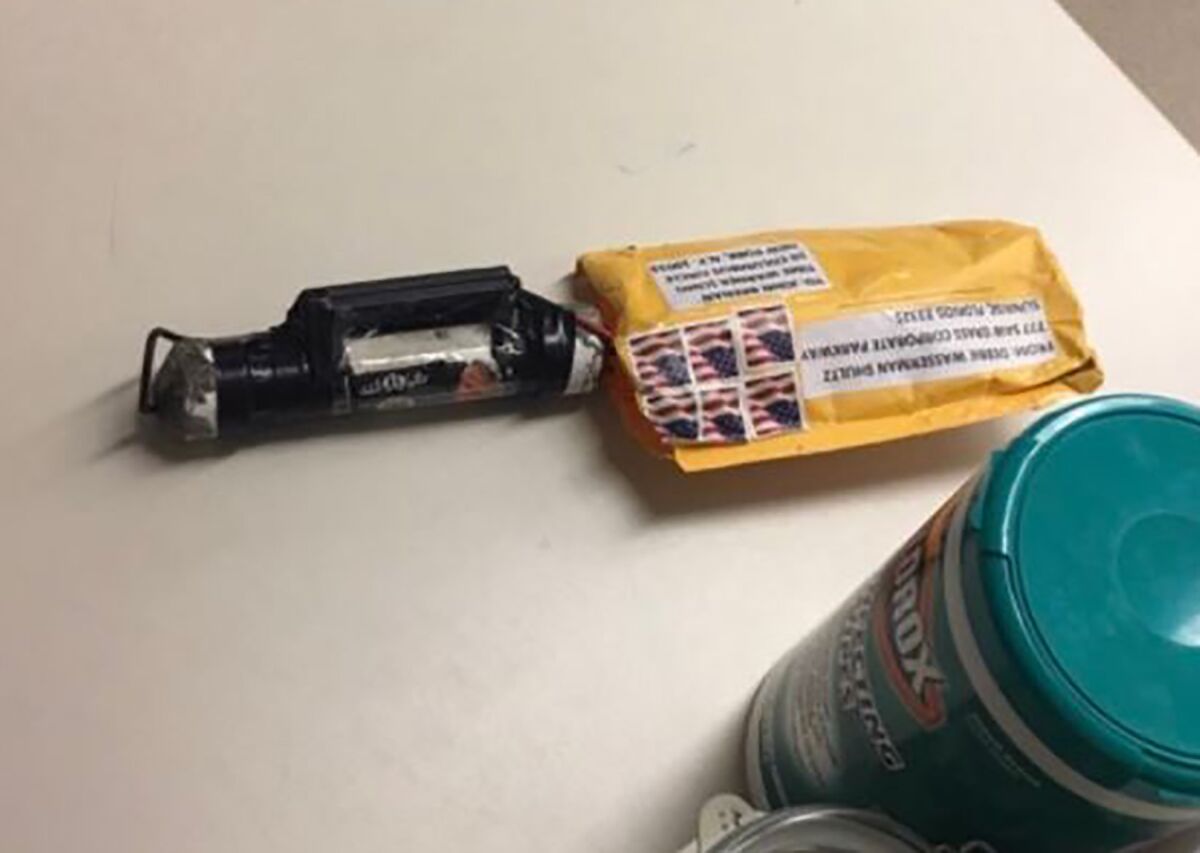 The president also exhorted those in the political arena to "stop treating their opponents as morally defective," though he continues at rallies to call his 2016 rival "Crooked Hillary" and routinely encourages calls of "Lock her up," while attacking Waters, an African American lawmaker, as a "low-IQ individual." At a Montana rally last week, he praised a GOP congressman for assaulting a journalist last year.
He made a point of avoiding those standard attacks in Wisconsin, telling the crowd that he was "trying to be nice."
"Do you see how nice I'm behaving tonight? Have you ever seen this?" he said.
Stokols and Bierman reported from Washington and Winton from Los Angeles.
---
UPDATES:
4:25 p.m.: This article was updated with additional details from investigators at a news conference in New York, new information about the investigation in Florida and reaction from former Vice President Joe Biden.
12:45 p.m.: This article was updated with information on the devices from two people with knowledge of the investigation.
8:20 a.m.: This article was updated with FBI confirmation of two packages sent to former Vice President Biden.
This article was originally published at 6:55 a.m.
---
Life is stressful. Our weekly mental wellness newsletter can help.
You may occasionally receive promotional content from the Los Angeles Times.