Donald Trump starts shift toward November clash with Hillary Clinton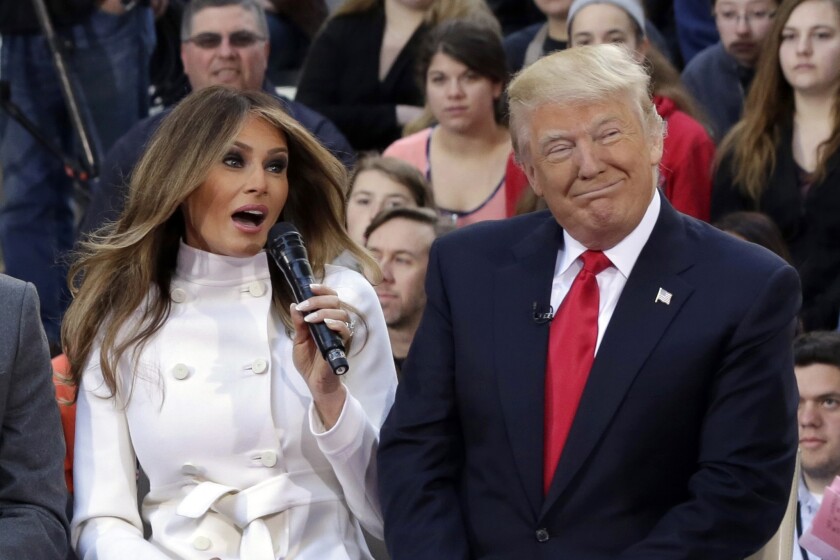 Amid all the uncertainty over whether Republicans will nominate Donald Trump for president, the GOP front-runner is pivoting more and more overtly to a presumed general election contest against Democrat Hillary Clinton.
In both tone and substance, the shift was clear in Trump's appearance Thursday morning on NBC's "Today" show before a town hall audience on the plaza of Rockefeller Center in Manhattan.
Trump's hard line on illegal immigration has been one of his strongest appeals to Republicans in the party nomination race. But when a Long Island woman in the crowd asked how he would handle her relatives who have lived in the U.S. illegally for 25 years, Trump played down his plan to deport millions of such immigrants.
"I'm sure these are very, very fine people," Trump said, a stark contrast to his earlier denunciations of Mexican immigrants as rapists and drug dealers. "They're going to go, and we're going to create a path where we can get them into this country legally, OK?"
It was only last month that Trump vowed in a radio interview to set up a system for Americans to report neighbors they suspect of living in the country illegally.
"They're going to report them, and we're going to come and take care of the situation, because that's the only way we're going to find out where they are," Trump told radio host Jamiel Shaw, a Trump supporter whose son was killed in Los Angeles by an immigrant in the U.S. illegally.
On taxes, too, Trump appeared to change his stance Thursday in a way that could carry more appeal to the broader November electorate. Asked whether he believes in raising taxes on the wealthy, Trump responded, "I do. Including myself."
But in September, when Trump was competing with several GOP rivals pledging huge tax cuts, the New York businessman proposed lowering the top personal income tax bracket from 39.6% to 25%, a windfall for the wealthy.
The ideological calibration comes as Trump, a master of the crushing insult, is trying to soften his public image. Lined up on stools beside him on the "Today" stage were his wife, Melania Trump, and four of his children, who paid elaborate tribute to his personal qualities, just as they did in a similar event last week on CNN.
Trump has also turned to the paramount general election task of defining Clinton on his own terms, captured by a new nickname, "Crooked Hillary," that can keep his message focused on trust and ethics.
"I like to sort of brand people, brand them honestly, and I've branded some of the people that I've been against on the Republican side," Trump told Fox News host Bill O'Reilly on Wednesday. "I think it's been effective. That's what I branded her. You know the story as well as anybody else -- got a lot of problems."
But with almost seven more weeks of GOP primaries ahead, Trump's modulation for the November election carries risk.
He is struggling to accumulate the 1,237 delegates he needs to win the party's White House nomination without a high-drama floor fight at its Cleveland convention in July. His chief rival, Ted Cruz, can easily outflank Trump on the right in upcoming contests in Nebraska, Indiana and other states.
In the town hall Thursday morning, Trump gave the Texas senator an opening to do just that when he answered a question on North Carolina's new law barring transgender people from using bathrooms that don't match their sex at birth. Trump suggested people should "use the bathroom that they feel is appropriate," saying there had been "very few complaints."
"So if Caitlyn Jenner were to walk into Trump Tower and want to use the bathroom, you would be fine with her using any bathroom she chooses?" anchor Matt Lauer asked.
"That is correct," Trump replied.
Cruz pounced, saying the safety of daughters, sisters and wives was in danger without bathroom laws like North Carolina's.
Trump "has succumbed to the left's agenda, which is to force Americans to leave God out of public life while paying lip service to false tolerance," Cruz said in a statement that also pounded the reality-TV star for supporting legal abortion in the past.
Trump now opposes legal abortion, but has had trouble keeping his position coherent. He recently said women should be punished for having abortions once the procedure is outlawed, sparking universal outrage. Trump quickly backpedaled, saying only doctors should be sanctioned, which did little to calm his critics, most notably Clinton.
On Thursday, Trump told NBC that the Republican Party platform on abortion should be changed. Its call for a complete ban, he said, should be adjusted to allow abortions in cases of rape, incest or the preservation of a mother's life.
"I would absolutely have the three exceptions," he said.
Twitter: @finneganLAT
---
Must-read stories from the L.A. Times
Get the day's top news with our Today's Headlines newsletter, sent every weekday morning.
You may occasionally receive promotional content from the Los Angeles Times.