Obama asks Americans to help stop 'epidemic of gun violence'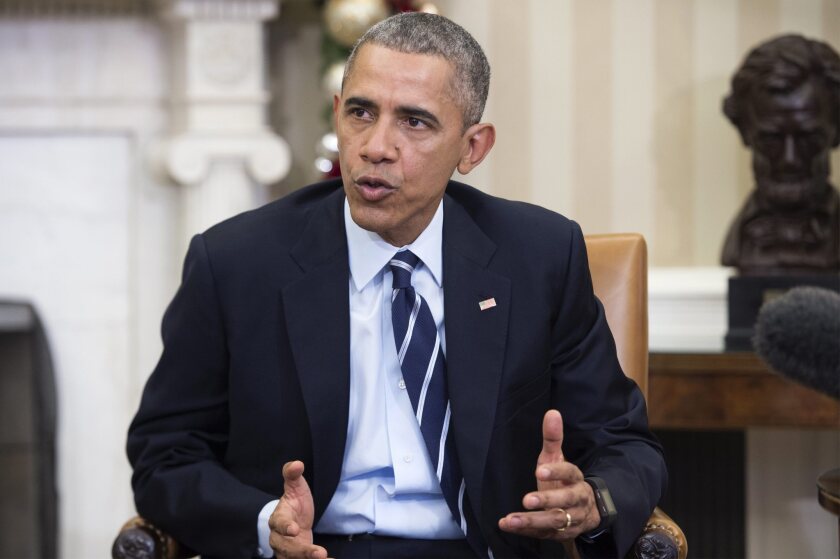 Reporting from Honolulu —
President Obama issued a New Year's Day call to Americans to help him fight an "epidemic of gun violence" in the U.S., signaling it is a top priority as he prepares to decide whether to impose new gun control measures under existing federal law.
Obama said he will meet with Atty. Gen. Loretta Lynch on Monday to consider what actions he can take to help reduce gun violence, an issue her agency has been studying at the president's direction last fall.
See more of our top stories on Facebook >>
In his weekly radio address released Friday, Obama urged Americans to stand with him if they share his belief that the 2nd Amendment right to bear arms also leaves room for restrictions on gun ownership by "an irresponsible, dangerous few."
"Change, as always, is going to take all of us," Obama said. "The gun lobby is loud and well-organized in its defense of effortlessly available guns for anyone."
"The rest of us are going to have to be just as passionate and well-organized in our defense of our kids," the president said.
Obama's past efforts to pass tough new gun laws, including a massive push in 2013, have failed despite repeated mass shootings.
After the October massacre at a community college in Roseburg, Ore., Obama ordered the Department of Justice to look at the ways he might impose tougher restrictions by executive authority. Lawyers and policy advisors are studying how he might interpret existing law or strengthen regulations to require more background checks to weed out violent felons and mentally ill people as they try to buy guns.
Critics have promised to challenge Obama if he takes administrative action. He can't take unilateral steps that Congress has specifically rejected, gun rights activists argue.
Aides to the president say Obama has not yet made a final decision, nor scheduled a time frame for doing so.
But Obama's emphasis on the subject in his first public statement of his final year in office suggests he is open to taking the boldest steps he can.
Aides also say they believe he is intent on acting.
"The president has made clear he's not satisfied with where we are," White House spokesman Eric Schultz said.
Obama made that much clear Friday.
All across America, he said, survivors of gun victims mark horrible anniversaries of loss every day.
"We know that we can't stop every act of violence," Obama said. "But what if we tried to stop even one?"
For more White House coverage, follow @cparsons
ALSO
Transforming the end of the 2 Freeway could be the beginning of a new L.A.
2-car crash in Ontario kills 5, including a 6-year-old boy
Advocates push for the U.S. Postal Service to offer basic banking
---
Get our Essential Politics newsletter
The latest news, analysis and insights from our politics teams from Sacramento to D.C.
You may occasionally receive promotional content from the Los Angeles Times.