Washington reels as House's Eric Cantor loses to tea party challenger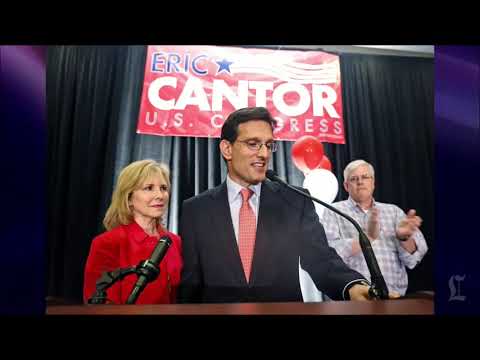 Supporters of House Majority Leader Eric Cantor are still reeling after his Republican primary loss to tea party challenger David Brat.
Reporting from Washington —
In a shocking political defeat guaranteed to upend Republican Party politics, House Majority Leader Eric Cantor of Virginia lost his primary election Tuesday to a tea party newcomer who hammered the No. 2 leader on immigration reform. It was the first downfall of a congressional leader in a generation.
Establishment Washington reeled from the moment the polls closed as Cantor, the ambitious leader with his sights on becoming the next House speaker, trailed Dave Brat, a local college professor who rustled for tea party support at a time when GOP leaders elsewhere have succeeded in halting the ascent of hard-right candidates.
In the end, Brat claimed an easy victory over the seven-term incumbent in the Richmond-area district.
"Serving as the 7th District congressman and having the privilege to be the majority leader has been one of the highest honors of my life," said Cantor, his wife, Diana, at his side.
The outcome was certain to not only ignite a leadership battle among the Republican majority in the House, but also to send a shudder though rank-and-file lawmakers who may become less willing to stray from tea party orthodoxy, particularly on the still looming debate over immigration reform.
"This stunning news could be the first shot in an all-out war between the establishment and tea party over leadership control," said GOP political strategist Ron Bonjean, a former top aide to Republican leadership.
The defeat of a congressional leader, especially one who is as prolific a fundraiser as Cantor, is almost unheard of. The majority leader's loss was the biggest electoral shock to the House since 1994, when Speaker Thomas Foley of Washington, a Democrat, was swept out of office in the GOP tidal wave that ushered in Republican control. More recently, Democratic Sen. Tom Daschle of South Dakota was ousted as Senate minority leader in 2004.
"This is the political version of the San Francisco earthquake," said Stuart Rothenberg, who publishes the Rothenberg Political Report, a nonpartisan analysis of elections. "It came out of nowhere."
But the signs were evident. Cantor's team had become increasingly concerned about the primary challenge from Brat, in part because the district had recently been redrawn and leaned further to the right.
A raucous political meeting earlier in the campaign season in the district made headlines as voters expressed their discontent over Cantor's leadership in the House, even after the majority leader had worked to curry favor with tea party lawmakers. The willingness of GOP leaders to negotiate an end to the government shutdown last fall, rather than hold out for a long-shot repeal of the president's healthcare program, and Cantor's interest in providing citizenship for young immigrants turned off hard-line Republicans both in Washington and at home.
Cantor, part of a new generation of GOP leaders who called themselves Young Guns, reacted in full force in recent weeks. The majority leader pummeled the airwaves, spending more than $5 million on the race, including a direct-mail piece that took a harder line against immigration reform than Cantor previously had advocated.
In many ways, however, the show of force gave more oxygen to the little-known Brat, who had few resources and almost no outside cash funding his underdog effort. To Cantor's millions, Brat raised only $200,000, and spent even less, according to the Center for Responsive Politics.
Among those who advocate changing the nation's immigration rules, Cantor's loss seems likely to dash all hope that the House will act on any legislation to provide a citizenship path for some immigrants -- as Cantor had once proposed.
Many had expected the chamber could turn to the issue once primary season had ended and lawmakers no longer had to worry about protecting their right flank.
Some, however, suggested that opportunities remain for Republicans to move forward on immigration. They took heart in the GOP primary success Tuesday of South Carolina Sen. Lindsey Graham, a GOP architect of immigration reform.
"Too bad Rep. Cantor didn't steal a page from Sen. Lindsey Graham, who leaned into the issue, was unapologetic about his principled stand and won his primary handily," said Frank Sharry, executive director of the immigration advocacy group America's Voice. "Elections are referendums on an incumbent's leadership ability. Graham won big. Cantor lost big."
As far as Cantor's future, it was not immediately clear what options, if any, he might pursue for the general election in November.
David Wasserman, a political analyst for the nonpartisan Cook Political Report, said Virginia's "sore loser" law prevents him from running as an independent in November. He may be able to mount a write-in bid, which would further complicate the general election race among Brat, Democrat Jack Trammel and several other candidates.
His departure also feeds into existing questions about party leadership on Capitol Hill, as some lawmakers wonder how long House Speaker John Boehner will seek to retain his post.
The No. 3 Republican in the House, Rep. Kevin McCarthy of Bakersfield, also part of the Young Guns leadership trio, with Cantor and Rep. Paul Ryan of Wisconsin, has made no secret of his own ambitions to move up the House ladder -- though the tea party's newfound momentum will all but certainly lead some of the chamber's hard-right leaders to make a play for a spot.
Get our Essential Politics newsletter
The latest news, analysis and insights from our politics team.
You may occasionally receive promotional content from the Los Angeles Times.