Eric Cantor upset: How Dave Brat pulled off a historic political coup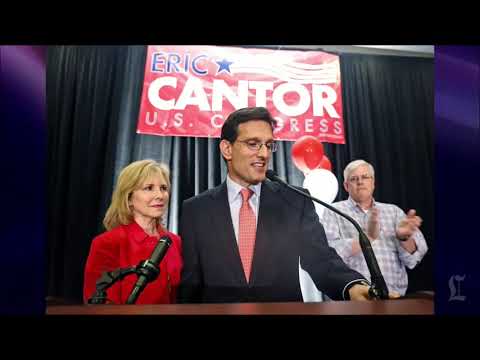 Supporters of House Majority Leader Eric Cantor are still reeling after his Republican primary loss to tea party challenger David Brat.
Reporting from Glen Allen, Va. —
A short drive from the luxury hotel where House Majority Leader Eric Cantor had just conceded a stunning defeat Tuesday night, supporters of his unknown and underfunded primary opponent were trying to make sense of it all.
Hours after a triumphant speech hailing his "miracle" win, economics professor Dave Brat had left the nondescript office park chosen for a primary-night event. But staff and volunteers lingered on.
"It's mayhem," said Zachary Werrell, Brat's campaign manager, as he accepted congratulations from giddy supporters. Asked when he realized victory was possible, the 23-year-old added: "I still haven't."
Cantor's defeat is without precedent -- no majority leader has ever suffered such a primary defeat. Not even the most astute political observer truly expected the seven-term incumbent to lose the primary race, especially not after he'd outspent his rival nearly 40-to-1. An internal poll conducted by Team Cantor in late May had the incumbent leading 62%-28%.
Ultimately, the second-most-powerful Republican in the House and potential speaker-in-waiting lost to a campaign run by political novice armed only with a Wal-Mart flip phone.
"The cheapest one I could find," Werrell said.
Werrell is one of just two paid staffers on the Brat campaign payroll. A year ago, he graduated Haverford College in Pennsylvania with a degree in political science and economics. He quickly took his first paid political job, running the campaign of a candidate for the Virginia Assembly who'd just defeated a 20-year incumbent Republican in the primary after she supported a transportation funding bill that raised taxes.
Soon after his candidate won the general election, he took on Brat's longer-shot campaign for Congress.
While Cantor was guiding the Republican agenda in Congress, Brat was hard at work courting local tea party activists and other Republican voters, and Werrell was building an army of volunteers.
"We had people that just stepped up in every way imaginable," Werrell said. "We don't need to spend millions of dollars."
Brat attracted the most attention for his attacks on Cantor concerning the majority leader's support of the concept of granting legal status for immigrants who came to the U.S. illegally as children. Brat called it "amnesty" and accused Cantor of being in "cahoots" with Democrats to push through an immigration plan this year.
But as Cantor publicly projected confidence, Werrell said he knew they had a chance from the start, when the GOP leader greeted Brat's entry into the race with a sledgehammer response: declaring him a liberal protege of the state's previous Democratic governor, Tim Kaine. And the attacks only intensified.
Cantor may have been one of the few to take Brat seriously, eventually launching television ads and a direct-mail effort that said the Republican leader was in fact fighting the "Obama-Reid amnesty plan." He called Brat a liberal and questioned his role on a large advisory board for Kaine when the governor raised taxes in the state.
It may have backfired, Werrell argued, as Brat cultivated support of the activists who showed up in large numbers Tuesday. The national tea party groups that have tended to dominate coverage "didn't do much of anything," Werrell said, but the local groups were all-in. At least an additional 18,000 votes were cast Tuesday, compared with Cantor's last race in 2012.
"When Eric Cantor spends millions and millions of dollars telling [voters] he's a liberal, he's a liar. ... You saw the people actually wanted to do something," he said. "They wanted to help Dave out because you see this great guy being destroyed."
Brat said the victory was a testament to Brat's principled stands on the issues, and to the energy of committed grass-roots supporters.
"The thing about Dave's message is he's running on the Republican creed," Werrell said. "It was not the tea party candidate versus the establishment candidate, because if that were the case we would have gotten destroyed."
Now, Brat has to make the unexpected pivot to a general-election race against another unknown college professor. Asked if they have a plan for winning in November, Werrell assured that they do, before conceding it was hard to think ahead.
"My mind is still stuck at 6:55 p.m., right before the polls closed," he said.
Follow @mikememoli for more news out of Washington
Get our Essential Politics newsletter
The latest news, analysis and insights from our politics team.
You may occasionally receive promotional content from the Los Angeles Times.