Preview of 2014: Fiscal restraint and poverty as political imagery
News media crews wait for the Harris vs. Quinn decision in the final days of the Supreme Court's term. The high court held that personal home-care employees cannot be forced to pay dues to a union, but it stopped short of extending the ruling to all public employees.
(J. Scott Applewhite / Associated Press)
Anti-abortion advocates cheer in front of the Supreme Court after the decision in Burwell vs. Hobby Lobby Stores. In a 5-4 decision, the Supreme Court ruled that Christian business owners with religious objections may refuse to provide their employees with insurance coverage for contraceptives.
(Chip Somodevilla / Getty Images)
Former Procter and Gamble executive Robert McDonald speaks at the Clinton Global Initiative in New York in 2011. President Obama chose McDonald to succeed Eric Shinseki as secretary of Veterans Affairs in late June.
(Mark Lennihan / Associated Press)
President Obama speaks at a fundraiser the night before the Supreme Court ruled he had exceeded his power in filling three seats on the National Labor Relations Board while the Senate was on recess.
(Jacquelyn Martin / Associated Press)
Opponents of abortion celebrate the McCullen vs. Coakley decision outside the U.S. Supreme Court in Washington, D.C. The court overturned a Massachusetts law barring protests within a 35-feet "buffer zone" around abortion clinics.
(Win McNamee / Getty Images)
Smoke rises from the Colstrip Steam Electric Station, a coal burning power plant in in Colstrip, Mont. In a ruling that confirmed the Environmental Protection Agency's authority to restrict greenhouse gases, the Supreme Court upheld most of the Obama administration's environmental regulations.
(Matt Brown / Associated Press)
Vice President Biden meets with Guatemalan President Otto Perez Molina in Guatemala City, Guatemala. Biden traveled to Central America in hopes of slowing the flood of child migrants crossing the U.S. border.
(Saul Martinez / EPA)
Former President George H.W. Bush celebrates his 90th birthday by skydiving in Kennebunkport, Maine. Bush has also gone parachute jumping for his 75th, 80th and 85th birthdays.
(Eric Shea / Getty Images)
Rep. Kevin McCarthy walks in a Capitol hallway shortly before being elected House Majority Leader in June. The position opened after Rep. Eric Cantor lost his reelection campaign in a stunning primary defeat. McCarthy, a Bakersfield Republican, is the first Californian to fill the post.
(Alex Wong / Getty Images)
Rep. Eric Cantor announces his resignation from his post as House Majority Leader after losing his reelection campaign to Tea Party challenger David Brat.
(Alex Wong / Getty Images)
Sen. Harry Reid hugs a supporter in his hometown of Searchlight, Nev. The senator, who often brings up his humble upbringing in Searchlight, moved to Las Vegas from the famously small, desert mining town in June.
(Laura Rauch / Associated Press)
Former Secretary of State Hillary Rodham Clinton signs a copy of her book "Hard Choices" in June. Many speculate Clinton's book tour could be a precursor to an announcement of her candidacy for president.
(Ed Andrieski / Associated Press)
Secretary of Veterans Affairs Eric Shinseki speaks in May shortly before stepping down in the midst of a scandal over healthcare for veterans.
(Win McNamee / Getty Images)
President Obama, First Lady Michelle Obama and the Easter Bunny stand with their hands on their hearts as Cam Anthony sings the national anthem at the annual White House Easter Egg Roll on Saturday.
(Carolyn Kaster / AP)
President Obama and Vice President Joe Biden applaud outgoing Health and Human Services Secretary Kathleen Sebelius during a news conference in the White House Rose Garden on April 11. Sebelius, who oversaw the rocky rollout of the Affordable Care Act, resigned after five years in the post.
(Mark Wilson / Getty Images)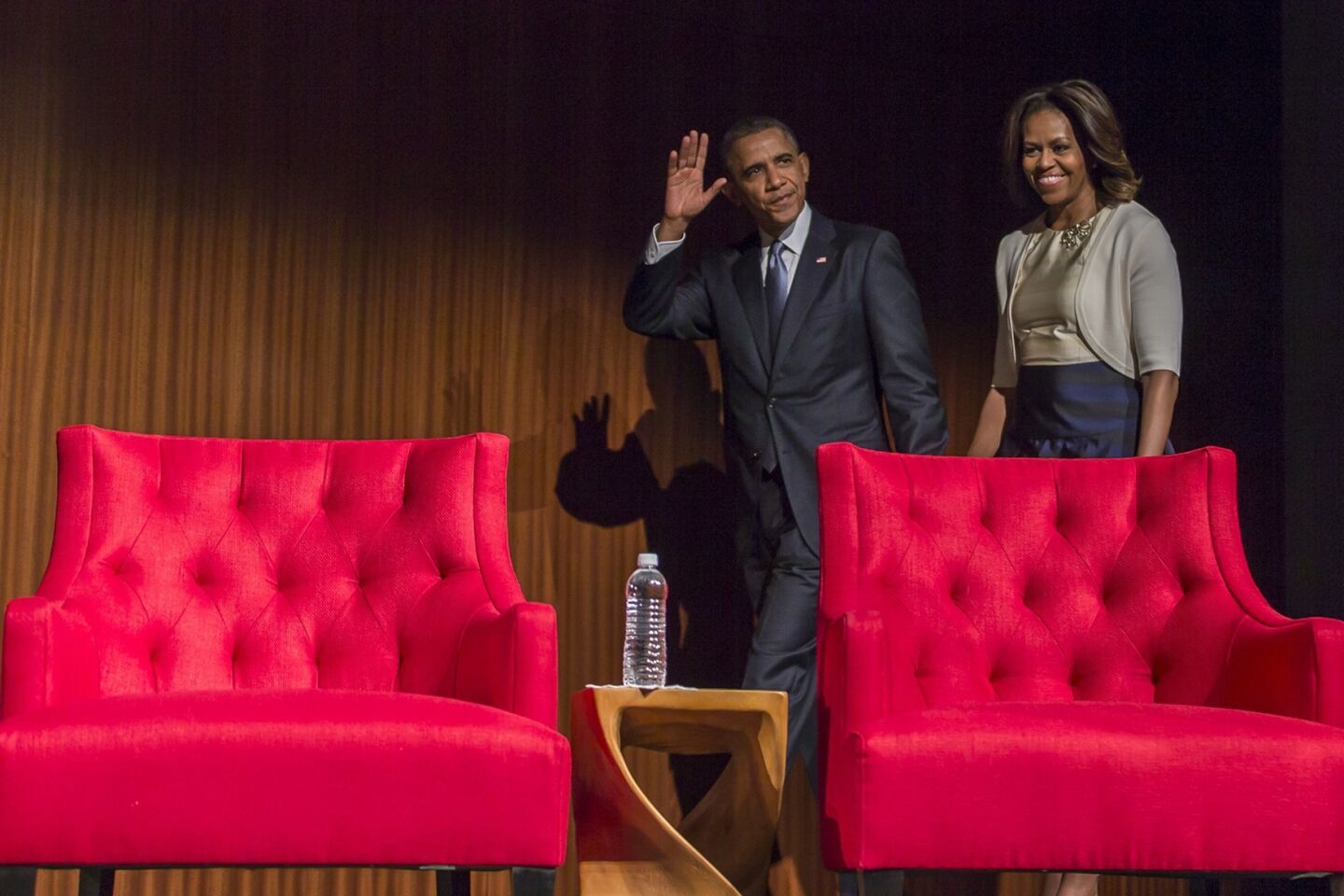 President Obama and First Lady Michelle Obama take the stage at the LBJ Presidential Library April 10 during a summit marking the 50th anniversary of the passage of the 1964 Civil Rights Act.
(Pool / Getty Images)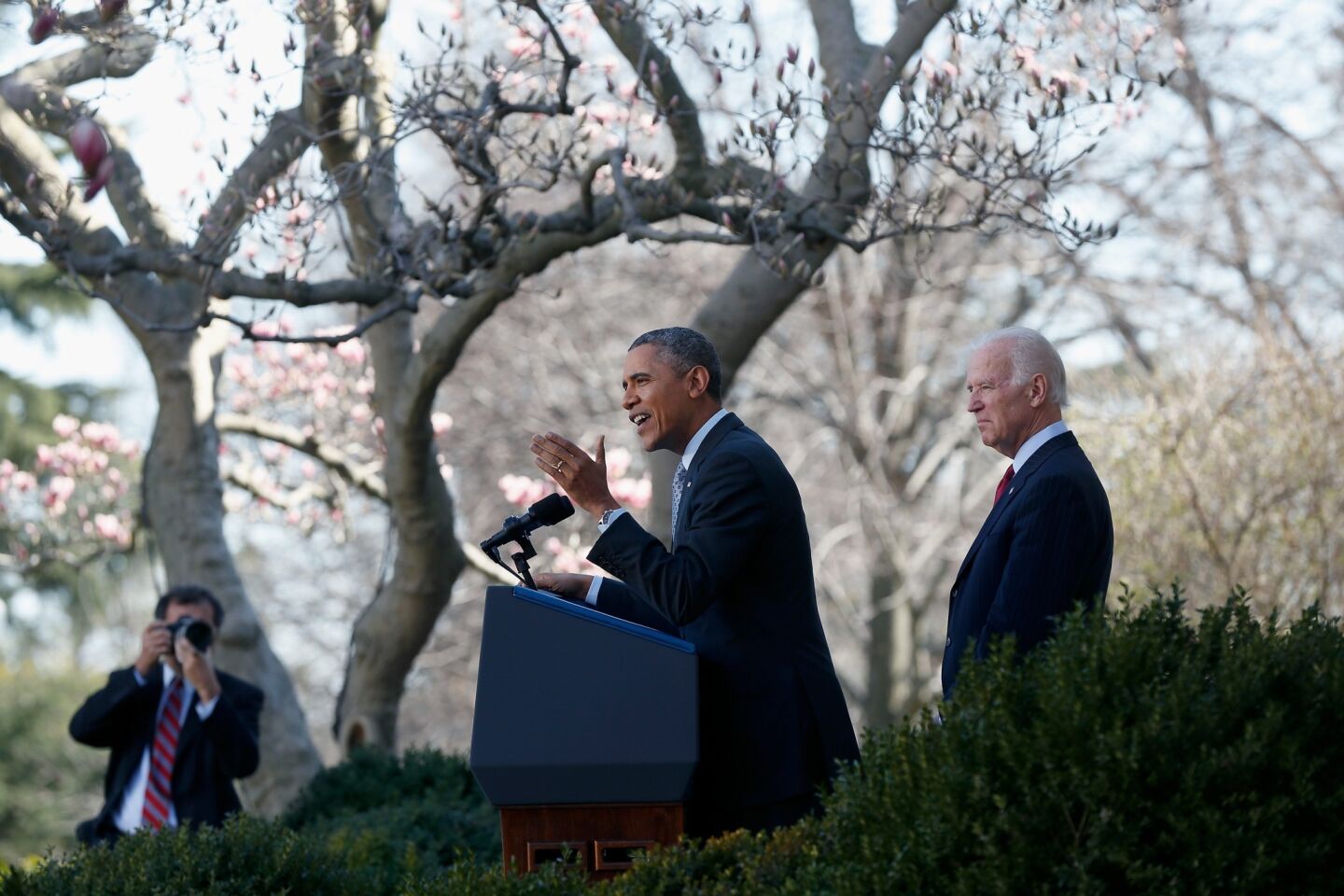 More than 7 million Americans signed up for health coverage during the Affordable Care Act's open enrollment period, President Obama tells supporters and lawmakers at the White House on April 1.
(Win McNamee / Getty Images)
In the final hours of Obamacare's first open enrollment period, Vice President Joe Biden talks to attendees at an Affordable Care Act signup site in Washington, D.C.
(Drew Angerer / Getty Images)
Billionaire casino mogul Sheldon Adelson listens to New Jersey Gov. Chris Christie speak during the Republican Jewish Coalition spring leadership meeting in Las Vegas. Some dubbed the gathering "the Sheldon primary," as Republican presidential hopefuls vied for Adelson's support.
(Ethan Miller / Getty Images)
President Obama asked Congress to end government storage of data from millions of U.S. phone calls. Under Obama's plan, announced March 27, the National Security Agency would instead be required to access the records directly from phone companies.
(Patrick Semansky / AP)
Members of the Secret Service's counter -ssault team walk across the tarmac of a Belgium airport on March 26. Three agents were sent home from the Netherlands just before President Obama's arrival after one agent was found inebriated in an Amsterdam hotel.
(Pablo Martinez Monsivais / AP)
Sen. Dianne Feinstein (D-Calif.) talks to reporters on Capitol Hill after announcing that the CIA's improper search of a standalone computer network established for Congress had been referred to the Justice Department.
(J. Scott Applewhite / AP)
Republican David Jolly celebrates winning Florida's special election on March 11. Jolly beat Democrat Alex Sink in a Tampa-area House district that had been held by the late Republican Rep. Bill Young, who died in October of cancer.
(Chris Zuppa / Associated Press)
In a speech closing out the Conservative Political Action Conference, Sarah Palin turned the Dr. Seuss classic "Grren Eggs and Ham" into a full-blown critique of the Obama presidency. "I do not like this Uncle Sam," she said. "I do not like his healthcare scam."
(T.J. Kirkpatrick / Getty Images)
A freelance news producer for NBC News sorts through pages of White House documents after their release to the public on Feb. 28. The Clinton Presidential Library made available about 3,400 pages of previously unreleased documents involving former President Bill Clinton's administration.
(Stephen B. Thornton / Getty Images)
President Barack Obama, right, meets with House Speaker John A. Boehner (R-Ohio) in the Oval Office. During their first one-on-one meeting in more than a year, they discussed trade and the California drought.
(Alex Wong / Getty Images )
Tibetan spiritual leader the Dalai Lama, center, meets with House Speaker John A. Boehner and House Minority Leader Nancy Pelosi at the U.S. Capitol.
(Charles Dharapak / Associated Press)
Aboard Air Force One en route to Mexico, President Barack Obama signs an executive order streamlining the export/import process for American business.
(Jacquelyn Martin / Associated Press)
With California facing a severe water crisis, President Obama announced millions of dollars in federal drought assistance.
(Wally Skalij / Associated Press)
President Obama delivers remarks before signing an executive order raising the minimum wage to $10.10 on new federal contracts.
(Mandel Ngan / AFP/Getty Images)
First Lady Michelle Obama, French President Francois Hollande and President Obama arrive at a state dinner at the White House.
(Pablo Martinez Monsivais / Associated Press)
A reinvigorated Atty. Gen. Eric Holder announces that the Obama administration will broaden government recognition of same-sex marriage in federal courts and prisons.
(Kris Connor / Getty Images)
After a two-year battle in Congress, President Obama signs a $1-trillion farm bill, passed in a rare show of bipartisanship.
(Jacquelyn Martin / Associated Press)
Rep. Henry A. Waxman, (D-Beverly Hills) fields phone calls in his Capitol Hill office after he announced his retirement.
(J. Scott Applewhite / Associated Press)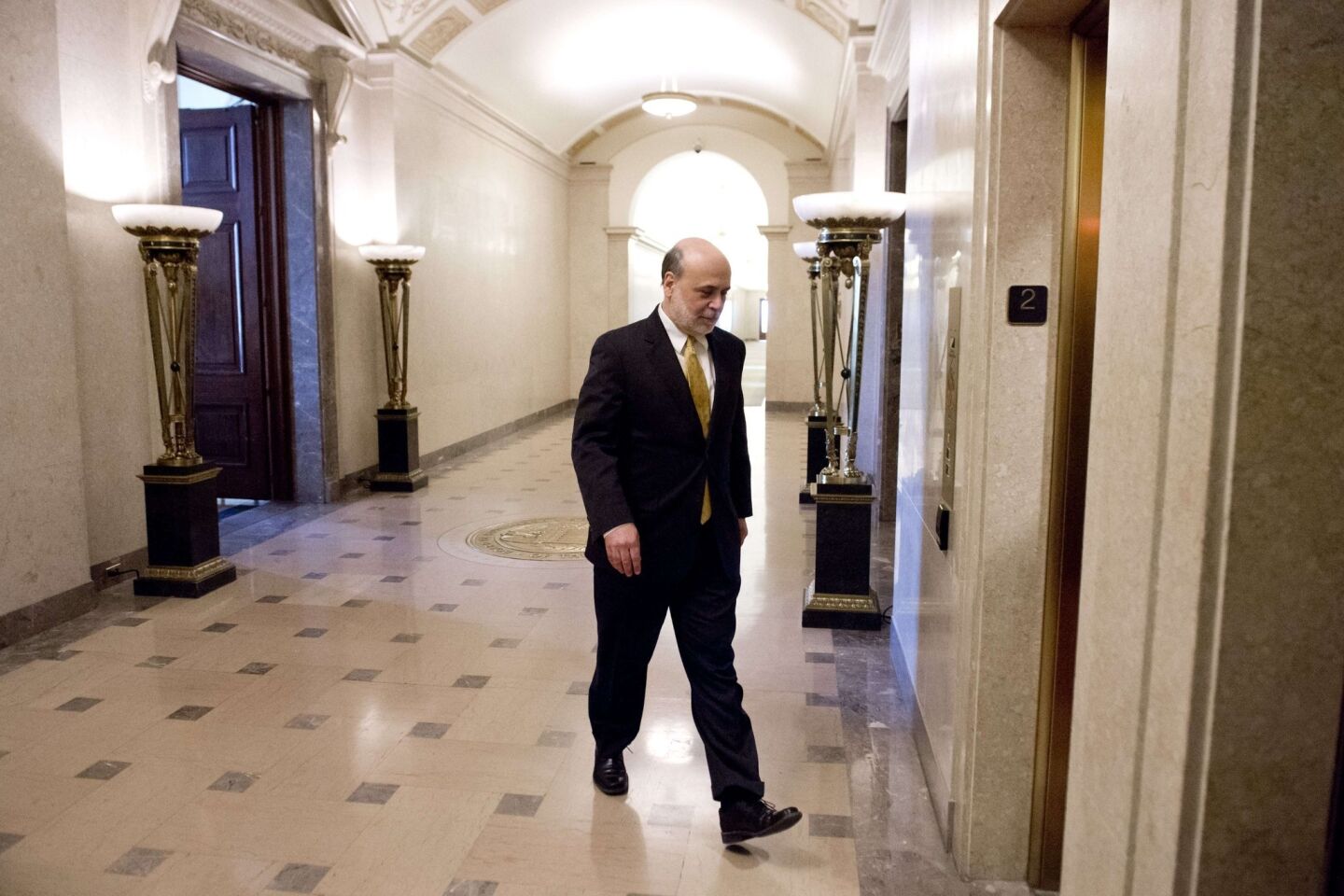 Ben Bernanke walks down a hallway to an elevator at the Federal Reserve as he leaves his office on his last day as chairman of the central bank.
(Saul Loeb / AFP/Getty Images)
President Obama delivers his State of the Union address before a joint session of Congress at the Capitol.
(Jewel Samad / AFP/Getty Images)
Sgt. 1st Class Cory Remsburg, an Army Ranger, acknowledges applause from the audience during President Obama's State of the Union address on Capitol Hill.
(J. Scott Applewhite / Associated Press)
Rep. Cathy McMorris Rodgers (R-Wash.) sits on a couch as she prepares to respond to President Obama's State of the Union address.
(Alex Wong / Getty Images)
New Jersey Gov. Chris Christie is sworn in for his second term by state Supreme Court Chief Justice Stuart Rabner during a ceremony in Trenton.
(Mel Evans / Associated Press)
Former Virginia Gov. Bob McDonnell, surrounded by news cameras, enters U.S. District Court in Richmond, Va., for his and his wife Maureen's bond hearing and arraignment on federal corruption charges.
(Dean Hoffmeyer / Associated Press)
Former Arkansas Gov. Mike Huckabee before speaking at the Republican National Committee in Washington, D.C. Huckabee sparked controversy by claiming that Democrats believe women "cannot control their libido or their reproductive system without the help of government."
(Susan Walsh / Associated Press)
Anti-abortion demonstrators protest in front of the Supreme Court and Capitol during the 41st annual March of Life in Washington, D.C.
(Saul Loeb / AFP/Getty Images)
President Obama delivers remarks on the nation's intelligence programs in the Great Hall at the Department of Justice in Washington, D.C.
(Shawn Thew / EPA)
Gay Phillips, left, her partner, Sue Barton; and Mary Bishop and her partner Sharon Baldwin have a champagne toast during a celebration in Tulsa, Okla., after a federal judge struck down Oklahoma's gay marriage ban.
(James Gibbard / Associated Press)
House Speaker John Boehner (R-Ohio) leaves the House chamber on Capitol Hill after the final vote on a massive $1.1-trillion spending bill.
(J. Scott Applewhite / Associated Press)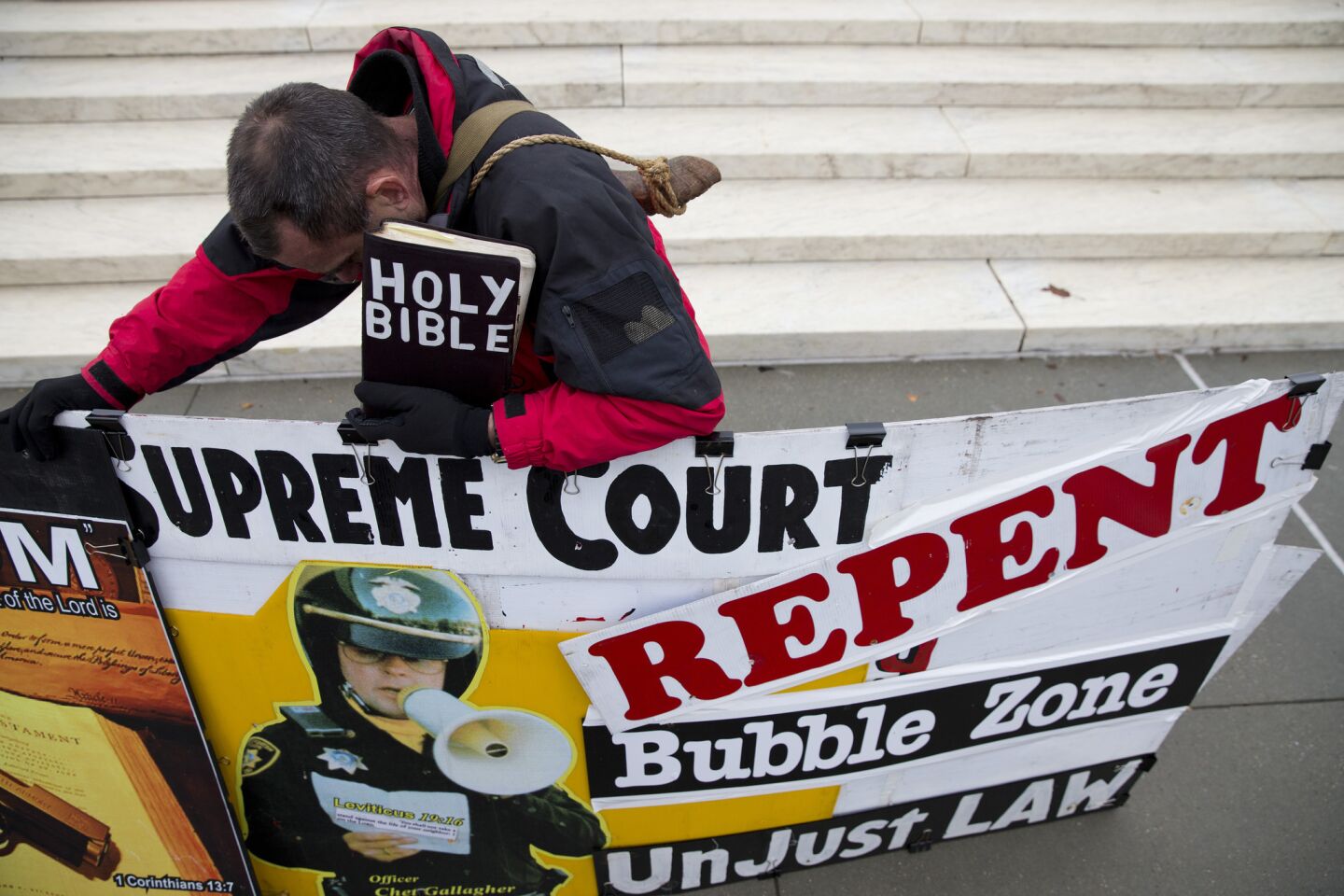 Alan Hoyle, of Lincolnton, N.C., stands outside the Supreme Court as the court heard arguments on a state of Massachusetts law setting a 35-foot protest-free zone outside abortion clinics.
(Evan Vucci / Associated Press)
Sen. Marco Rubio (R-Fla.) delivers a speech on reforming antipoverty programs and improving income mobility during a American Enterprise Institute for Public Policy Research event on Capitol Hill.
(Alex Wong / Getty Images)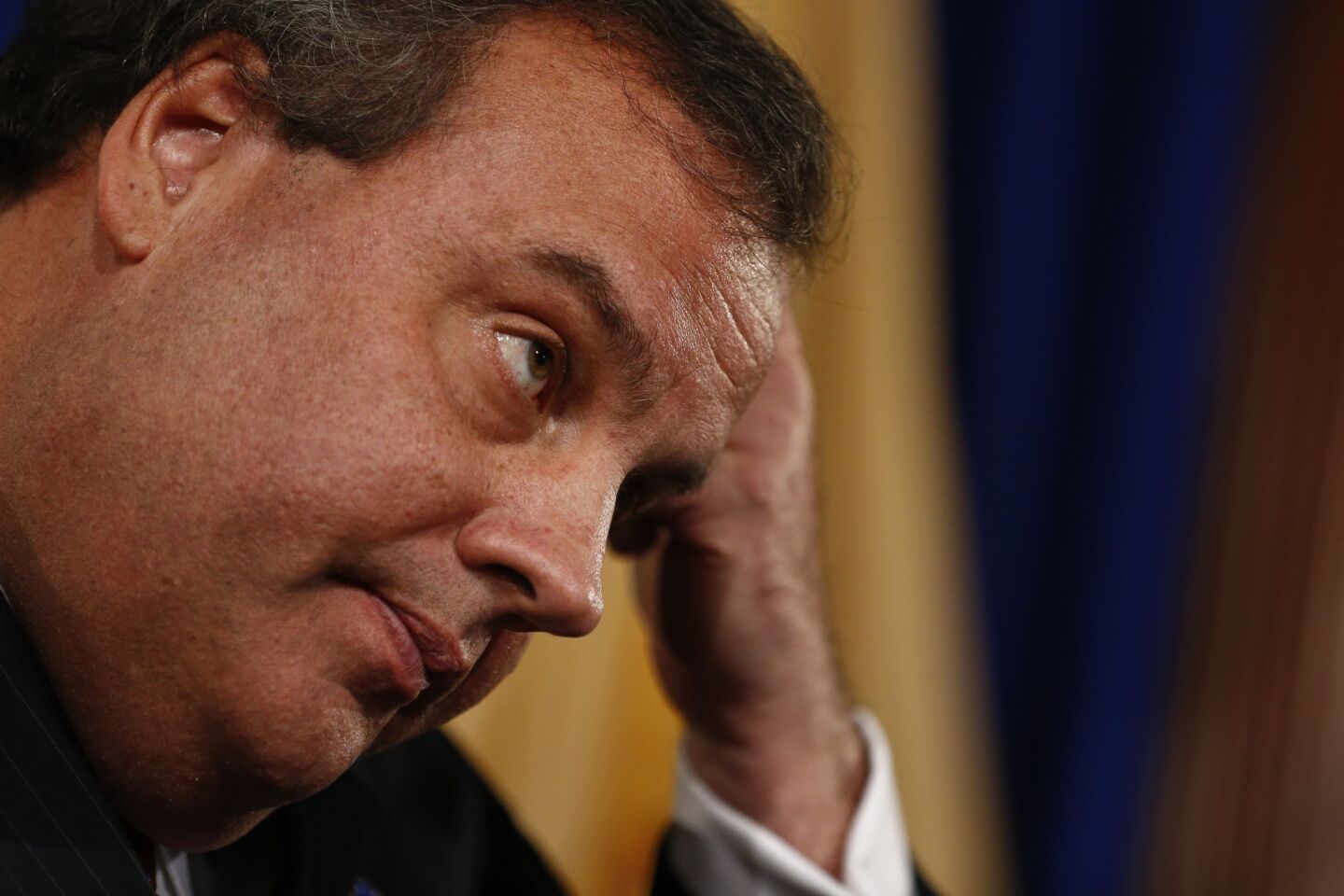 New Jersey Gov. Chris Christie speaks at news conference in Trenton, N.J., about the "Bridgegate" scandal regarding massive traffic delays on the George Washington Bridge.
(Jeff Zelevansky / Getty Images)
Former Arizona Rep. Gabrielle Giffords waves from a car in Eloy, Ariz., after making her first parachute jump on the third anniversary of the day she was shot in Tucson during a political event.
(Ross D. Franklin / Associated Press)
Troy Williams, a local gay rights organizer, speaks to a crowd of supporters of gay marriage as they gathered to rally and deliver more than 58,000 petition signatures in support of gay marriage to Utah Gov. Gary Herbert at the Capitol in Salt Lake City.
(Steve C. Wilson / Associated Press)
Vice President Joe Biden speaks next to the coffin of late Israeli Prime Minister Ariel Sharon outside the Knesset, Israel's parliament, in Jerusalem.
(Sebastian Scheiner / Associated Press)
New Virginia Gov. Terry McAuliffe takes the oath of office from Virginia Chief Justice Cynthia Kinser on the steps of the Capitol in Richmond.
(Steve Helber / Associated Press)
President Obama shares lunch with young outreach activists at the Coupe restaurant in Washington.
(Jim Watson / AFP/Getty Images)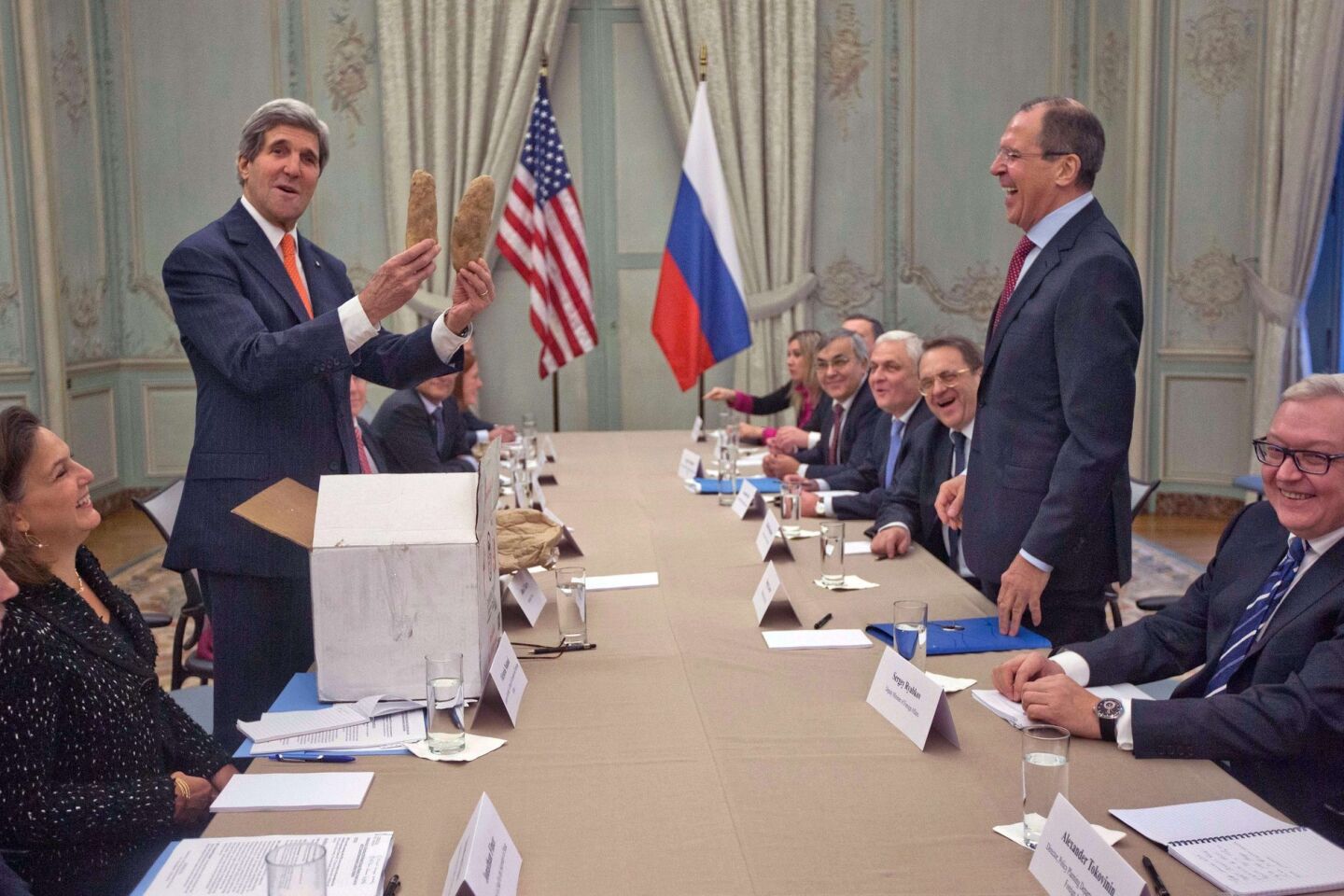 Secretary of State John F. Kerry, left, holds Idaho potatoes as a gift for Russian Foreign Minister Sergey Lavrov before the start of their meeting at the U.S. ambassador's residence in Paris.
(Pablo Martinez Monsivais / AFP/Getty Images)
President Obama and Vice President Joe Biden talk during a photo-op that news photographers were allowed to document as they meet for lunch in the Private Dining Room of the White House.
(Carolyn Kaster / Associated Press)
New York City Mayor Bill de Blasio shovels the sidewalk in front of his house as a winter storm presented the first challenge of his tenure.
(Seth Wenig / Associated Press)
The call-and-response to California Gov. Jerry Brown's State of the State address Wednesday flipped traditional party roles on their heads. Look for more of it in 2014.
The Democratic governor spoke of fiscal discipline and, with a flourish, displayed a playing card featuring his telegenic, social-media-savvy dog, Sutter, and a slogan: "Bark if you don't like deficits."
His newest Republican challenger brushed Brown's speech aside in a statement that accused the governor of having "forgotten the millions of California families who … live in poverty."
"How many times did the governor mention poverty in his 17-minute address? Not once. That is outrageous," said the statement by Neel Kashkari, the former Goldman Sachs banker and Treasury Department official who jumped into the race Tuesday.
The switched roles put a spotlight on the strategic thrusts and image weaknesses that both sides will seek to exploit in this year's midterms, in California and elsewhere.
Since Proposition 13 blew up his first term as governor more than 30 years ago, Brown has reveled in his reputation for frugality, as much personal aesthetic as political image, and one that has run counter to his party's old wild-spending reputation. The governor's chances of repeating his slam-dunk 2010 victory this year have been strengthened by his success in putting the state on firmer, if not perfect, financial footing.
His imperative: to press the case that Democrats like him can be careful stewards of an economic revival without giving away the store. (In cautionary fashion, he emphasized the threat posed by looming retirement liabilities that in most cases were backed by Democrats, even as he skipped past the multibillion-dollar high-speed rail project he supports.)
Kashkari's remarks, meantime, served to press his imperative: to break from the image of Republicans as friends of the rich and foes of the poor. His rhetoric planted his campaign firmly in the midst of a growing effort by some in the GOP to soften the vision of hard-heartedness that has flowed from their party's recent policy moves.
Brown's frugal image predated--and to some extent pointed the way toward--the policies that defined Bill Clinton's presidency, when the nation's deficits were trimmed as the Democratic president pulled his party rightward and ambled down the middle of the political road. Kashkari's view dates largely to Jack Kemp's assertive though largely unsuccessful effort in the 1980s to make Republicans the party of upward mobility for the urban poor.
As a congressman from Buffalo, N.Y., the secretary of Housing and Urban Development in the George H.W. Bush administration and as the GOP vice presidential nominee in 1996, Kemp reveled in visits to crumbling inner cities, a rare Republican utterly at ease in that environment. (He was raised in Los Angeles and spent 12 years as a professional football player, which he credited with expanding his comfort zone.)
PHOTOS: 2016 presidential possibilities
"You know in your life that if you work hard and you're a good citizen and you drive down the right side of the street and you stop at the signals and you study hard and you mind your mom and dad and you get good grades, stay in school and keep that first job, that you're not going to be in poverty. I mean, you just know it intuitively," he once said in an interview.
"What if this is not true for [some] people? What if there is no job at the end of the tunnel? What if education doesn't lead to anything but unemployment lines? . . . I think government has a responsibility to create [that] climate."
Kemp's efforts didn't move the party much. Still, although Republicans as a whole are more anti-government now than they were in his era, a revival of sorts is ongoing now, more than four years after his death. Rep. Paul D. Ryan (R-Wis.), the 2012 GOP vice presidential nominee and a former Kemp staffer, has been among those trying to emphasize new approaches to battling poverty.
Others, including possible 2016 Republican presidential candidates Rand Paul, the senator from Kentucky, and Marco Rubio, the senator from Florida, also have emphasized new poverty policies. But that has collided with other party elements that want government's role scaled back, particularly when it comes to food stamps, extended unemployment insurance and the minimum wage.
The dual desires gained negative notice earlier this month when Rubio delivered a speech on easing poverty—in part by pushing the matter to the states—a day after voting against extending unemployment insurance to 1.3 million Americans whose benefits ran out late last year.
For his part, Kashkari was right that Brown barely mentioned the poor, other than to genuflect toward the "too many struggling families" that he said populated the state. But that is the flip side of image: Democrats are presumed to care for the poor, and have less demand to prove it.
Since it plays against their image, Republicans have to work harder to demonstrate that the affinity is more than just image enhancement. And it's that problem of authenticity that Kashkari has made little headway on in recent days.
As during Tuesday's announcement of his candidacy, he offered no explanation Wednesday of exactly how he would come to the aid of the stricken, other than to simply say that "the status quo is unacceptable."
He will have to come up with something more substantive—or look for some playing cards featuring his dogs.
Twitter: @cathleendecker
Must-read stories from the L.A. Times
Get the day's top news with our Today's Headlines newsletter, sent every weekday morning.
You may occasionally receive promotional content from the Los Angeles Times.