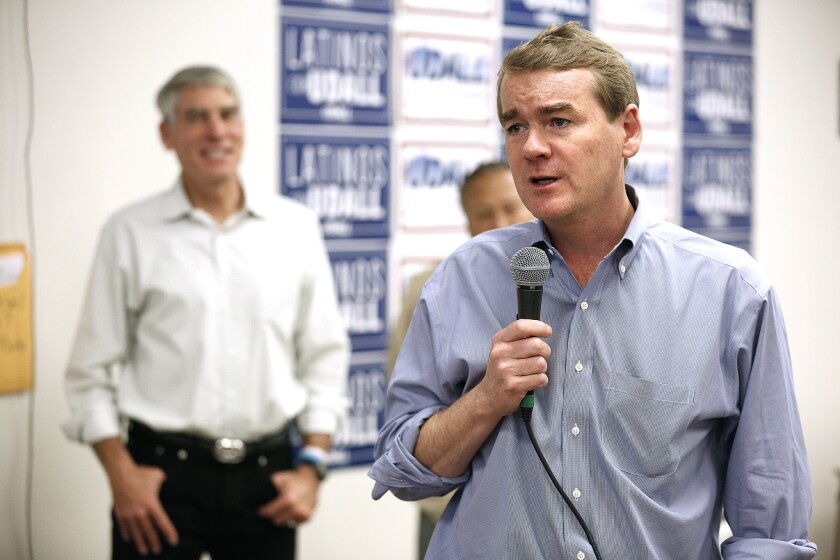 Reporting from Denver —
Whether on stage in crammed hotel ballrooms or crisscrossing tree-lined college campuses, a consistent presence on the campaign trail for U.S. Sen. Mark Udall has been his colleague Sen. Michael Bennet -- the man also in charge of Democrats' chances of retaining control of the Senate.
For Bennet, who won a hard-fought election here four years ago and is now chairman of the Democratic Senatorial Campaign Committee, aiding this state's senior senator has been his No. 1 priority for much of the last month.
"All the races are important to me, but this race is of particular importance because Mark Udall and I have a great working relationship. I think he's done a very good job representing the state of Colorado and we need him to win," Bennet said Tuesday after introducing the state's senior senator to students on the campus of Metropolitan State University of Denver.
The onetime chief of staff to then-Denver Mayor John Hickenlooper, who is now locked in a competitive gubernatorial race of his own, Bennet has acted as a surrogate for Democrats up and down the ticket here in Colorado.
He noted that his primary role as DSCC chair is to raise money for Democrats -- which, Bennet said, he's been able to do through phone conversations between events for Udall here in Colorado.
As incumbent Democrats from North Carolina to Arkansas and Alaska run in close contests Tuesday, Bennet said he was able to get on the phone with some of his Senate colleagues to express support before polls close.
"I wished them well, wished them luck and expressed how proud of them I am. We're all proud of them because this cycle has been a very, very difficult one for our folks and we knew it would be from the start because of the geography and how red the terrain is," said Bennet, noting that he spoke to Sen. Kay Hagan of North Carolina, Mark Begich of Alaska and Mark Warner of Virginia.
Republicans need to gain six seats to take control of the Senate and they appear to be halfway there as polls have them with commanding leads in Montana, South Dakota and West Virginia -- all states with seats held by Democrats.
Here in Colorado, Udall has trailed his GOP challenger, Rep. Cory Gardner, by small margins in recent polls. Four years ago, Bennet defeated a late-surging Republican candidate by about 2 percentage points in a year when the GOP saw sweeping victories.
"It's all been difficult, but these guys are running races and have been talking to the people and they're not complaining and that's been true from the beginning to the end and I'm very proud of them," Bennet said of Senate Democrats in 2014.
When asked how Democrats might feel come Wednesday, Bennet was terse in his response.
"We'll have to see what Wednesday brings," he said.
Follow @kurtisalee and email kurtis.lee@latimes.com
---