Republicans blame President Obama for nation's economic woes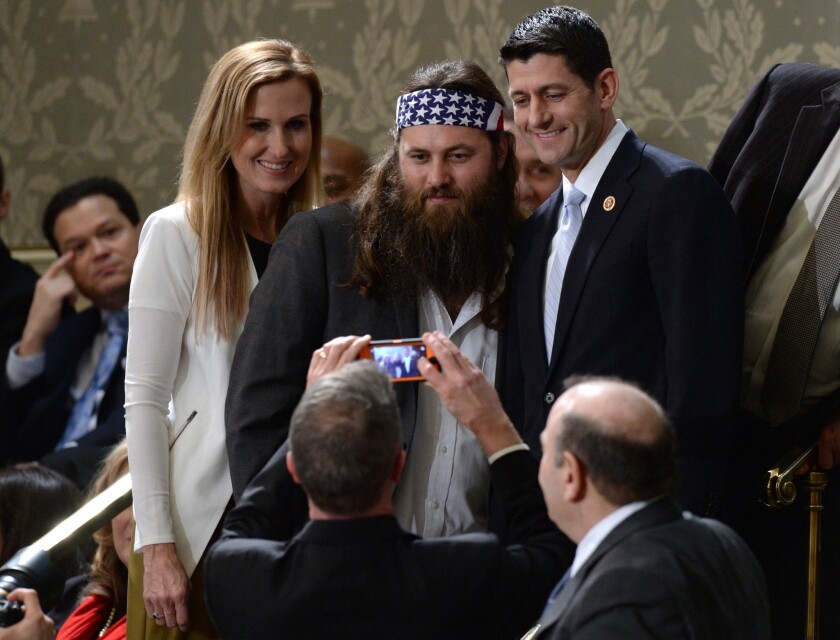 WASHINGTON -- Rebutting President Obama's State of the Union address shortly after it was offered Tuesday evening, three prominent Republicans offered a very different appraisal of the current state of the nation's economy and the changes that have taken place as a result of his policies.
"Last month, more Americans stopped looking for a job than found one," Rep. Cathy McMorris Rodgers of Washington state said in the official Republican response to Obama's address. "Too many people are falling further and further behind because, right now, the president's policies are making people's lives harder. Republicans have plans to close the gap."
The fact that three Republicans delivered the State of the Union response — McMorris Rodgers giving the "Republican address to the nation," Sen. Mike Lee of Utah sharing the "tea party response," and Kentucky Sen. Rand Paul going rogue with an address on YouTube — illustrated the fissures that continue to bedevil the Republican Party and its leadership.
But with President Obama's approval ratings sagging and Democrats' chances of holding on to the Senate in question, Republicans viewed Tuesday night's speech as an opportunity to lay out pieces of their agenda as they head into the 2014 election.
Obama focused in his speech on what he called a year of action to benefit the struggling middle class. Republicans have repeatedly argued lately that the gap between rich and poor has grown wider as a result of Obama's policies -- even though it has worsened over 40 years under Republican and Democratic presidents -- and say they are focused on creating greater economic mobility for the middle class through their economic policies.
In the lead-up to the speech, GOP leaders have been careful to present alternative policies to Obama's agenda, charging that the president would like to ignite a class warfare debate in the midst of an election year when many vulnerable Democrats are laboring to get out from under the shadow of Obamacare.
On the anniversary of former President Lyndon B. Johnson's 1964 "War on Poverty," Florida Sen. Marco Rubio sought to advance Republican policies that would drive upward mobility in a speech at the American Enterprise Institute. Another 2016 contender, Wisconsin Rep. Paul D. Ryan, this month outlined an agenda to tackle poverty in the Wall Street Journal, calling on the federal government to "dump decades-old programs and give poor families more flexibility." And Paul has argued for "economic freedom zones," areas that would have lower taxes, in cities like Detroit.
In her address, McMorris Rodgers said she hoped to share "a more hopeful, Republican vision, one that empowers you, not the government."
"We have plans to improve our education and training systems so you have the choice to determine where your kids go to school … to help you take home more of your paycheck ... with lower taxes, cheaper energy costs and affordable healthcare," she said.
In his tea party response, Lee outlined what he said was a "new conservative reform agenda," citing policy ideas of a new generation of leaders including Sen. Ted Cruz of Texas. He said the economic inequality Obama spoke of stemmed from government itself.
"Every time it takes rights and opportunities away from the American people and gives them instead to politicians, bureaucrats and special interests," he said. "Throughout the last five years, President Obama has promised an economy for the middle class; but all he's delivered is an economy for the middlemen."
Both Lee and McMorris Rodgers cited the troubled rollout of the Affordable Care Act.
Lee said Obamacare "all by itself is an inequality Godzilla that has robbed working families of their insurance, their doctors, their wages and their jobs. Many Americans are now seeing why some of us fought so hard to stop this train wreck over the last four years."
McMorris Rodgers said the nation "shouldn't go back to the way things were," but said the new healthcare law "is not working."
"Republicans believe healthcare choices should be yours, not the government's, and that whether you're a boy with Down syndrome or a woman with breast cancer, you can find coverage and a doctor who will treat you."
Looking ahead to this year's immigration debate, McMorris Rodgers said it was "time to honor our history of legal immigration."
"We're working on a step-by-step solution to immigration reform by first securing our borders and making sure America will always attract the best, brightest and hardest-working from around the world," she said.
Twitter: @MaeveReston
---
Must-read stories from the L.A. Times
Get all the day's most vital news with our Today's Headlines newsletter, sent every weekday morning.
You may occasionally receive promotional content from the Los Angeles Times.