Congress moves to reverse budget cuts to veterans' benefits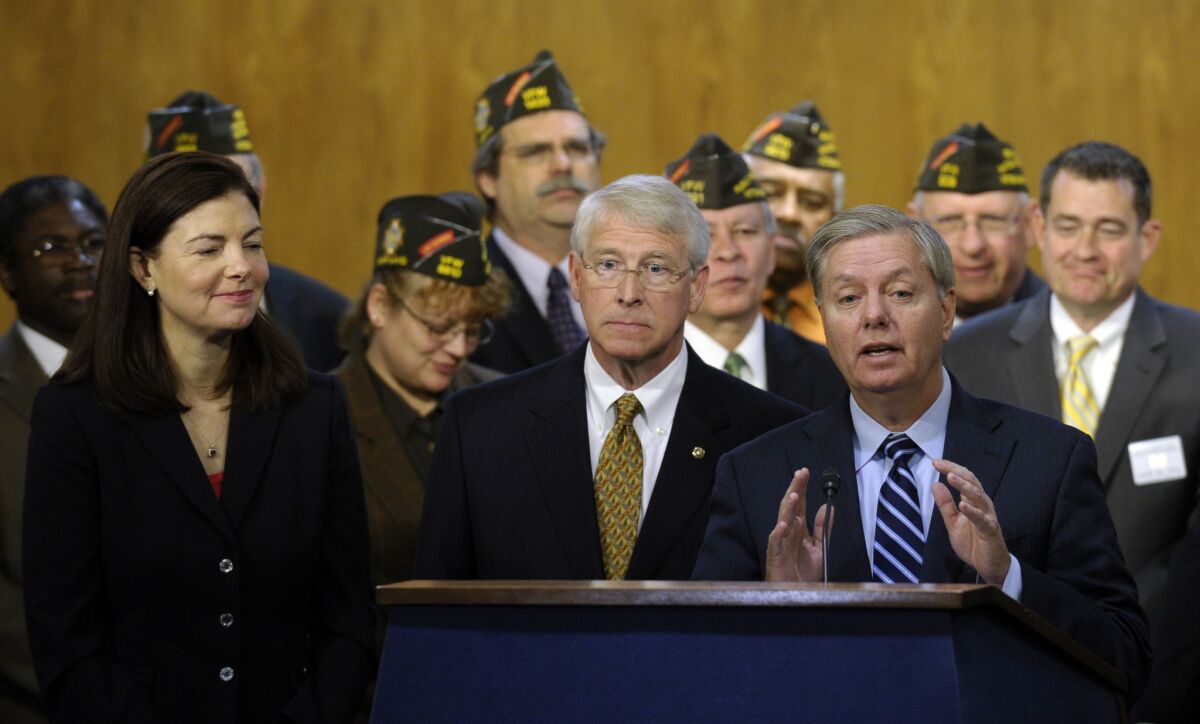 WASHINGTON -- The House could vote as early as Wednesday on a bill that would raise the nation's debt ceiling and reverse a cut made to some veterans' benefits as part of the recent budget deal.
House Speaker John A. Boehner (R-Ohio) unveiled the proposal at a private meeting late Monday as his party races against the clock to avoid a political showdown over the need to authorize more borrowing. Treasury has said it will run out of money by Feb. 27 if Congress fails to act.
Republicans leaders have struggled to devise a way to raise the debt ceiling in the face of steep opposition from rank-and-file GOP lawmakers who want to extract a policy concession in exchange for their vote.
But to date there has been no consensus among Republicans on what concessions to ask for, and Democrats are pushing for a "clean" bill with no conditions.
By attaching a provision that would reverse the cost-of-living cuts to some veterans' benefits, Boehner hopes to make it easier for Democrats to give their support, since most Democrats also support restoring the benefits.
Reversing the cuts could help Boehner assemble the 218-vote majority he needs. If he fails, the speaker might find it easier to push through a clean debt-ceiling bill, arguing that he tried but that Republican disunity was to blame.
In a separate action Thursday that could bolster Boehner's chances, the Senate overwhelmingly agreed to advance its own bill to reverse the cuts with an unusually robust bipartisan vote of 94-0. The Senate action would be unrelated to the debt-ceiling bill.
"We need to keep our promises to our veterans -- no exceptions," said Sen. Mark Begich (D-Alaska), a chief sponsor of the bill.
The benefits cut for veterans emerged as one of the most unpopular provisions of last year's bipartisan budget deal.
Lawmakers from both parties now say they regret voting for the 1% cost-of-living reduction to able-bodied veterans who are younger than retirement age.
Prospects for both bills are uncertain. Senators -- and colleagues in the House -- are divided over how to pay for the $6-billion price tag to restore to the benefits, or even if it should be paid for at all. The Senate legislation would simply repeal the provision without offsetting the costs elsewhere in the budget.
But House Republicans want the costs offset by continuing the so-called sequester cuts -- the across-the-board reductions that were initiated under a 2011 budget deal.
Many senators also said they are unlikely to allow final passage of their bill unless the costs are covered.
Emerging from the private meeting Monday evening, Republican lawmakers appeared resigned they would have to compromise with Democrats.
"We'd like to be able to get 218 Republicans to vote for something," said Rep. Devin Nunes (R-Tulare). "As has been the case for years, we don't have that."
Twitter:@LisaMascaroinDC
Twitter: @mikememoli
---
Life is stressful. Our weekly mental wellness newsletter can help.
You may occasionally receive promotional content from the Los Angeles Times.