Bill Clinton will travel to New Hampshire to campaign for his wife
Welcome to Trail Guide, your host through the wilds of the 2016 presidential campaign. It's Monday, Dec. 28, and here's what we're talking about:
Trump battles New Hampshire Union Leader
[Donald] Trump has shown himself to be a crude blowhard with no clear political philosophy and no deeper understanding of the important and serious role of president of the United States than one of the goons he lets rough up protesters in his crowds.
Joseph W. McQuaid, publisher of the New Hampshire Union Leader, in a
front-page
editorial
In response to the editorial, Trump, who did not appear at a candidate forum hosted by the New Hampshire Union Leader this year, had some harsh words for McQuaid and his newspaper.
When I knew that I didn't do the debate, I knew that [McQuaid] would take action against me. The paper is failing; he's doing a terrible job.
Bill Clinton set to campaign for his wife in New Hampshire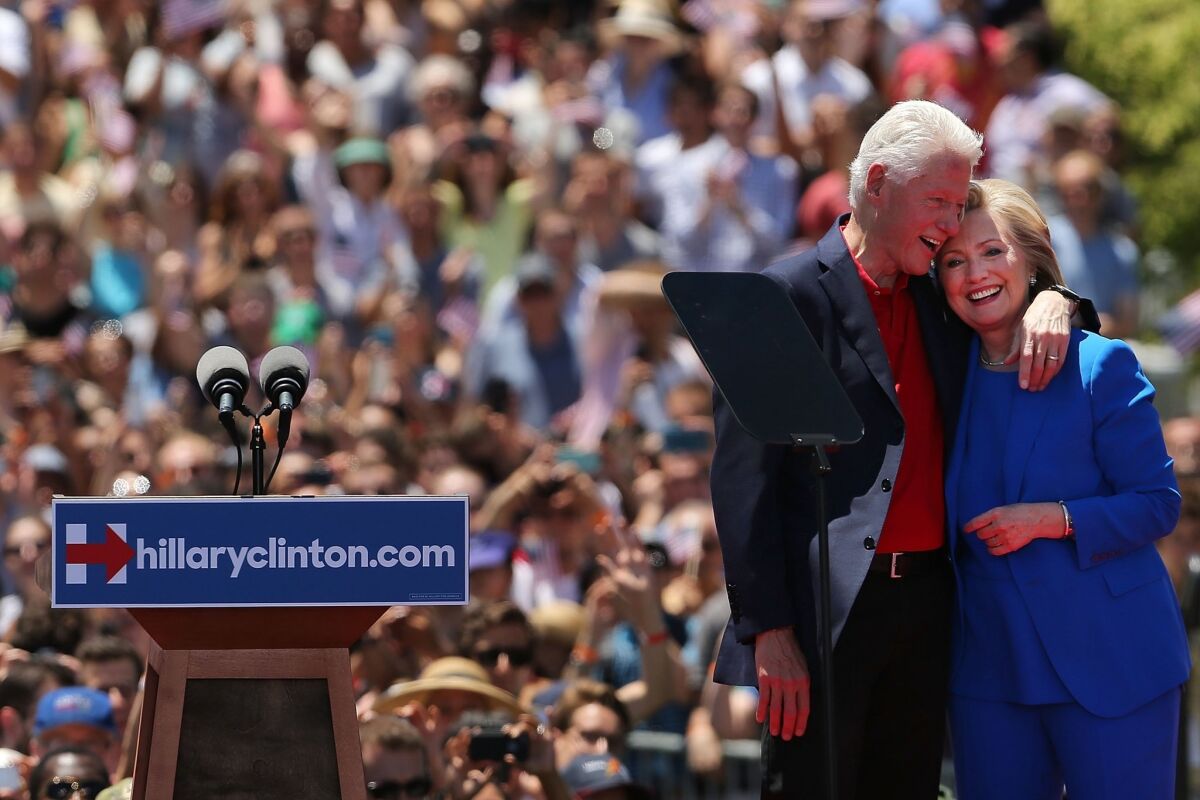 Hillary Clinton has called him her "not-so-secret weapon" and he's about to be unleashed.
Former President Clinton is set to hit the campaign trail in New Hampshire next week to rally supporters of his wife.
Since Clinton announced her presidential candidacy last spring, Bill Clinton has largely remained in the shadows, focusing instead on the family's global nonprofit organization.
On Monday, he's to speak to grass-roots volunteers in Nashua and Exeter. Although polls show Hillary Clinton holding a commanding national lead for the Democratic nomination, her main rival, Vermont Sen. Bernie Sanders, is ahead in the Granite State by about 5 percentage points, based on a average of several surveys.
In 2008, Bill Clinton played a much more prominent role his wife's campaign, often assailing her rivals as he traversed early nominating states. Sometimes his off-the-cuff remarks would leave the campaign doing damage control.
Over the weekend, Bill Clinton was the center of attention for Donald Trump, the front-runner for the GOP nomination. He said the former president had a "penchant for sexism," alluding to past sexual transgressions.
This year saw new influxes of Central Americans and Cubans on the southern border, Syrian refugees rejected by the leaders of more than 30 states and the president's executive action on immigration mired in legal challenges.
Next year, those stories are expected to play out amid a presidential campaign in which immigration is already a key issue. A look at what's ahead in 2016:
Cuban migrants: Will their special status change?
It's known among Cuban Americans as "the Cuban exception." Under the Cuban Adjustment Act of 1966, Cubans who make it to U.S. soil are entitled to special legal status not afforded other immigrants.
But after the U.S. and Cuba announced last December the beginning of a process to normalize relations, some federal lawmakers have questioned whether such protection is still warranted.
Could it end?
Trump will win fight against Clintons, Huckabee says
Mike Huckabee hasn't given up on his 2016 presidential campaign, but offered some support to GOP front-runner Donald Trump during an interview with Fox News on Monday.
Asked about Trump's criticism of Bill Clinton, Huckabee, who served as governor of Arkansas after Clinton, noted the former president's political skills and continued popularity, but said he would bet on Trump.
"Look, nothing's backfired on Donald Trump yet. I'd put my money on him," Huckabee told "Fox and Friends."
"Frankly, he's played the whole media game like a kid on Christmas morning with a toy drum. He's beaten the heck out of them."
People — even Republicans — still like Bill Clinton more than President Obama, he said. But that won't derail a Trump campaign against the former president.
"I honestly don't think that this is going to hurt Donald Trump," he added.
Huckabee acknowledged that he has fallen far behind his rivals in the race for the Republican nomination. He ranks toward the bottom in the GOP field, according to recent polls, and said recently he would drop out if he did not do well in Iowa's Feb. 1 caucuses, a goal that he insisted was still achievable.
He attributed his lack of success so far to a shortage of media attention — the kind of attention Texas Sen. Ted Cruz and Trump receive.
Media attention "drives poll numbers, that drives stage position and that drives polling position as it comes to the electorate," he said.
Carson rules out race as a factor in Sandra Bland's death
Sandra Bland's death in Texas police custody didn't have to do with her race, Ben Carson said in a television interview.
The incident in July, in which the 28-year-old black woman was found hanged in her cell, shows a need for a look into police department practices in general, not a fight against race discrimination, the Republican presidential hopeful and retired neurosurgeon said.
"I think we also have a tendency to inject race into everything anytime that there are people of different races involved in a conflict," Carson said on CBS' "Face the Nation."
"A lot of things that are class and economics are ascribed to race," he added.
The Bland case began when a Texas state trooper in Prairie View pulled her over for failing to signal a lane change. The two argued, the incident escalated, and the officer arrested her for assaulting a public servant. She was found three days later in her cell, hanged with a trash bag. Her death was ruled a suicide, and last week a grand jury that investigated her death decided to not issue an indictment.
Earlier on the show, Vermont Sen. Bernie Sanders said he believed the officer would not have arrested Bland if her skin had been white.
Carson disagreed.
He cautioned host John Dickerson on his questions about whether the incident involved racial discrimination. The issue included more variables than just one, but does show that legislators should look into how sensitive police are to individual people, he said.
Carson used arrests made for traffic tickets as an example of the justice system acting too harshly.
A person can be issued a $70 ticket. "They don't have any way of paying that," he said. "They ignore it, the next you know there's a warrant for their arrest, they lose their job. All we have to do is be a little sensitive and say you can pay this off at $5 a week."
The Iowa caucuses are Feb. 1 and the candidates are barnstorming through the state. As 2016 approaches, stay up to date to on the path to victory for the candidates and what they must do to capture the nomination.
Life is stressful. Our weekly mental wellness newsletter can help.
You may occasionally receive promotional content from the Los Angeles Times.