Jeb Bush shakes up campaign by canceling TV ads, redeploying staff
Welcome to Trail Guide, your host through the wilds of the 2016 presidential campaign. It's Wednesday, Dec. 30, and here's what we're talking about:
Ted Cruz builds on campaign momentum with nearly $20 million in fundraising
Ted Cruz did it again. The Texas conservative jumped out early with his fourth-quarter fundraising haul of almost $20 million, a robust year-end finish as he climbs in voter polls.
The senator's team disclosed the tally ahead of the other campaigns, just as it did in the fall with Cruz's impressive third-quarter showing, boosting attention to the campaign's continued momentum.
Cruz has positioned himself as the conservative front-runner second only to Donald Trump in some surveys, and is increasingly favored to win the early caucus state of Iowa.
The Wednesday announcement arrived as Republican Jeb Bush's campaign said it was shifting resources from television ads to the ground game in Iowa, as the former Florida governor has lagged behind in polls.
Cruz spokesman Rick Tyler said the campaign would post nearly $20 million, with $45 million raised since the campaign started.
The conservative Cruz is also backed by four wealthy donors, each funding a separate super PAC that is supporting the candidate.
Shake-up for Jeb Bush campaign as TV money shifts to ground game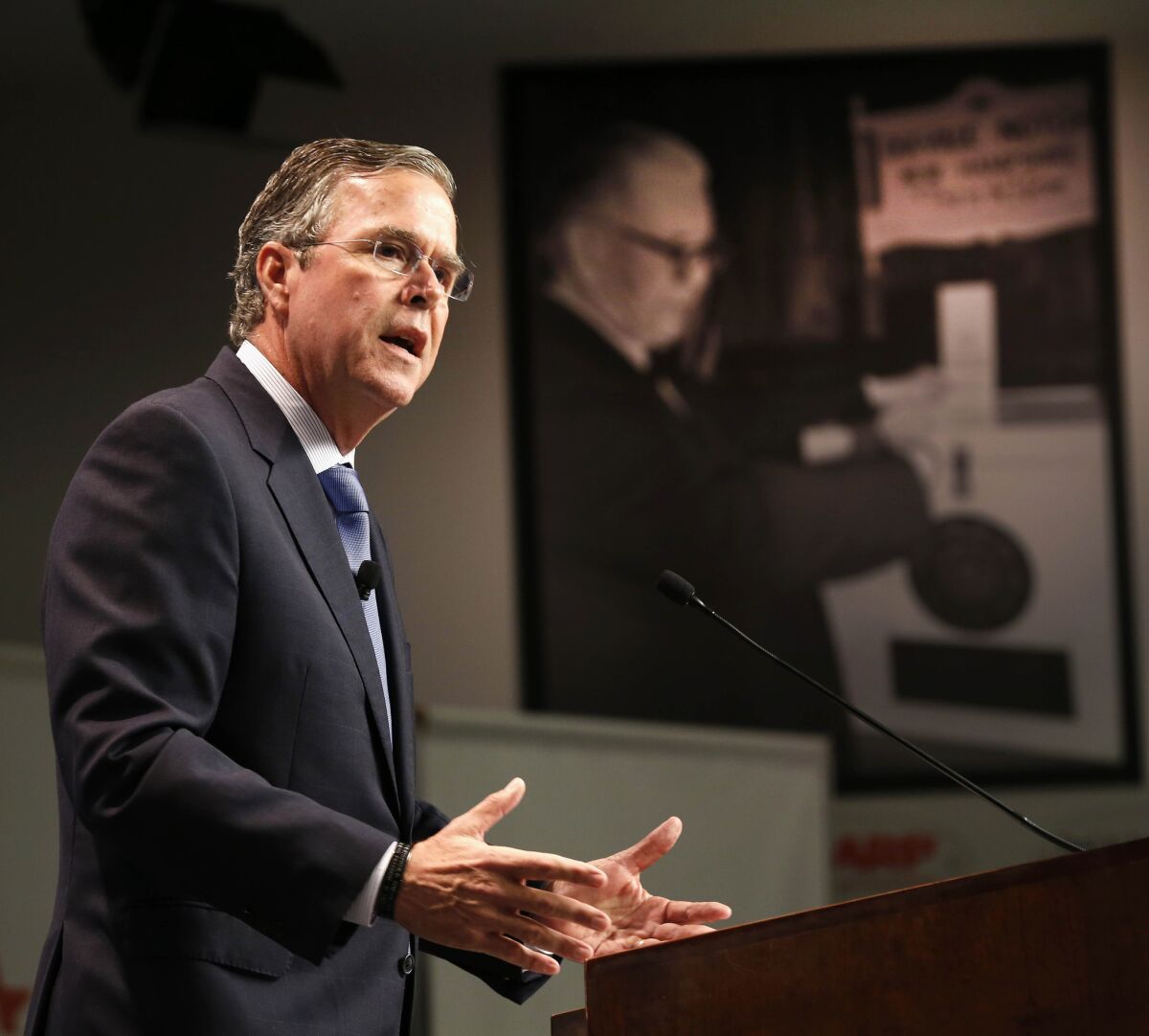 A big strategy shift was underway Wednesday for Jeb Bush's campaign, as the former Florida governor canceled TV time in Iowa to deploy more ground staff to the state.
Bush has lagged behind in polls in Iowa and nationwide, despite an ample advertising budget for his campaign and outside supporters. The influx of paid staffers comes ahead of early voting Feb. 1 in the Hawkeye State.
According to the Des Moines Register, which first reported the campaign team's redeployment, Bush will release $3 million in reserved TV time – $1 million in Iowa and $2 million in South Carolina. Instead, 60 paid staffers will be sent to the states that hold the first nominating contests, according to the report.
Iowa TV viewers may not notice much difference, the Register noted. A super PAC supporting Bush continues to spend money on ads in the state.
Ted Cruz with a big fundraising haul for the fourth quarter: nearly $20 million
The total appears to be a quarterly best for Cruz in the 2016 election.
"White people, come get your boy."
Depending on how you read that line from comedian W. Kamau Bell about Donald Trump, you might take it as a joke. Or you might take offense.
But Bell meant it as a call to action – because Trump is not a Republican problem. He's a white-people problem.
Hot dogs, beer . . . and politics?
Ben Carson supporters are using this year's Rose Bowl to pitch Iowa voters on why the retired neurosurgeon should win the country's first nominating contest on Feb. 1.
The Rose Bowl features football teams from Stanford and Iowa on Friday, and Hawkeye fans are holding a tailgate party at the battleship Iowa on Thursday.
With so many Iowans traveling to Los Angeles for the game, a Super PAC backing Carson, the 2016 Committee, sees an opportunity to mix some politics with the football excitement.
"This will give all of us Carson supporters a great chance to talk to the all-important Iowans (their caucus is only a little over a month away!), and to pass out books, brochures and bumper stickers!" the Super PAC said on its website.
The biggest political story of 2015 was the rise of Donald Trump — but if you were reading my column, you almost missed it.
For most of the year, I barely mentioned the possibility that the braggadocious mogul could be a serious candidate for the Republican presidential nomination. And when I did look at Trump, I dismissed his prospects as "imaginary" — a judgment that turned out to be flat wrong.
Instead, I advised readers to keep their eyes on Marco Rubio, Jeb Bush and Scott Walker. If you're keeping score, only one of the three, Rubio, is now in the top tier.
Newspaper columnists are rarely accused of humility; we're paid to have opinions, the brassier the better. But a look back at a year's work is enough to make even a pundit feel a pang of remorse.
Will whoever becomes the Republican presidential nominee view climate change as a priority?
Months of Republican debates, interviews, voter polls and Twitter posts suggest that, at least during primary season, the answer is no.
Few differences between Republican and Democratic candidates (or, for that matter, between Republican candidates and most world leaders) are as stark as their opposing positions on climate change.
Trump vows to spend $2 million a week in ads
Donald Trump will start doling out $2 million a week for ads next week despite several previous assertions that he doesn't need to pay for a boost in media attention. On Tuesday, the Republican front-runner announced he will spend the money targeting voters in the early primary and caucus states as the February nominating contests near.
He will start on Monday.
His ads will address how he'd take on Islamic State, border security and the economics of trade, Trump told reporters aboard his private plane. He also threatened to release negative ads against rival candidates who attack his campaign.
Former Florida Gov. Jeb Bush recently released a new year's ad calling Trump a "chaotic candidate," and attacked his rival's media appearances in 2015. Trump did not appear to be threatened, though.
The race in Iowa, New Hampshire and South Carolina started to tighten in the last month with Texas Sen. Ted Cruz rising in polls, taking the lead in Iowa. Trump said he doesn't want to take any chances on winning the nomination.
Bush wishes voters a happy new year with an ad attacking Trump
A New Year's message from Jeb Bush comes with pointed blows at GOP rival Donald Trump in a new campaign ad. Bush's campaign released the 99-second video Wednesday to show Trump as a "chaotic candidate."
The video calls Trump "unhinged," "liberal" and "dishonest." Bush's campaign cited five examples in 2015 when the businessman stumbled on questions or responses it said a presidential candidate should handle:
When he said the Bible was his favorite book but wouldn't explain why.
When he and Russian President Vladimir Putin exchanged niceties.
When he didn't know what the nuclear triad was during a GOP debate.
When he said the United States shouldn't fight Islamic State.
When he told NBC News he watches "shows" for military advice.
Bush remains behind Trump in the Republican race, and continues to amp up his challenge of the businessman going into the February primary.
Trump has repeatedly gone after Bush as well, calling him "low-energy," a preferred insult of Trump's.
Deep divisions among Nevada Republicans over a $1-billion tax increase pushed by the state's Republican governor are helping to shape the battle between Sens. Marco Rubio of Florida and Ted Cruz of Texas to win this state's presidential caucuses – the first nominating contest in the West.
Rubio's backers are eagerly eyeing Nevada as they look for an early-voting state in which the candidate could win. Although Rubio is widely seen as one of the leading contenders for the GOP nomination, the early primary states mostly look unpromising for him. Cruz, by contrast, leads the polls in Iowa, which holds the first contest of the season, and is well positioned in several other conservative states that hold early contests.
With the stakes high here, the two freshman senators are vying to gain support of a key voting bloc within the state's GOP – Mormons, who mostly lined up behind Mitt Romney, an active member of the Church of Jesus Christ of Latter-day Saints, in the last two election cycles. Mormon Church members make up a small percentage of the state's population, about 4%, but their influence in Nevada's Republican caucuses is much greater. In 2008 and 2012, Mormons accounted for nearly a quarter of Republican caucus-goers, entrance polls showed.
Both candidates have lined up politically prominent members of the church. As they compete, the fault line on taxes that split the state's Republicans this spring and summer has come to the forefront.
Life is stressful. Our weekly mental wellness newsletter can help.
You may occasionally receive promotional content from the Los Angeles Times.