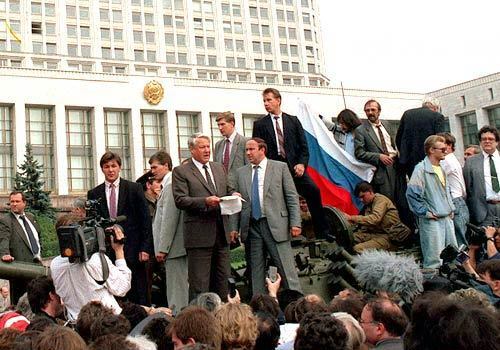 17 Images
Boris Nikolayevich Yeltsin 1931 | 2007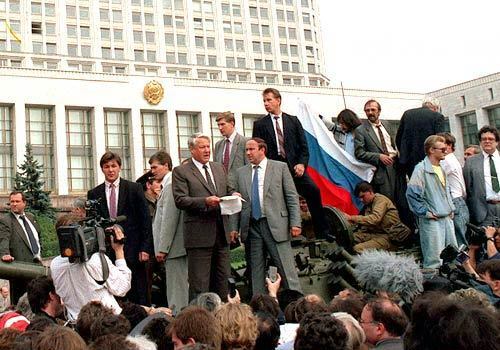 Boris Yeltsin clambered atop a tank outside the Russian republic's parliament in August 1991, galvanizing popular resistance and squelching a coup by hard-liners seeking to overthrow Soviet President Mikhail S. Gorbachev. Communist rule ended within weeks; the Soviet Union within months.
(AP)
The West had a hard time knowing how to respond to Yeltsin. At first preferring the smooth rhetoric of Gorbachev, right, most Western leaders shied away from the brash Russian president.
(Vassili Korneyev / EPA)
In the West, leaders generally supported Yeltsin, seeing little alternative. Here, Russian President Boris Yeltsin gestures while addressing a joint meeting of Congress on Capitol Hill in 1992. Behind him are Vice President Dan Quayle, left, and house Speaker Thomas Foley.
(Ron Edmonds / AP)
"I will join others all around the world in saying he has shown tremendous courage," President George H.W. Bush said of Yeltsin's efforts to defy a coup by hard-liners. In June 1992, he met with Bush in Washington. The visit included a game of horseshoes outside the White House Oval Office.
(J. David Ake AFP/Getty Images)
Yelstin, surrounded by supporters, raises a clenched fist acknowledging the cheers of some 70,000 demonstrators who gathered in Moscow's Red Square in March 1993. Yeltsin engineered the final collapse of the Soviet Union and pushed Russia to embrace democracy and a market economy as the country's first post-Communist president.
(Dima Donskoi / AP)
Cuban leader Fidel Castro, left, and Yeltsin greet each other during a 1995 celebration of the UN's 50th anniversary.
(Luke Frazza AFP/Getty Images)
Yeltsin stands before "The Banner of Victory" at the Kremlin in 1996. Tumultuous years marked his time in office. Among a host of other serious problems, the federal government was experiencing a "payments crisis"-it hadn't yet learned how to collect taxes. Many large enterprises, short of cash as a result, were trading in goods and IOUs. Millions of workers and pensioners went unpaid for months, surviving by growing vegetables.
(Dmitry Sokolov / EPA)
But along the way, Yeltsin managed to have fun. Here, he dances at a rock concert in Rostov. He is said to have suffered many heart attacks during his political career.
(Alexander Zemlianichenko / AP)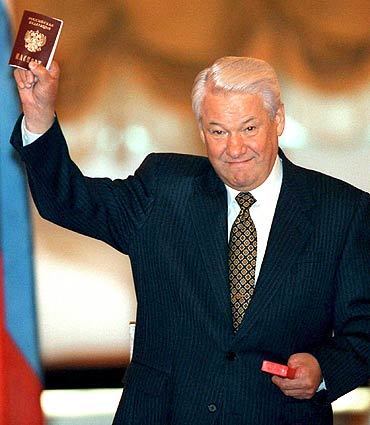 Yeltsin smiles as he holds up a new Russian passport in 1997. During the final years of his time in office, Yeltsin was effectively a part-time president, disappearing for long periods.
(EPA)
This picture taken in March 1997 shows Yeltsin meeting with President Bill Clinton at the Presidential Palace in Moscow.
(Heikki Saukkomaa AFP/Getty Images)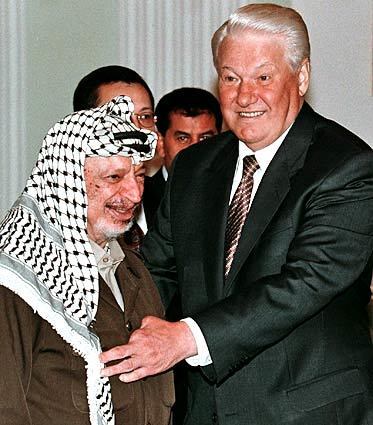 Palestinian leader Yasser Arafat visited the Kremlin in 1998. He would ask the Russian president for help in breaking the 19-month deadlock in negotiations with Israeli Prime Minister Benjamin Netanyahu.
(Yuri Kadobnov / AFP)
In 1998, Yeltsin went to Italy where he had a private meeting with Pope John Paul II.
(Massimo Sambucetti / EPA)
In 1998, Yeltsin went to Germany, where he met with Chancellor Helmut Kohl, right.
(Sergei Chirikov / EPA)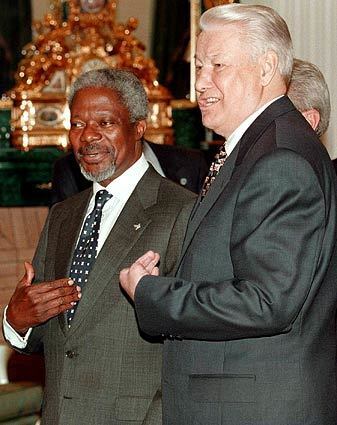 Yeltsin and United Nations secretary general Kofi Annan met at the Kremlin in 1998. By the end of the next year, Yeltsin announced his departure. During his seven years in office, Russians were rattled by the rapidity of the changes, and craved a stability that never seemed to arrive. Prosperity remained only a promise.
(Yuri Kadobnov / EPA)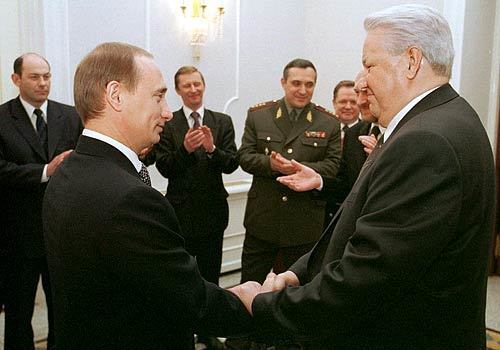 Yeltsin shakes hands with his hand-picked successor, Vladimir Putin.
(EPA)
Former President Yeltsin gets an autograph from Maria Sharapova following her victory over Alicia Molik of Australia in their third round match for the French Open tennis tournament in 2006.
(Christoph Karaba / EPA)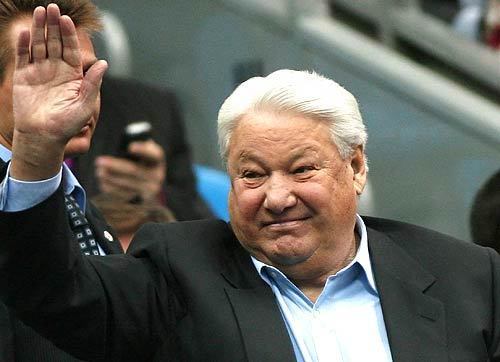 Yeltsin waves during a Davis Cup Final tennis match in Moscow in 2006.
(Misha Japaridze / AP)