'To do something, I have to understand it. The Chinese in America — I think I'm the right one to do this, because I have both experiences.'
Mian Situ, painter
(Myung J. Chun / LAT)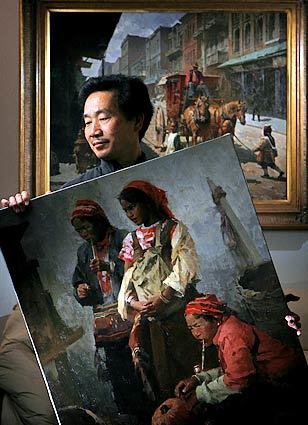 PERSONAL CONNECTION:
Most of the Chinese railroad workers and mining-town laborers who helped build the American West came from southern China's Siyi region, where artist Mian Situ was raised.
(Myung J. Chun / LAT)
'THE GOLDEN MOUNTAIN, ARRIVING IN SAN FRANCISCO, 1865':
Mian Situ's favorite painting sold for $72,500 to Howard Terpning, a renowned Western artist.
(Mian Situ)
"THE ENTREPENEUR"
(Mian Situ)
Mian Situ works on his painting as his daughter Lisa, 5, stands nearby. Situ is one of fifty impressionist painters from across the country competing in the second annual Laguna Plein Air Invitational Painting Competition.
(Rick Loomis / LAT)