The Alfa Romeo MiTo finally lives up to the fantasy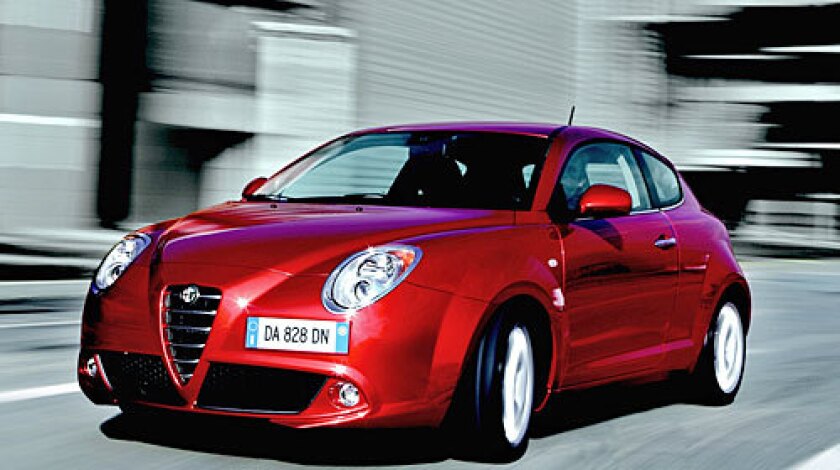 Los Angeles Times Staff Writer
Where are the hot-cool small cars, the drive-all-night cars, the panties-on-the-mirror cars? Where they've always been: In Europe. Here's a look at two of them: The Alfa Romeo MiTo and the Fiat 500.
Milan, Italy
For a generation of American Alfisti, the return of Alfa Romeo is the Christmas that never comes. The brand -- an upscale imprint of the Fiat Group -- left the American market in 1994 in a choking cloud of aggravation and mediocrity. It wasn't that the cars were particularly awful -- not particularly, anyway -- but that when something did go wrong with Alfas, the dealerships were insufferable, the electrical problems insoluble, and the fixes uneconomical. And scoring replacement parts was like trying to buy a human kidney on the black market.
It's a measure of how indelibly erotic, expressive and cool these cars were that people ever bought them or ever felt a twinge of nostalgia when they were gone. The fact is, you could fit all the Americans who ever heard of a Disco Volante or Vittorio Jano or Tazio Nuvolari in a high school football stadium.
The brand narrative here has never been about performance, motorsports or value. No, Alfa Romeo is, for most Americans, about a quintessential Italian style, an aching, blushing, toe-curling loveliness of line and profile. It is about the inconvenient passion of Dustin Hoffman in "The Graduate." It is about Fellini's moonlit "Juliet of the Spirits," in which Giulietta Masina is pursued by a man, a Romeo, in a Giulietta Spider (which may qualify as the most knotted meta-reference in film history). It is about youth, cool and the whispered promise of sex under the parapets.
Or is that just me?
Alfa has been strategizing its return to these shores almost since it left, but with the arrival of Fiat's rock star CEO, Sergio Marchionne, in 2004, the plans have picked up pace. Last year, the company began importing its ultra-low-volume 8C Competizione sports car through Maserati dealerships (another Fiat holding). Informed speculation had the company importing cars like the awesome Brera coupe, the Spider and perhaps the Kamal crossover as early as 2010.
And yet, these best-laid plans have been overtaken by events: $5 per gallon gasoline in California, the plummeting dollar against the euro, the subprime recession. All of this has taken the Alfa banner out of the hands of mid-size cars and pushed it into the unlikely grasp of the new, B-segment hatchback, the MiTo.
It's a good thing it's so wonderful.
Aimed like Jove's thunderbolt at the BMW Mini, the MiTo was styled with all the brio the word conveys by Alfa designer Juan Manuel Diaz. The young Argentinian was in the studio one day in 2002, drooling over prototypes of the 8C sports car, feeling frustrated that he himself could never afford such a car. According to Automotive News, he began sketching the MiTo as an affordable version of the audacious and priapic 8C.
He didn't go far wrong. Like the 8C, the MiTo is an ecstatic shape, full of consonant lines and completed ideas, like a good piece of music. The Alfa's hawk-billed grille seems to split the wind and take the sheet metal with it, playing out in sinuous bevels over the hood and wrapping around the teardrop-shaped DLO (daylight opening). Not since the Frank Stephenson-designed BMW Mini has a small car been so perfectly cast.
Alfa explicitly invokes the Mini as a market bogie, and plans to offer the same degree of personalization, with loads of optional colors, fabrics, decals and trim levels (you can specify what kind of taillight frames you want, for instance). The test car I drove at the press event in Monza, Italy, might be considered standard issue Alfa: obsidian black, with a black leather interior, with some exquisite faux carbon-fiber material on the dash.
Under the swooping hood is one of three engines: a naturally aspirated 1.4-liter four (about 70 hp); a turbocharged 1.4-liter (151 hp) and a 1.6-liter turbodiesel (117.6 hp and 236 pound-feet of torque). All are paired with a six-speed manual. Almost certainly, the high-performance GTV version to come will have a dual-clutch gearbox sources from Magneti Marelli (yet another Fiat tentacle). Fuel economy ranges from about 36 to 50 mpg (in the gas turbo and diesel turbo, respectively).
The MiTo -- pronounced "Me-Toe," a hip mash-up of the city names Milan and Turin (Torino) -- has a raft of electronic interventions aboard. Antilock brakes, traction and stability control, and all kinds of smart brakes.
Other marquee technologies include Alfa's DNA -- a three-way switch that sharpens the car's handling and responses, à la Ferrari (another holding). The car also has Alfa's interesting Q2 system in the front axle, a traction-control-based version of a limited-slip differential that stutters the inside wheel in high-g cornering, redirecting torque to the outside wheel.
That's a lot of performance technology for a car that will be priced around $22,000. But the true appeal of the MiTo is about as high-tech as thigh-high stockings. Here is a gorgeous, fun, fuel-efficient car with catwalk looks and a kind of charmed Italian grace you can't buy anymore (Ferraris and Maseratis don't count, as they are not real cars). It can't get here too soon.
2009 Alfa Romeo MiTo Base Price: $22,000 (est.)Price, as tested: $28,000 (est.)Powertrain: Choice of two 1.4-liter DOHC inline four-cylinder engines, supercharged or naturally aspirated; or 1.6-liter turbodiesel. Six-speed manual transmissions; front-wheel drive with electronically controlled differential.Horsepower: 151 at 5,500 rpm (in turbocharged gas model tested)Torque: 170 pound-feet at 3,000 rpmWheelbase: 98.8 inchesOverall length: 160 inchesCurb weight: 2,519 poundsFuel economy: 36 miles per gallon, combined (turbocharged gasoline); 49 mpg, combined (est. turbodiesel)Final thoughts: Alfa Romeo, wherefore art thou?
---
For reporting and exclusive analysis from bureau chief John Myers, get our California Politics newsletter.
You may occasionally receive promotional content from the Los Angeles Times.