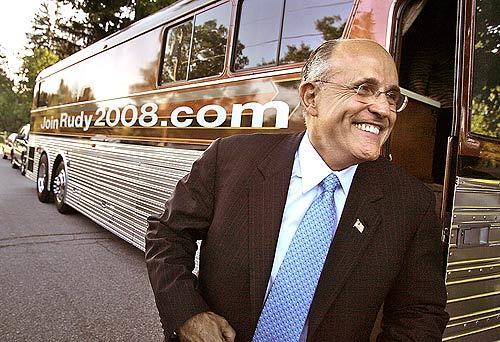 15 Images
Candidate Giuliani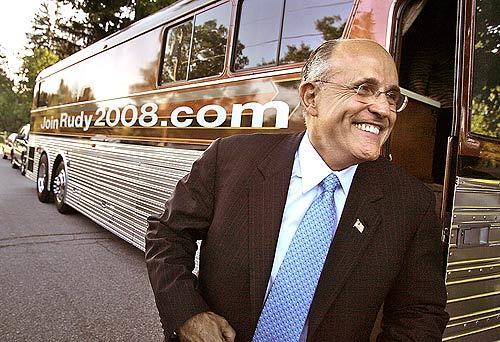 Rudolph W. Giuliani -- just Rudy to many people -- got off to a fast start in the race for president, but according to recent polls, some voters have gotten off the bus. The former mayor of New York, here in New Hampshire in August, has retooled his campaign in advance of the Iowa caucuses and New Hampshire primary in early January.
(Gary Friedman / Los Angeles Times)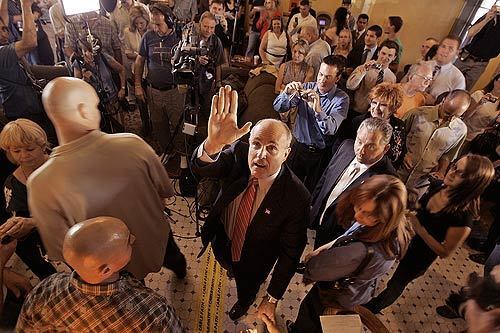 Initially, Giuliani's campaign strategy was to bank on the big states -- California, New York and Florida -- to propel him to the nomination. One of his journeys west brought him to Riverside, where he spoke to and greeted supporters at the Coffee Depot, left.
(Gary Friedman / Los Angeles Times)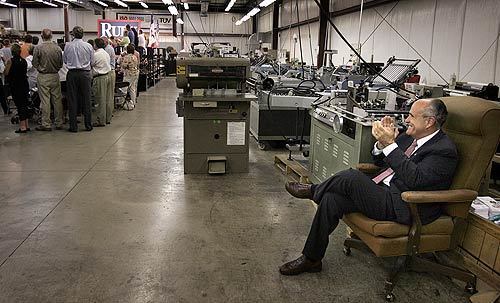 Giuliani takes it easy "backstage" before being introduced at a town hall meeting at a printing company in Davenport, Iowa, in midsummer. The state had been more of an afterthought than a linchpin for Giuliani, but that was before polls showed his support dropping nationwide. In mid-December he began waging what some analysts call a "stealth campaign" in Iowa. Caucus-training sessions to mobilize voters have been held across the state, and his staff and supporters have filled household mailboxes with at least a dozen different glossy mailers. Volunteers have made more than 200,000 phone calls to potential voters.
(Gary Friedman / Los Angeles Times)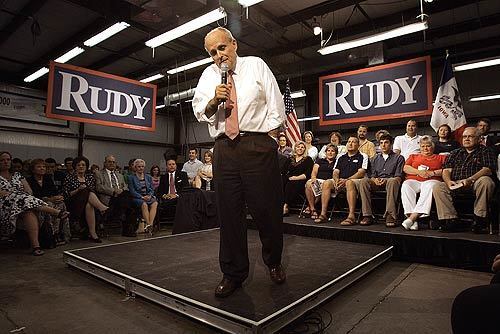 Lauded as "America's Mayor" for his blunt talk and compassion after the 9/11 attacks on the World Trade Center towers, Giuliani saw his political stock soar. He's promised supporters that "we're going to make sure this country is strong -- strong against terrorism, strong against any would-be enemy, strong economically."
(Gary Friedman / Los Angeles Times)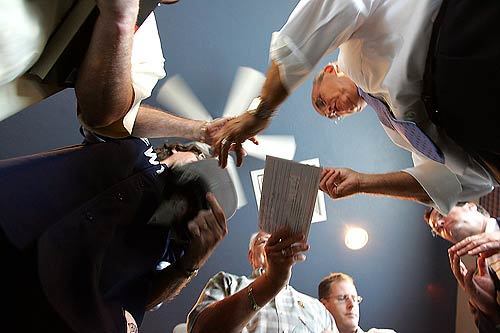 The candidate mingles with supporters at the Family Table, a popular destination for presidential hopefuls, in Le Mars, Iowa. Unlike some candidates who have staked their White House hopes on strong performances early in the race to gain momentum, Giuliani has developed a multistate strategy. In the course of about a week in mid-December, his travels took him to California, Florida, New Hampshire and Missouri.
(Gary Friedman / Los Angeles Times)
Rudy Giuliani works the phones during a campaign stop in California. A phone call of a different sort -- from his wife, Judith, in the middle of his speech to the National Rifle Assn. in September -- caused a minor uproar among political pundits.
"Hello, dear. I'm talking to the members of the NRA. right now. Would you like to say hello? I love you and I'll give you a call as soon as I'm finished, OK? Have a safe trip. Bye bye."
(Gary Friedman / Los Angeles Times)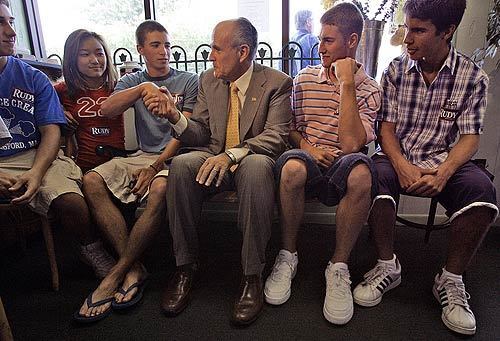 Diners -- not fancy restaurants or fast-food joints or trendy bistros -- are the eating establishments of choice for candidates on the campaign trail. Here, Rudy Giuliani greets students at a diner in New Hampshire. Based on the stickers they're wearing, they're a receptive audience.
(Gary Friedman / Los Angeles Times)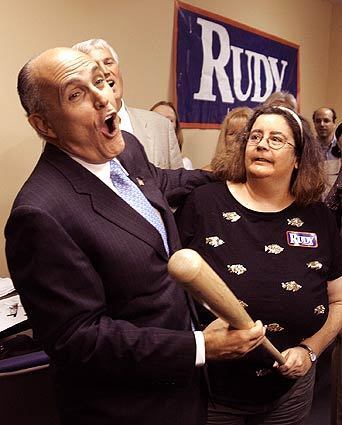 Rudy Giuliani, a Yankees fan who regularly attends home games, gives an autographed bat to campaign worker Laura Ramos during a stop at his New Hampshire headquarters in Manchester. Jennifer Hallowell, executive director of Giuliani's campaign in the state, said on a campaign blog that Ramos "was the first recipient of a Rudyville Slugger" because she had made thousands of phone calls for the cause.
(Gary Friedman / Los Angeles Times)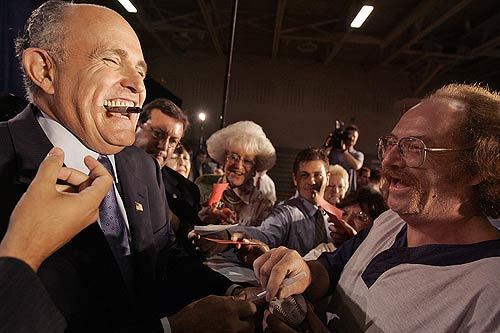 Some of the rough edges Giuliani displayed as mayor of New York have been smoothed out on the campaign trail. A familiar scowl has been replaced by frequent smiles and even a chuckle. Here, he signs autographs after a town hall meeting in Council Bluffs, Iowa. Still, he has not been afraid to show tough love on the campaign trail. In New Hampshire, Giuliani cut off a man who asked an open-ended question on rural issues, telling him to "give me one problem." When the man listed two -- jobs and transportation -- Giuliani offered an answer but conceded he had not thought much about it. "There are not many rural parts of New York City," he said.
(Gary Friedman / Los Angeles Times)
Rudy Giuliani meets some of the pre-voting set in front of a store in New Boston, N.H. The candidate has two children, Andrew and Caroline, and a stepdaughter, Whitney. His relationship with his son has been described in news reports as estranged, but Andrew took issue with the characterization. "To say I have no relationship with my father is flat-out wrong," he told the Chronicle, the independent student daily at Duke University, in a December interview. Caroline, who attends Harvard, at one time indicated on her Facebook page that she supported Democrat Barack Obama, but she removed the reference last summer.
Giuliani calmly rebuffed a woman who asked about his children: "There are complexities in every family in America. The best thing I can say is, kind of, leave my family alone, just like I'll leave your family alone."
(Gary Friedman / Los Angeles Times)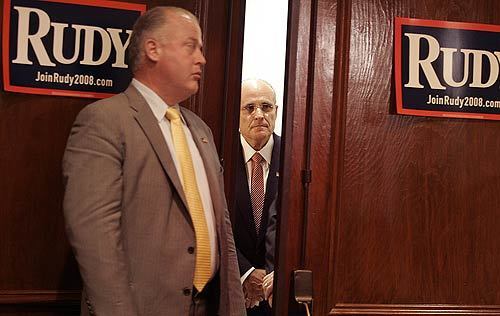 Rudy Giuliani is a candidate of contradictions. He supports abortion rights but has referenced Chief Justice John G. Roberts Jr. and Justice Samuel A. Alito Jr. as the kind of judges he would choose if he were president. As mayor of New York he supported policies that benefited illegal immigrants, but now says he would have happily swept out all 400,000 in his city if only the federal government had cooperated. He has supported gay rights, has been married three times and has performed at events while dressed as a woman, but he has drawn the endorsement of Christian Broadcasting Network founder Pat Robertson.
(Gary Friedman / Los Angeles Times)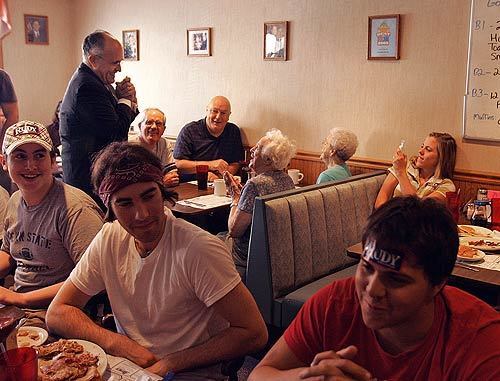 It's called Chez Vachon, but don't let the name or French food fool you. This is a New Hampshire diner -- just the place for Giuliani to campaign. He posed for pictures, thanked supporters, kissed a baby (twice) and, in response to a question about gun control, said that "the Second Amendment is the law of the land."
(Gary Friedman / Los Angeles Times)
The candidate who has steeped his message in the war on terrorism could have a controversy on his hands. A group of New York firefighters who lost sons on 9/11 is organizing a political committee to raise doubts about the central premise of his presidential campaign -- his leadership role on the day of the attacks. They blame Giuliani for decision-making failures that they say contributed to their sons' deaths.
(Gary Friedman / Los Angeles Times)
"I expect to win the Republican nomination, but believe it or not, I don't expect to win every vote. I'm going to be myself. I'm going to do the best that I can to explain to the American people what I believe, and then I am very comfortable with their judgment as to whether or not they think that's enough."
(Gary Friedman / Los Angeles Times)