Newsletter: Cast of cooks
Good morning. While much of the East Coast is tracking Hurricane Florence, it is sunny and dry here in Southern California — too dry, of course, as our drought continues. Another hurricane is also making news again, and chef José Andrés will be in town Wednesday to discuss his new memoir about Hurricane Maria (tickets are still available). Andrés, of course, not only works with World Central Kitchen and #ChefsForPuertoRico, but he has a few restaurants — among them Somni here in L.A., which is the focus of one of our stories this week.
We're also covering chef Yotam Ottolengi's latest cookbook, a new bean-to-bar chocolate shop and a terrific road trip meal in Bogotá, Colombia . What to drink with all this? We have a story about a few particularly vibrant California white wines, a fitting pairing for end-of-summer meals.
As fall approaches, a reminder that the local apple picking season is upon us, which means that the glorious u-pick farms of Oak Glen are at peak season. If you've never made the trip, about 80 miles east of downtown L.A. (a great pit stop on your way to or from Palm Springs), these orchards are a great place to take the kids — and you can get just-made cider doughnuts along with bags of Pippins and Gravensteins. Apples are also this week's farmers market report, so if the Yucaipa mountains are too far away, your local market hopefully is not. So maybe bake an apple hand pie or two, or make a batch of caramel apples, and enjoy your weekend.
THE COOKING STAGE
At chefs José Andrés' and Aitor Zabala's Spanish-influenced Somni, the new 10-seat counter restaurant inside the SLS hotel, which also houses the Bazaar, cooking is a performance. So, as food writer Andrea Chang reports, the chefs hired an acting coach to help train their staff. (When in Rome.) What this meant was that the cooks were trained in vocal warm-ups, movement drills and mental focus and clarity training, to help in their delivery of the over 20 courses that compose each meal, and which the cooks present (there are no servers). Worth $235 per person? Why not?
ACID TRIP
In his latest Wines of the Week column, wine writer Patrick Comiskey considers three California white wines with a particular unifier: their level of acidity. "Wine writers are acid heads," he writes. " Acid is the agent of mouths watering: Acidity is like a golden ticket to refreshment." So these three are blends, two made with Grenache Blanc, that are refreshing, vibrant and particularly crisp. And, as the summer draws to a close, not bad with seafood.
OTTOLENGHI'S SEVENTH
Like many folks these days, I own a lot of British Israeli chef Yotam Ottolenghi's cookbooks — all of them, in fact. This now includes his latest, his seventh book, out in the next few weeks from Ten Speed Press. "Ottolenghi Simple: A Cookbook" is filled with fairly easy dishes, the chef's take on intensely flavorful, vegetable-focused, spice-driven comfort food. And yes, we got the cover recipe: a seriously good combination of hot charred cherry tomatoes and cold yogurt.
THE EATEN PATH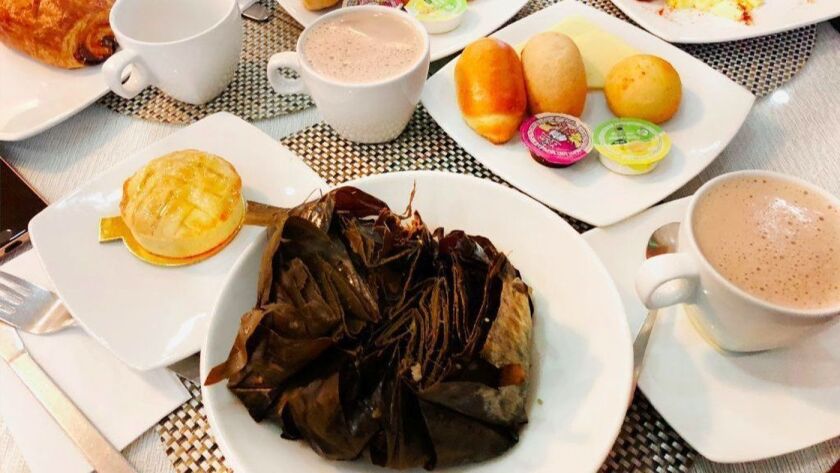 On a recent trip to Colombia, Andrea found herself dining at Pastelería Florida in Bogotá, where she was presented with a formidable tamal tolimense — the Colombian version of our much smaller tamales. These are regional specialties, made with a chicken leg, pork, vegetables, egg and rice, and eaten with hot chocolate. The rustic tamal was impressive, as was the 82-year-old restaurant. And there was a pastry case, for sweets to take home — or to the airport.
BEAN TO BAR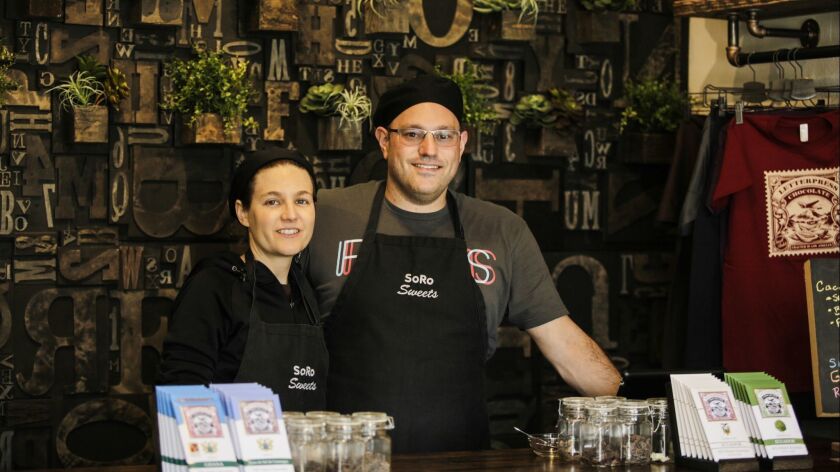 High-end chocolate is not a new thing, but having that chocolate made on-site, in a little chocolate factory that doubles as a retail shop, is much, much harder to come by. David and Corey Menkes do just that with their LetterPress Chocolate company, which is now open to the public in a cozy Beverlywood location. So far, the husband-and-wife team are the company's only employees, and they not only make their chocolate from bean-to-bar, and sell those bars, but they'll also be offering guided tours — and a drinks menu.
The Taste OC: Our Labor Day weekend food festival is over, but there's another one on the horizon. For the first time, we're holding a Taste in Orange County. From Oct. 19-21, we're having a food and drink party at the MET in Costa Mesa, with plenty of chefs, cooking demos and so much food and drinks. For more info and early tickets, go to extras.latimes.com/taste.
Check us out on Instagram at @latimesfood.
And don't forget the thousands of recipes in our California Cookbook recipe database.
Feedback? We'd love to hear from you. Email us at food@latimes.com.
---