Newsletter: Pomegranates, pork larb and a pilgrimage
Happy Saturday. If you don't have anything going on tonight or tomorrow, you could always come and join us at the Taste OC, our first Orange County food festival, which began last night and continues through Sunday, with plenty of chefs, cooking demos and a ton of food and drinks.
But first, we have some excellent news: Peter Meehan has joined us as a contributing editor. He was the co-founder and editor of Lucky Peach, the late food magazine, as well as an author of cookbooks and a former columnist for the New York Times. Welcome to the table!
Concerning tables, we have a story this week about those at an island restaurant near the Canadian border, with a terrific tasting menu featuring local seafood and produce. We also have a piece about the popular fizzy wines from San Antonio Winery in downtown L.A., as well as a look at Chrissy Teigen's new cookbook, and a report on what's loading farmers market stalls. There's restaurant news (bone marrow burgers! more ramen!) and of course recipes. And for all you beer geeks: The largest Latino homebrewers club in the U.S. is hosting a beer festival in Lincoln Heights tomorrow. Enjoy your weekend.
ISLAND CUISINE
As part of our occasional stories about recent meals outside of L.A., I check out the Willows Inn on Lummi Island, near the San Juans in northern Washington, not too far from the Canadian border. Run by chef Blaine Wetzel, an alum of Noma in Copenhagen, this is a 20-plus course tasting menu restaurant, in an old collection of houses (the inn, where you can stay overnight) above the water. Wetzel showcases local seafood and produce from a farm up the street, as well as live fires both in the kitchen and outside. It's gorgeous, artful and deeply satisfying food.
PLENTY OF POMEGRANATES
Fall in Southern California means trees and market tables full of pomegranates — and not just the expected, crimson Wonderful variety that's so common in grocery stores. At the Santa Monica farmers market, Noelle talks to the farmers at Burkhart Organics, who grow Spanish Sweet pomegranates. She also has tips about how to seed the fruit (water) and what to make with the stuff. Lamb burgers, for example, and cocktails.
BILLBOARD WINE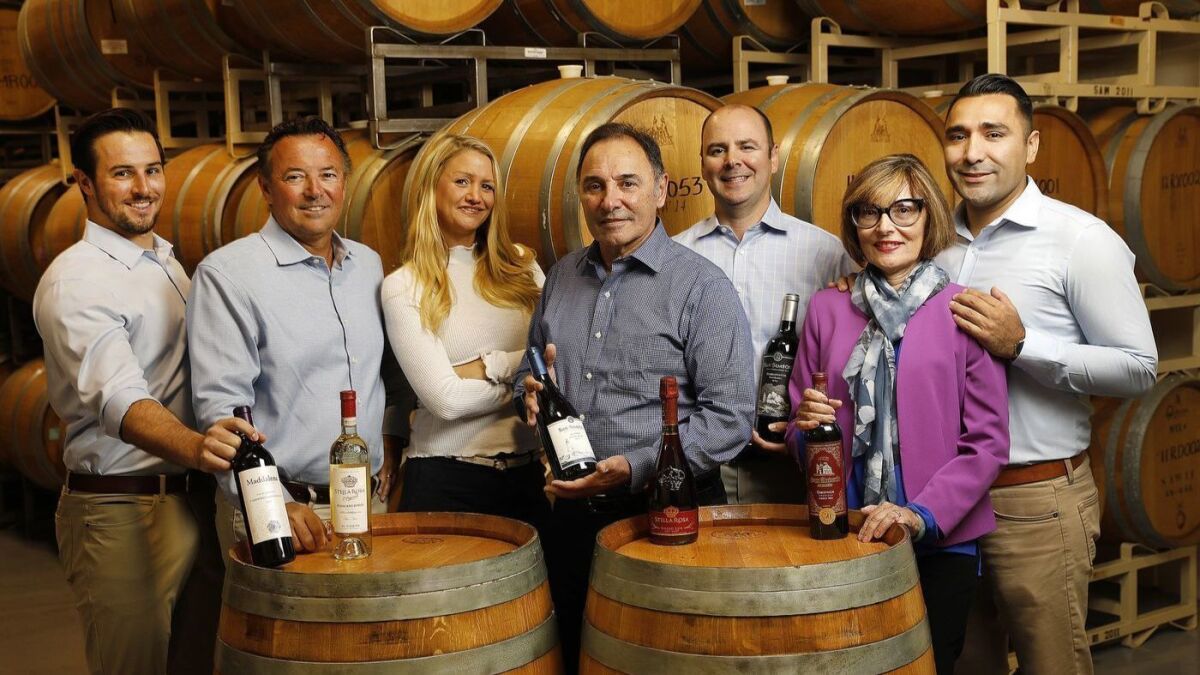 If you've heard of Stella Rosa wine, the exceedingly popular Italian fizzy wine from San Antonio Winery in downtown L.A., it might be because you've been buying the stuff — or because you've seen the name on one of the many billboards around the city advertising it. Wine writer Patrick Comiskey has the backstory about how the low-alcohol wine became the bestselling wine brand in California.
THIS IS NOT SPA FOOD
If you follow Chrissy Teigen on social media, and who among us does not, you already know about her second cookbook, "Cravings: Hungry For More," which recently came out. If you don't, you maybe should; you could also do worse than pick up her book, which features the comfort food she cooks at home. We also got her recipe for pork larb — a dish that did not make the Twitter rounds, as her banana bread recipe did, but is very good nonetheless.
BONE MARROW BURGERS
Chef Eric Greenspan doesn't sit still much — he's always experimenting with dishes and concepts, the latest of which is a delivery-only restaurant called Bubu's Finest Birds and Burgers. The marquee dish is a bone marrow burger. Of course it is. In other restaurant news, Hadley reports on a new ice cream shop serving inside a Los Feliz Craftsman house, and another outpost of Silverlake Ramen on the Westside.
Check us out on Instagram at @latimesfood.
And don't forget the thousands of recipes in our California Cookbook recipe database.
Feedback? We'd love to hear from you. Email us at food@latimes.com.
Get our L.A. Goes Out newsletter, with the week's best events, to help you explore and experience our city.
You may occasionally receive promotional content from the Los Angeles Times.