Newsletter: Essential California: Prison time for former undersheriff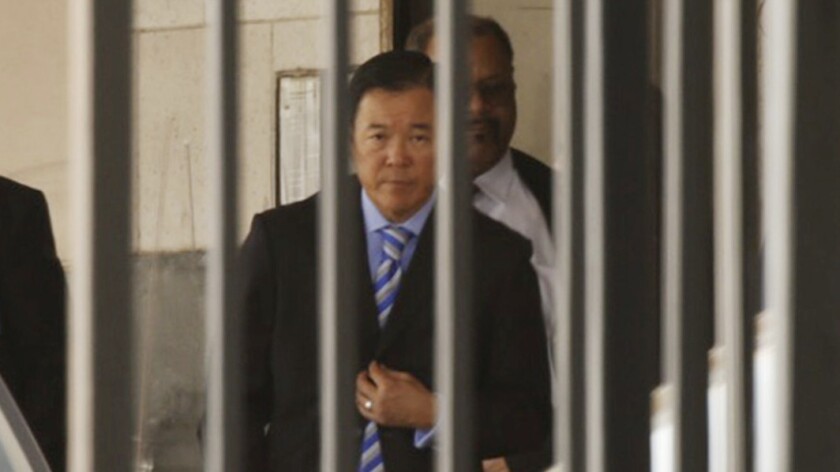 Good morning. It is Tuesday, June 28. The longtime voice of USC sports has died. Tom Kelly was 88. Here's what else is happening in the Golden State:
TOP STORIES
Fall from power
He was once one of the most powerful men in the Los Angeles County Sheriff's Department, but on Monday former Undersheriff Paul Tanaka was sentenced to five years in prison for interfering with an FBI investigation into jailhouse abuses. Attorneys for the 57-year-old had asked the judge to reject a prison sentence, arguing Tanaka was unfairly scapegoated for the wrongs committed by others, including then-Sheriff Lee Baca. In all, 10 people have been convicted or pleaded guilty for their roles in the scandal. Los Angeles Times
Mayoral run
Charter-school founder Steve Barr believes L.A. Mayor Eric Garcetti hasn't done enough for public education, so he's running for mayor. LAUSD will likely be at the center of Barr's campaign, though he says he'll also touch on the city's rising crime rate and growing homeless population. "It will be an uphill fight for him, but this is something that Garcetti and his team would be smart to take very seriously," said Dan Schnur, director of the Jesse M. Unruh Institute of Politics at USC. Los Angeles Times
Golden State budget
The governor signed California's $171-billion budget Monday. The spending plan includes money for state-subsidized childcare and removes a limit on welfare payments for families who have additional children while on assistance. "This solid budget makes responsible investments in California and sets aside billions of dollars to prepare for the next recession," said Gov. Jerry Brown. Los Angeles Times
DROUGHT AND CLIMATE
Back home: Evacuation orders were lifted for some areas south of Lake Isabella in Kern County, which allowed residents to return and check on their homes and pets. But for other evacuees, there's no timeline for when they might be able to return home. "For some residents of South Lake, a working-class community home to many retirees living on fixed incomes, frustrations were heightened by a sense that their neighborhood did not matter as much in the firefight to save homes." Los Angeles Times
Free water: The Los Angeles Department of Water and Power is offering customers recycled water that can be used for irrigation. Angelenos will have to go through a brief training before they can pick up the water. CityLab
L.A. AT LARGE
Public sector employees: The average city employee in Long Beach made $128,000 last year. However, that figure drops to $68,000 for employees who don't work for a public safety agency. "The only reason public employee salaries matter is because they come at the expense of the taxpayers, who on average make much less," said Robert Fellner with Transparent California. Long Beach Press-Telegram
Art and grief: In response to the mass shooting at a gay nightclub in Orlando, L.A. artist Mirabelle Jones created a 600-square-foot rainbow flag. "I woke up and felt strongly that I needed to make it or really that someone did, and that person might as well be me," she said. LA Weekly
Art school: Do USC officials care more about "buzzy programs" than the fine arts? That's the question now that its lone MFA candidate in the Roski School of Art and Design has dropped out. "Until the school looks at its past and recognizes its trajectory, it's impossible to imagine it improving or even recovering," said the former student, HaeAnn Kwon. Los Angeles Times
POLITICS AND GOVERNMENT
Call for reform: The California Public Utilities Commission is the state's energy regulator, and now it's getting a major overhaul. The reform is a response to the commission's oversight of ride-sharing companies like Uber and Lyft and the decommissioning of a nuclear power plant. "Public access to meetings and records will be expanded, new safety and oversight positions will be created, and ex parte communication rules will be strengthened," said Gov. Brown. Los Angeles Times
Trump and Palin: Former Republican governor Sarah Palin entered "the lion's den" this weekend when she attended Politicon in Pasadena, an event that tends to attract those on the left. But it was a 10-year-old boy who turned out to be the most dangerous creature there, writes columnist Robin Abcarian. On the subject of Donald Trump, Adam Chernick asked, "How can you endorse someone who said something sexist like that?" Los Angeles Times
CRIME AND COURTS
Extreme views: This weekend's violent clash in Sacramento revealed the old and new faces of white supremacist organizations. "The Traditionalist Worker Party 'bridges the gap between pseudo-intellectuals and racist skinheads and describes itself as a banner organization to unite white supremacists,'" said Joanna Mendelson, a researcher with the Anti-Defamation League's Center for Extremism in California. Los Angeles Times
Assault accusation: In August, a patient at Eisenhower Medical Center accused a nurse's aide of sexually assaulting her. Three months later, the patient was shocked to see the nurse's aide still working at the hospital, according to a lawsuit. "How is it he was not terminated immediately upon admitting the conduct. This is just beyond me," said an attorney for the victim. Desert Sun
New tricks: Journalist Jim Newton covered the O.J. Simpson murder trial for the Los Angeles Times, but even he's still learning about the case thanks to the documentary "O.J.: Made in America." "There's something so shockingly self-centered about him, and I experienced some of that over the course of the trial and in my own meeting with him, but I think [Made in America] documents that in a methodical way I haven't seen before," he says. Vulture
Shooting lawsuit: Former music mogul Marion "Suge" Knight is suing musician Chris Brown and the owners of a West Hollywood nightclub over a 2014 shooting. Knight says 1Oak LA did not have proper security at a MTV Video Music Awards pre-party thrown in Brown's honor and that led to a shooting that left Knight with wounds in his abdomen, chest and forearm. Los Angeles Times
Cyclist convicted: A 39-year-old cyclist was convicted of felony assault and vandalism for trying to trap a driver in a Zipcar and beating the vehicle with a U-lock. The crime took place during a Critical Mass ride in San Francisco in August, officials said. Ian Hespelt is scheduled to be sentenced in July. Los Angeles Times
HOUSING
Priced out: Neil Hutchinson was shocked when the rent on his North Beach apartment increased from $1,800 a month to $8,000 — making it one of the largest rent hikes in San Francisco. He appealed the increase to the San Francisco Rent Board, but in the meantime, his landlord is trying to evict him. "I honestly don't know what I'm going to do. I'm struggling here," Hutchinson said. SFGate
Miles from home: Would you commute 120 miles a day if it meant you could live someplace affordable? That's the trade-off many employees in Orange County are making as they move out east of Riverside. "Most people were like, 'There's no way I'd do that,'" said Dave Miller, an auto maintenance supervisor who was able to buy a house in Moreno Valley for $285,000. Orange County Register
CALIFORNIA CULTURE
Game night: Board games and cards are back in a big way. They are "especially appealing to millennials, analysts said, because they crave face-to-face intimacy in an age when social interactions are often defined by disappearing Snapchats and tweets." Los Angeles Times
Live and work: The home of the Los Angeles Times could soon include apartments and offices. Canadian developer Onni is in talks to purchase the downtown complex and create residential and retail space. Curbed LA
Sad fans: The city of San Diego leads ESPN's Sports Misery Index. San Diego Union Tribune
CALIFORNIA ALMANAC
If you're in Sacramento and Riverside, watch out — temperatures are expected to reach 103 and 106 degrees, respectively. San Francisco will be sunny and 74. Los Angeles will be hot at 92 degrees. San Diego will have some fog as temperatures reach a high of 82.
AND FINALLY
Today's California Memory comes from Maria Martinez:
"Fifteen years ago, I came to the finest city, San Diego — my favorite place. I have gone to other states, but there is no other like California. Seaport Village, Balboa Park, Old Town and Coronado enclose such beauty and mystery. This state has fresh air that I had not encountered anywhere else. Since I was younger, I yearned to come to San Diego, and now I wish to live here forever."
If you have a memory or story about the Golden State, share it with us. Send us an email to let us know what you love or fondly remember about our state. (Please keep your story to 100 words.)
Please let us know what we can do to make this newsletter more useful to you. Send comments, complaints and ideas to Alice Walton or Shelby Grad.
---