Newsletter: Essential California: A new gold rush is on, sparked by California's post-drought snowmelt
Good morning, and welcome to the Essential California newsletter. It is Saturday, July 29. Here's what you don't want to miss this weekend:
TOP STORIES
The gold rush returns
The rains of this year and the post-drought snowmelt have launched a new gold rush. On the banks of Eagle Creek, amateur 49ers are looking for the metal that first sent people packing to California. "Everything begins and ends with a pan," says Robert Guardiola. He helped organize a monthly foray for a prospecting association known as the Delta Gold Diggers. Los Angeles Times
Plus: Watch this great video of prospectors sifting through the river, looking for gold. Los Angeles Times
Offers rescinded: UC Irvine is under fire for rescinding 500 admission offers two months before the fall term begins. "I felt I was going to pass out. I couldn't stop crying," 18-year-old Ashley Gonzalez said in tears as she recounted her story. Los Angeles Times
Corruption case: Former Compton Mayor Omar Bradley was found guilty Friday of two counts of misappropriating public funds, the latest chapter in a high-profile corruption case that has spanned more than a decade. Los Angeles Times
More Wells Fargo trouble: The bank says that it charged hundreds of thousands of auto loan customers for insurance they did not ask for or need — in some cases causing those customers' cars to be repossessed — and that it's taking steps now to try to make things right. Los Angeles Times
Inspections urged: The state agency tasked with managing the safety of 1,250 dams in California has identified 93 that require a "comprehensive" assessment to be sure they can last through next year's flood season, officials said. Los Angeles Times
Trojan talk: USC's Clay Helton is at ease on the eve of his second season — even when the subject is O.J. Simpson. Los Angeles Times
A school fight: Community colleges want to offer more bachelor's degrees. The California State University system has mounted serious opposition to this move. The Mercury News
Cop arrested: A Kern County sheriff's deputy was arrested Friday after a months-long investigation into allegations that he stole money from the public while performing his duties, authorities said. Los Angeles Times
What we produce: "California's 77,500 farms produce more than 400 commodities, and two-thirds of the nation's fruits and nuts. About one-quarter of what California produces is exported around the world." The Mercury News
THE STORY BEHIND THE STORY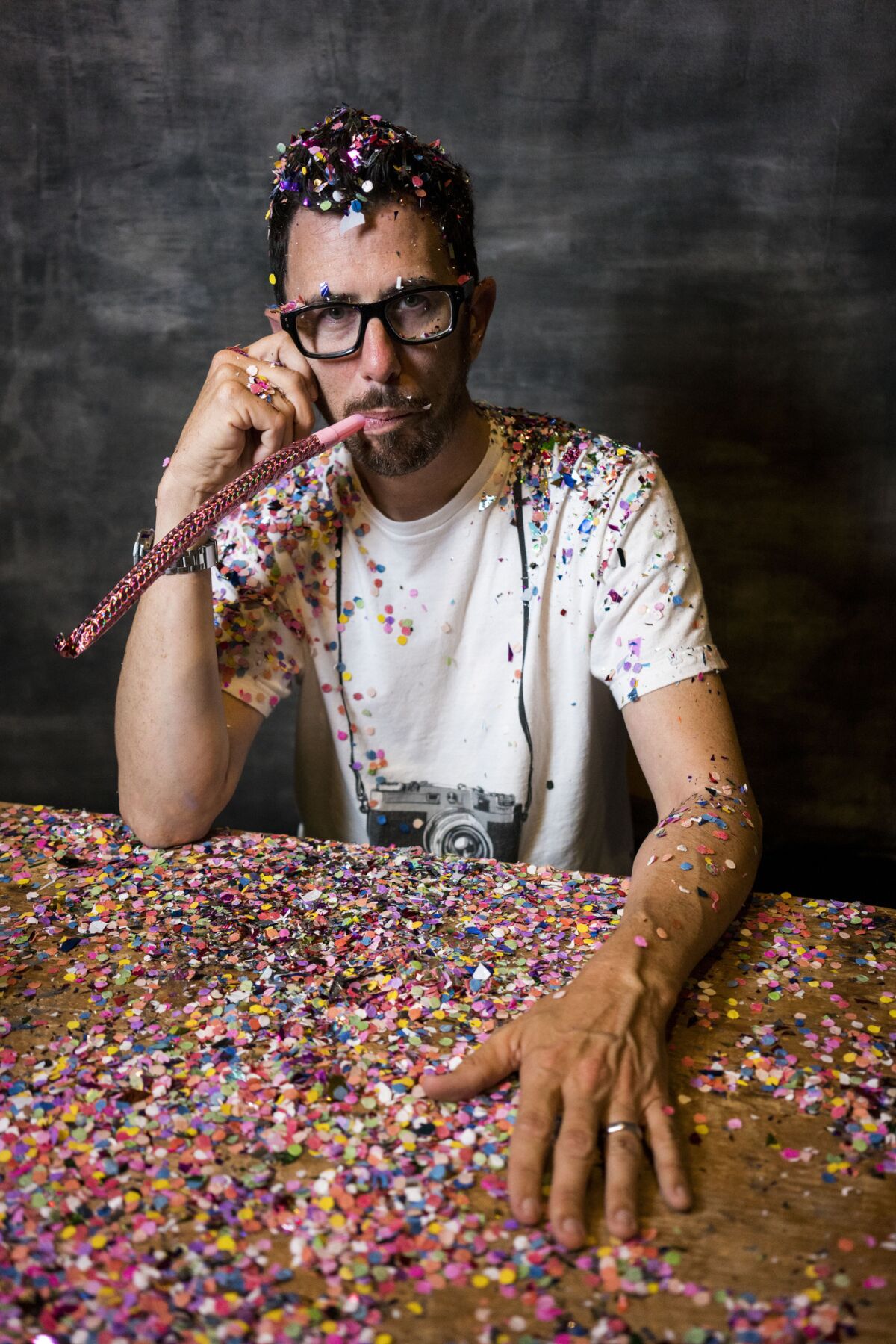 Jay Clendenin has been a staff photographer at the Los Angeles Times for a decade. Through the years, he's captured some pretty incredible portraits of celebrities and everyday people alike. Last week, he was at Comic-Con in San Diego. He explains how his portrait booth there came together:
When meetings started for our 2017 San Diego Comic-Con coverage, Hero Complex editor Meredith Woerner and I agreed we wanted to try something new. We decided to use some modern technology and have fun with an iPhone 7 Plus and Instagram's Boomerang app.
I played with the app leading up to Comic-Con and knew I wanted to have props that moved, helping accentuate the effects of the program — recording an action and then playing it in reverse. Bags of confetti, both the paper and metallic variety, were a must-have; followed by horns with tinsel and a variety of party blowers. I also went with some novelty glasses, which were a safe route for people not wanting to be covered in sparkling confetti.
The bar was set high by "Twin Peaks" stars Kyle MacLachlan, Naomi Watts and Tim Roth knowing exactly how to make a David Lynch-esque recording, implementing a party blower, confetti and wild movement. By the end of our final day, my head (and the floor) was covered with sparkling confetti and people knew which studio was having the most fun. A selection of the Boomerangs is posted on my Instagram @jlcvisuals.
More of Jay's photos can be seen here.
This week's most popular stories in Essential California:
1. USC received more than a year of questions about a former medical school dean's conduct before a scandal broke. Los Angeles Times
2. Glide past Randy's Donuts, Westfield Century City, the Mormon Temple and more in this mesmerizing drone video. LAist
3. These Bay Area homes were built by Joseph Eichler to be affordable and now cost millions. The Mercury News
4. The Pasadena police officer who investigated an overdose was skeptical of a USC med school dean's story, a recording shows. Los Angeles Times
5. A veteran ICE agent, disillusioned with the Trump era, speaks out. The New Yorker
ICYMI, here are this week's Great Reads
New housing needed: A Bay Area developer wants to build 4,400 homes where they may be sorely needed. The development would overlook a railway that drops riders into the heart of San Francisco in 15 minutes, reducing the need for cars and cutting the greenhouse gas emissions that come from them. Here's why it won't happen. Los Angeles Times
Would a drug test have helped? "The revelations about Dr. Carmen Puliafito are an academic hospital's worst nightmare — methamphetamine use, partying in the dean's office, the doctor's presence at the scene of a 21-year-old's overdose. But the case of the University of Southern California eye surgeon and former medical school dean, as reported recently by the Los Angeles Times, raises a bigger question: Could it all have been prevented by random drug testing?" STAT
More questions: One of the Los Angeles Police Department's top investigators was stunned by the decision to downgrade an assault charge against an off-duty city firefighter who choked a man unconscious, and asked a judge to view a video of the violent melee before sparing the defendant from jail time, according to court records. Los Angeles Times
Development update: A new Baldwin Hills Crenshaw plaza project offers a window into the history of redevelopment and the legacy of white flight. "The new complex would be a far cry from the open-air mall first built there in 1947…. But it's not the first major intervention the site has seen, either. Nor is it the first time the city is looking to the mall as having the potential to give the area an economic boost." Streetsblog LA
Movie talk: "Hollywood is aggressively adapting material that doesn't have a narrative or even any characters. But not all intellectual property is created equal." New York Times Magazine
Looking ahead
Sunday: The Los Angeles Chargers begin training in Huntington Beach.
Sunday: The U.S. Open of Surfing begins.
Monday: The Long Beach city budget is released.
Wednesday: The L.A. County district attorney's Courageous Citizen Awards ceremony is held.
Please let us know what we can do to make this newsletter more useful to you. Send comments, complaints and ideas to Benjamin Oreskes and Shelby Grad. Also follow them on Twitter @boreskes and @shelbygrad.
The stories shaping California
Get up to speed with our Essential California newsletter, sent six days a week.
You may occasionally receive promotional content from the Los Angeles Times.